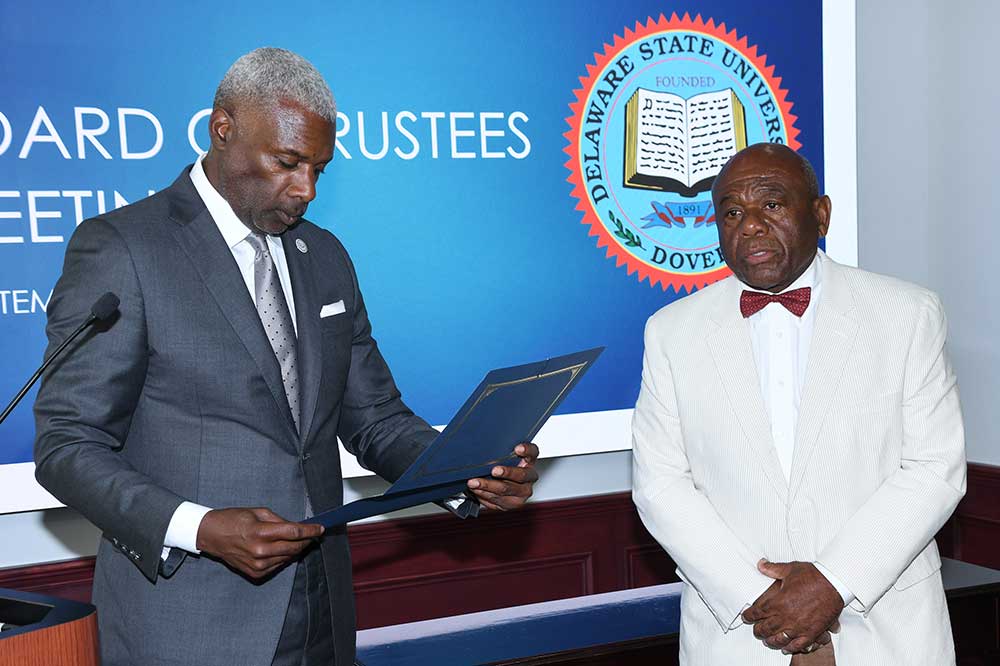 On Campus
University coaching legend becomes Board of Trustees member
Thursday, September 21, 2023
William "Bill" Collick – the most celebrated head football coach in Delaware State University history – has returned as a new member of the University's Board of Trustees.
Appointed to the Board by Gov. John Carney, Trustee Collick is completing the term of former Board member Esthelda Parker Selby who resigned in November 2022 following her election to the state House of Representatives. The new Board member's current term will expire in December 2027.
Mr. Collick is the most successful head football coach in Delaware State University history. During his 11-year stint, he amassed a winning record of 81-48 (also a school record) from 1985-1996 – which included five 1st place conference finishes. Prior to becoming a head football coach, while serving that sport as an assistant coach, he also served in the early 1980s the school's head wrestling coach. In 1984, he guided the Hornet wrestlers to the school's only conference championship in that sport.
He stepped away from the Hornet football head coaching post in 1996 to become the DSU Athletic Director. He left that position in 2000 to become the head football coach at Sussex Technical High School, where he would also serve as the Dean of Students. He left that school in 2009 to return to his Cape Henlopen High School alma mater, where would assume the same posts as his previous high school stop and served there until his 2017 retirement.
Mr. Collick's career in DSU and high school athletics led to his inductions in the Mid-Eastern Athletic Conference (MEAC) Hall of Fame, the Delaware Athletic Hall of Fame, the Delaware African American Hall of Fame, as well as the DSU Athletic Hall of Fame.
The new board said he is "overjoyed" to return to Delaware State University. "The sky is the limit for Delaware State University, and to be asked to be a part of it is pretty special," Mr. Collick said.
He possesses an Associate Degree from Wesley College, a Bachelor of Science from the University of Delaware, and a Master of Education from Wilmington College.