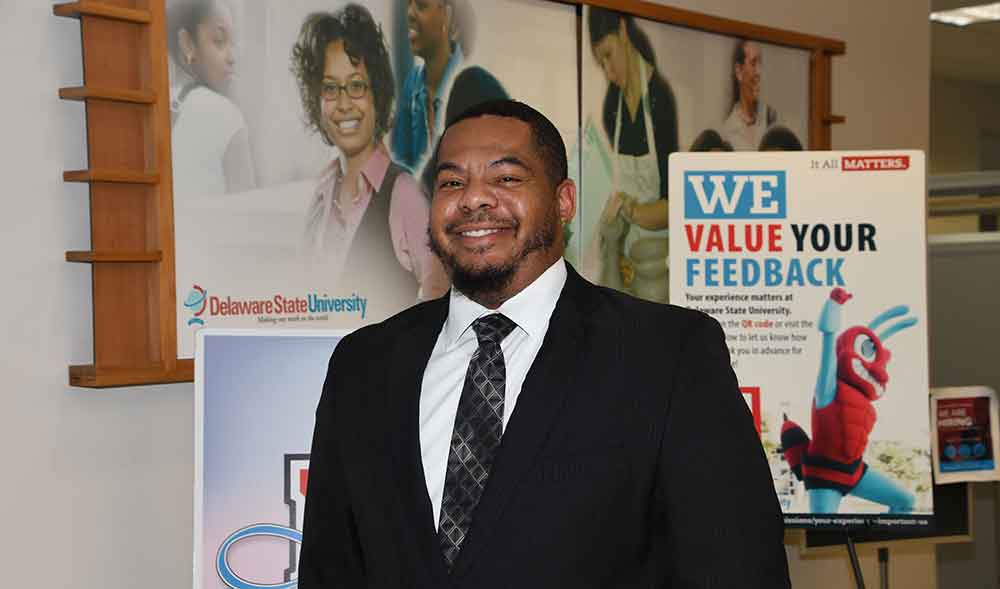 On Campus
Jackie K. Brockington Jr. appointed as new University Registrar
Thursday, January 19, 2023
Delaware State University has announced the appointment of Jackie K. Brockington Jr. as it new University Registrar.
Mr. Brockington brings more than 18 years of higher education experience to the University in which he has led diverse teams in the areas of Academic Records/Registrar and Financial Aid. 
Prior to his arrival at Delaware State University, Mr. Brockington served as the Associate Dean of Enrollment Services for York Technical College in Rock Hill, S.C. In that capacity, he oversaw that institution's Academic Records/Registrar Office and its Financial Aid Office from 2019 to the beginning of 2023. From 2016 to 2019, he was the college's Registrar.
From 2008-2015, Mr. Brockington served as a Transfer Articulation/Degree Audit Coordinator, and later was elevated to Assistant Registrar and Associate Registrar, all at Winthrop University in Rock Hall S.C. He also held higher education positions at Clinton Junior College in Rock Hill, S.C. and Johnson C. Smith University in Charlotte, N.C. between 2004 and 2008.
Tony Boyle, Delaware State University's Senior Vice President of Strategic Enrollment Management and Student Affairs, notes Mr. Brockington's career experiences has provided him with a fundamental understanding of the student life cycle and the importance of developing and executing a comprehensive enrollment management strategy that ensures that institutional core goals around recruitment, persistence, and completion are met.
"His tenure in Higher Education helped to cultivate many departmental relationships across campus resulting in the success of student initiatives," Mr. Boyle said. "Mr. Brockington is passionate about academic and customer service excellence and is enthusiastic about working to achieve new goals here at the University and is ready to work with the faculty, staff and students."
Mr. Brockington has a Bachelor of Science degree in Business Administration and Finance and a Master of Business Administration, both from Winthrop University