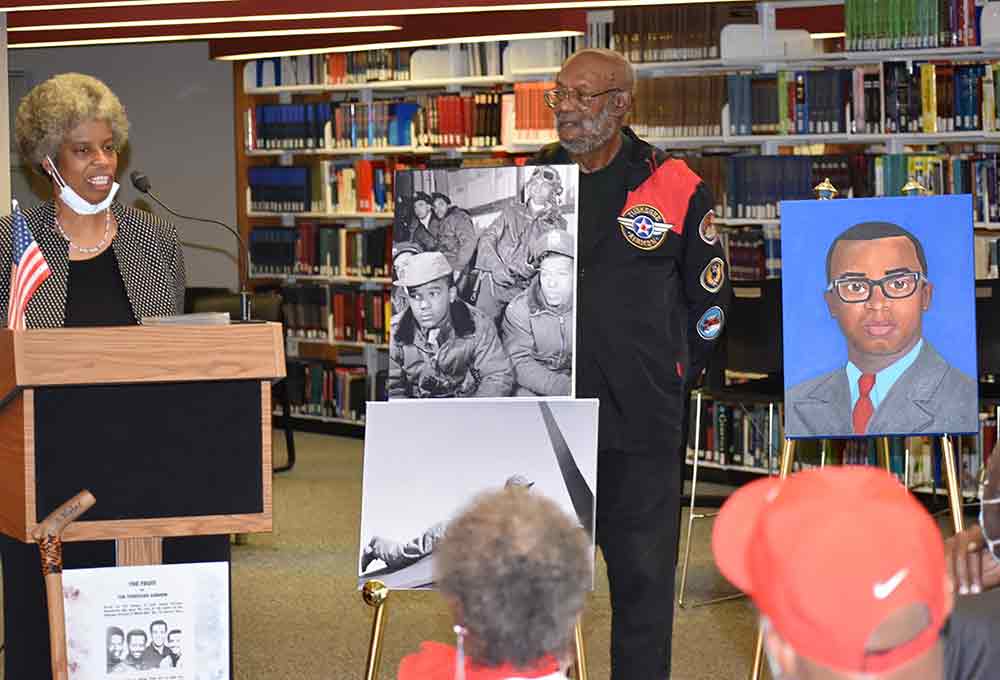 On Campus, Alumni Affairs
University holds ceremony to honor and recognize veterans
Tuesday, November 15, 2022
A ceremony to honor Delaware State University veterans was planned in the Tuskegee Airmen Plaza on campus Friday, but moved inside the library because of rain. The weather did not dampen spirits.
The brief and at times emotional recognition ceremony brought together alumni who have served in the Armed Forces, family members, and University staff.  It was organized by the John H. Porter-First State Chapter-Tuskegee Airmen, Inc. and Tanisha Baker, Director of Strategic Alumni Engagement.
The organization has been recognizing Delaware State University alumni who served in the military for the past four years, taking a break last year because of COVID, said Dr. Donald Blakey, President of the Chapter.
His remarks centered on the importance of veterans to the success, growth and stability of Delaware State University.  "I want to emphasize the importance of having these men – and a few women – on campus," he said. "They brought a serious note to the campus because they were here to learn."
Also recognized was local Naval Submarine Nuclear Officer Hayes Fountain, who started his education at Delaware State and whose mother Mrs. Jackye C. Fountain worked in the Del State library for 30 years.
Special to the ceremony was the unveiling of a portrait of Delaware State University graduate and U.S. Marine Capt. Larry F. Potts, who was lost on April 7, 1972, in an aerial mission over South Vietnam.
Dr. Rosetta Roach, a Del State grad and Delaware Art Educator of the Year 2017, painted the likeness of Captain Potts, which will be displayed in Alumni Hall.
A namesake nephew joined the group on Friday. "I kind of felt emotional," said Larry F. Potts, of Dover. "I always appreciate everything people do for my uncle. I never met him. I have information that people bring me, or learn more at events like this."
The ceremony ended with the singing of "America the Beautiful" by Mrs. Dolores Blakey.