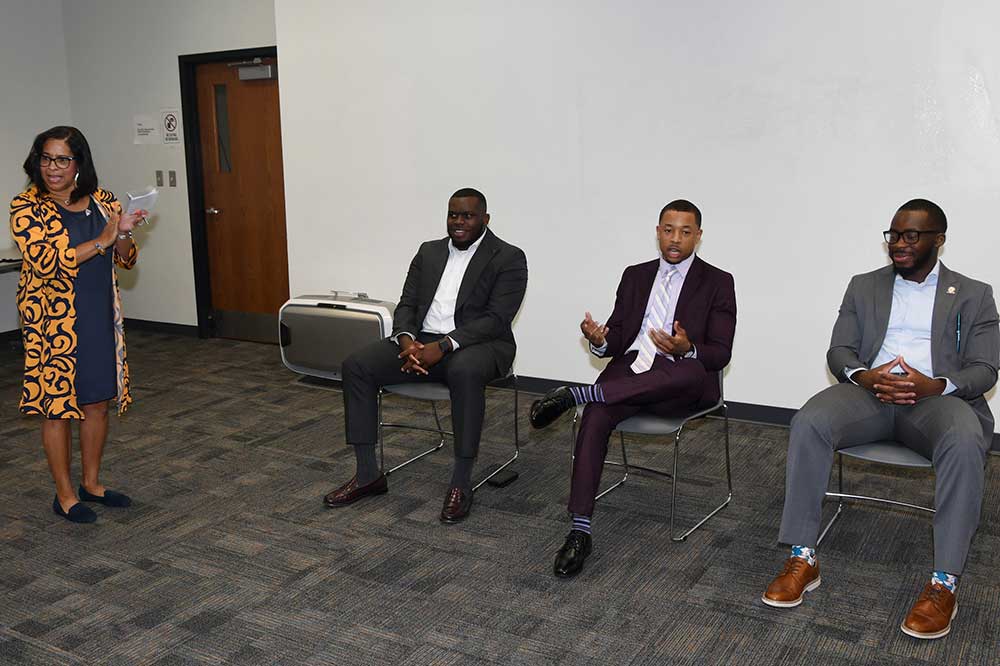 On Campus
College of Business 2022 DEEP Day – Photos
Friday, October 21, 2022
Delaware State University's College of Business held its annual DEEP Day under the theme of "Becoming Agents of Change."
For images from DEEP (Delaware Executive Exchange Program) Day, click on the below link:
https://www.flickr.com/photos/48216028@N03/albums/72177720303055254/show
"The theme of this year's DEEP Day challenges our students to be present in the moment, to be conscious of the crises faced by our global societies such as climate change, poverty and clean water, and most importantly, to become agents of change," said Dr. Michael Casson, Dean of the College of Business. "We are appealing to the University's best and brightest for leadership and inclusive solutions."
The theme of "Becoming Agents of Change" was driven home by Leonora Miller, a Program Manager for Crew (Employee) Resource Group, who kicked off DEEP Day with a keynote address on that topic.
The annual DEEP Day event is designed to develop students' soft skills to help them become qualified business professionals. The daylong event featured a diverse variety of sessions that covered many soft skills relating to areas such as emotional regulation, conflict resolution, self-management, effective communications, professional presence, and many others.
The attendees – University students from all of the institution's colleges – were able to connect with numerous corporate participants who engaged them during the various sessions as well as through one-on-one opportunities with corporate representatives who were at sponsorship tables.
During one of the sessions, students were able to hear from Hornet alumni – Kevin Perry, '18; Jason Nunley, '20; Usman Tajani, '20; and Antoinette Blake, '83 – who shared how they made the most of their Delaware State University experience and how it has contributed to their professional success.
DEEP Day ended the day with its annual Business Case Competition. The Business Case question dealt with how should Corporate America seek, create, and/or employ a diverse supply/value chain program
The first place prize went to the team of Niara Allen, Khaliyah White, Jalen Saunders and Sabree Primus.
"Our presentation was about making sure that HBCU students and underrepresented students have the materials through the MIT-scale or the Spin-In – Spin-Out Program to enter the entrepreneurial industry and make a path for themselves as diverse suppliers and to impact the global supply chain," Ms. Allen said.
Each member of that winning team received a $10,000 scholarship.
Many students appreciated the DEEP Day experience.
"I got to visit corporate tables and learn about their internship programs and get to know a basis for how the business has transformed the way I use my banking," said Janiya Rourk, a sophomore business management major from Virginia.
Chris Rivera, a senior marketing major from North Carolina, said he benefited greatly from the event. "It helped me to network with a lot of people and helped me understand the importance of communicating with people from different backgrounds," he said.
Kuaseen Larue, sophomore sport management major, said he was able to build on his previous DEEP Day experience. "It gave me the opportunity to me come out and speak to companies that I made connections with last year," he said. "It helped me build confidence in myself."
Carmen Medina, a sports management major and a transfer student from Santiago, Chile (South America), said the DEEP Day experience impressed her.
"I didn't know what to expect because it was my first time at DEEP Day, and I went to two sessions that helped me to understand how to develop my speech skills," she said. "I felt like I learned a lot today. I enjoyed the business competition and I hope to compete next year."