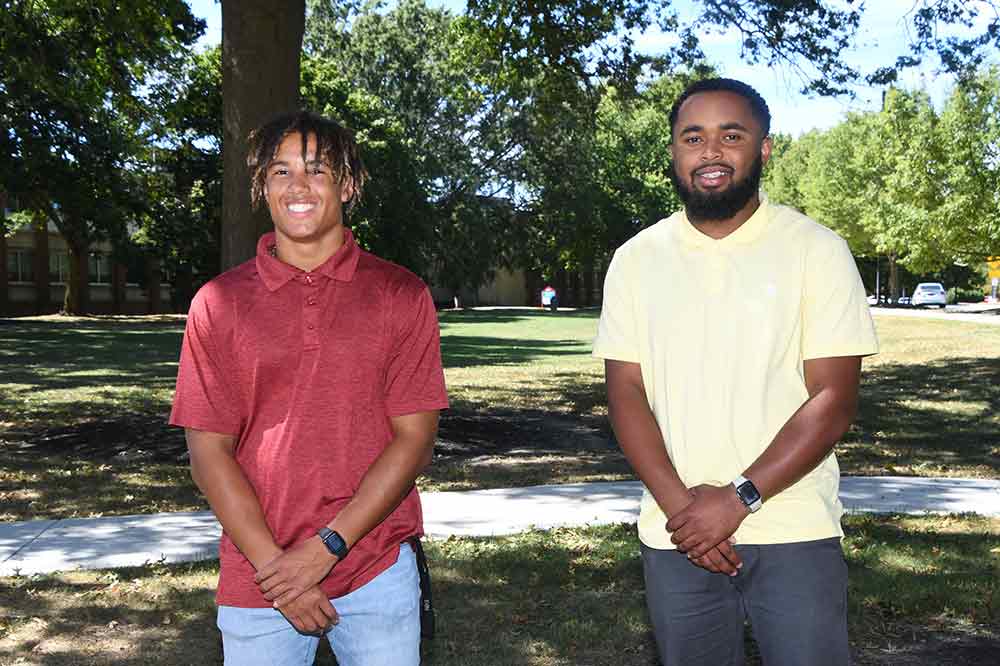 On Campus
First two Dr.Terrance Newton Scholars selected
Wednesday, September 7, 2022
Delaware State University has named Jaron Hunt-Fletcher and Jaden Rivera –  two education majors – as the first Dr. Terrance Newton Scholars.
The scholarship was established to honor the work and legacy of Dr. Terrance Newton, a Del State alumnus, adjunct faculty member, and respected school and community leader who received national attention for innovative programs he introduced as Principal of Warner Elementary School in the Red Clay Consolidated School District.
Dr. Newton passed in March 2022 from injuries sustained in a motorcycle accident.  Del State created the scholarship program shortly after.
"I had the pleasure of visiting Dr. Newton's school and seeing the magic happen with his children - he gave each one of them a look filled with hope and belief," said Dr. Shelley Rouser, chair of the University's Education Department. "He made such a huge impact on aspiring leaders in our graduate programs as well. And the legacy lives on. Terrance is deeply missed, but it is our intention to inspire and support the next generation of aspiring teachers to be just as impactful as they launch their careers."
Hunt-Fletcher and Rivera, the first two students selected for the scholarship, are beginning their senior year; however, in the future the scholarship will be awarded to incoming college freshmen who have declared education as their major. The primary aim of the award is to acknowledge and support young men of color who have chosen a career in education, following in the footsteps of Dr. Newton.
"These two young men not only exemplify academic excellence, but more importantly, they exhibit leadership and possess the mindsets that we want to see in our future educators," said Darren Rainey, Program Manager for Recruitment and Retention of Diverse Educators in the University's Department of Education and a member of the selection committee.
 "They have both committed themselves to becoming the best educators that they can be and I look forward to seeing the impact that they will have in their communities," Rainey added. "Dr. Newton is a model for other young men to follow and with this scholarship we intend to honor his legacy, leadership, and the passion and love that he had for serving his students and community."
Both Hunt-Fletcher and Rivera, who are both working in schools as interns this semester, said they were honored to be named Dr. Terrance Newton Scholars.
"I feel it's an honor just to be named in the same sentence as him," said Rivera of Felton, who will graduate in December 2022 and plans on teaching physical education. "This is just amazing."
Students must be enrolled full-time at DSU and possess a minimum GPA of 3.0. Preference for the scholarship is given to students from Delaware, where Dr. Newton was born, raised, lived, and worked. 
Hunt-Fletcher, from Seaford, is majoring in elementary education and hopes to teach second grade after he graduates in spring 2023. He said the award inspires him to encourage other African American males to go into teaching.  "I'm really excited about this opportunity, to build on what he did, and maybe encourage other young men to step up, and go into education," he said. "It's one of the best things ever."
Rivera recalled receiving the call about the award.  "I just sat there on the phone with tears coming out of my eyes," he said. "It was blessing to receive that call. I was chosen to represent him…It's just amazing."