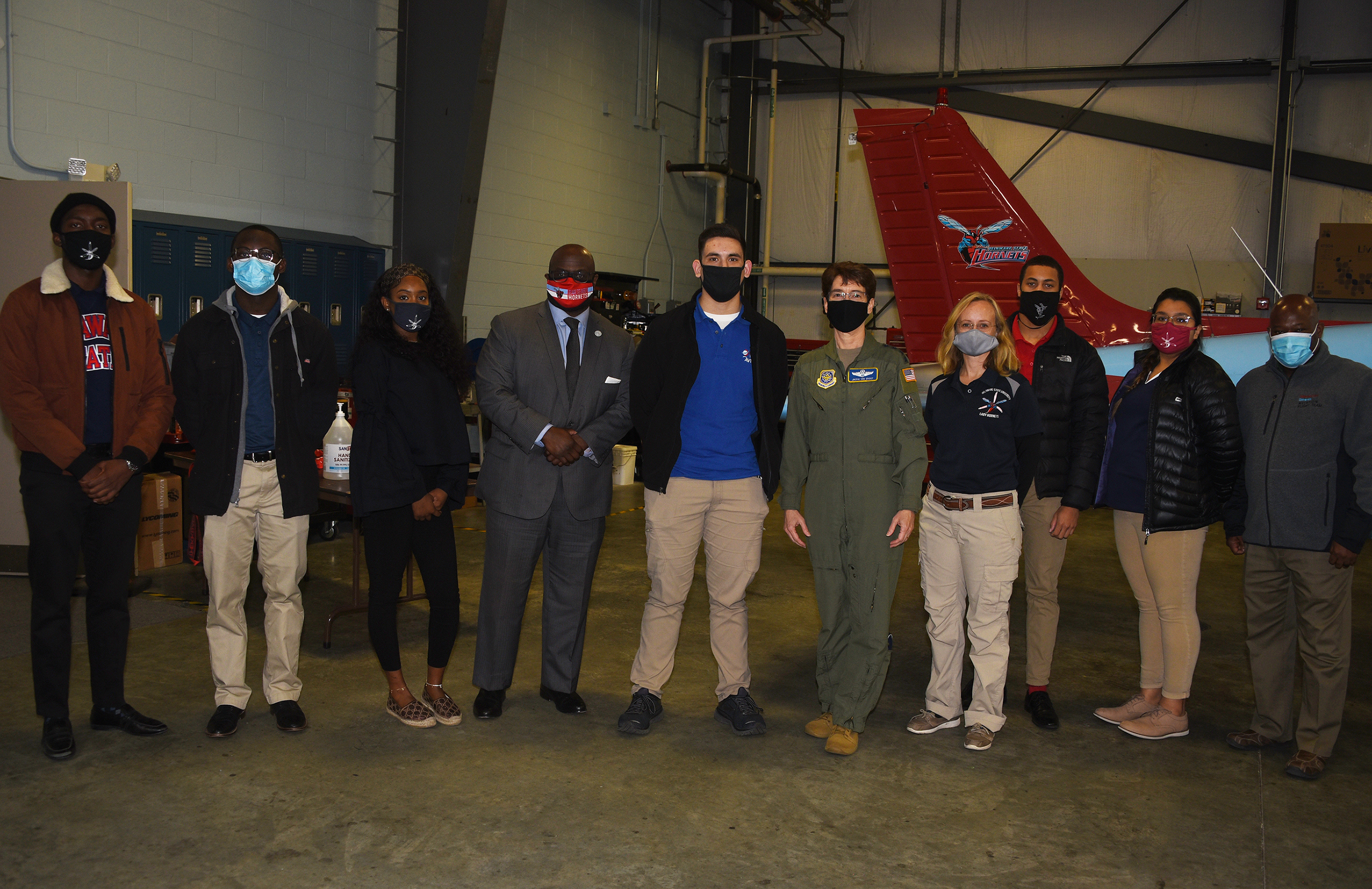 On Campus
Gen. Jacqueline Van Ovost visits Del State Aviation Program
Tuesday, December 8, 2020
Because no one can recall otherwise, Gen. Jacqueline D. Van Ovost may be the first four-star general to visit Delaware State University.
Gen. Van Ovost, the Commander of the Air Mobility Command of the U.S. Air Force spoke to a group of Del State aviation students as well as some visiting ROTC cadets from the University of Delaware on Dec. 8 in the Dr. Daniel Coons Hanger at the Delaware Airpark, home of the University's Aviation Program.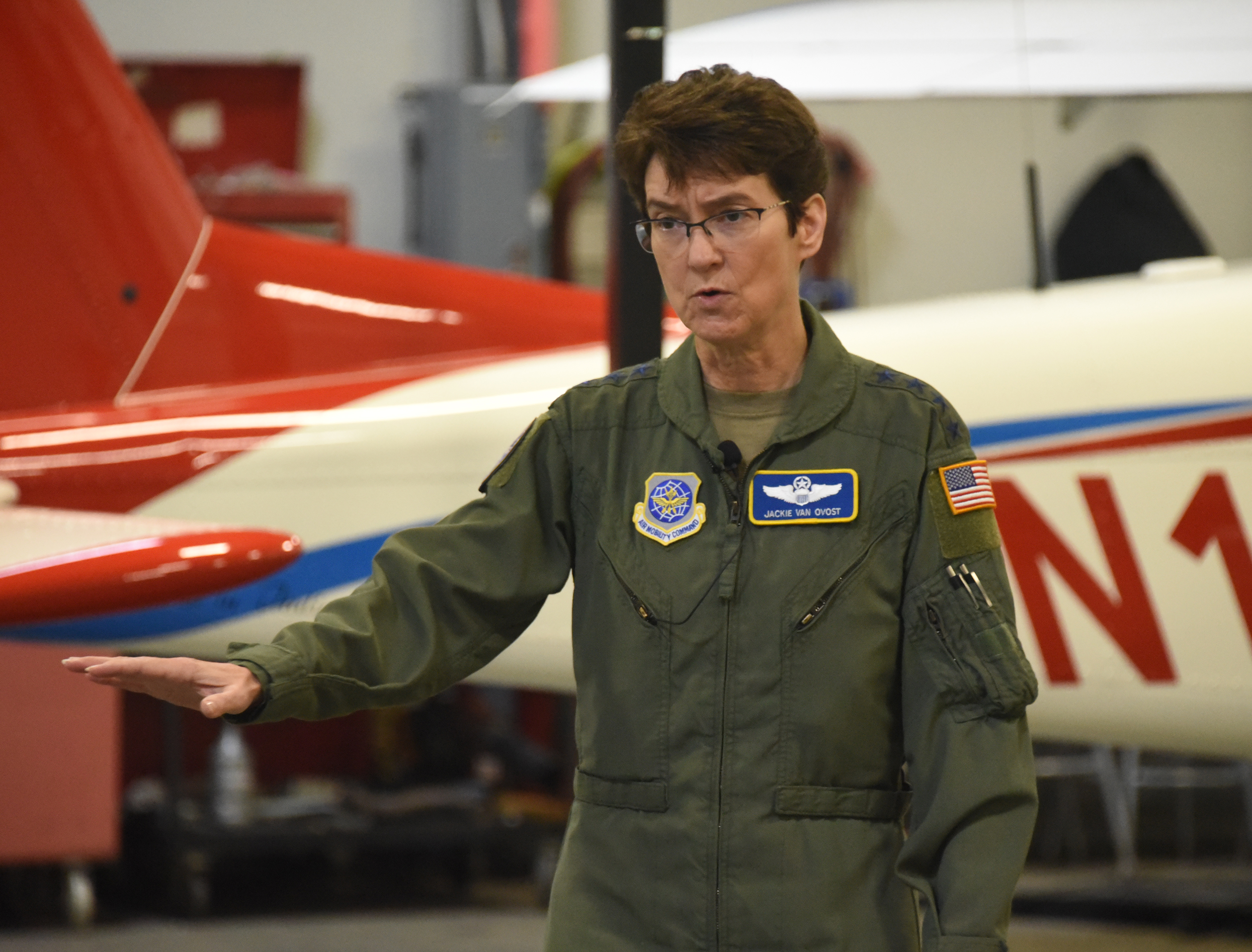 In her command, Gen. Van Ovost oversees the U.S. Transportation Command's entire air component, which executes air mobility missions in support of the joint military forces, allies and partners with a fleet of almost 1,100 aircraft.
Her 30-year-plus Air Force career includes her service as an experimental test pilot and a test pilot instructor, commander posts of 384th Air Refueling Squadron at McConnell AFB in Kansas, the 12th Flying Training Wing at Randolph AFB in Texas, and the 89th Airlift Wing at Andrews AFB in Maryland. In addition to other posts throughout her career, Gen. Van Ovost served in ascending leadership positions at the Pentagon in Washington, D.C.
The Air Force elevated Gen. Van Ovost with her fourth star on Aug. 20, 2020. She is currently the highest-ranking active female officer in the United States military and the only female four-star general in the U.S. Department of Defense.
In her address to the aviation students and cadets, Gen. Van Ovost noted the value of diversity and said the Air Force and the country benefit greatly from it.
"We are each different, each with experiences from where you were born, who your parent are and what they did, where you went to school, who your friends are, to opportunities you capitalized on, and the failures you've had," she said. "All of that makes you uniquely you."
The four-star general said that uniqueness make a great difference. "Because if we're all alike, if we all had the same experiences, if we are all thinking alike, then no one is thinking," Gen. Van Ovost said. "No one is challenging, no one is getting better. No one is competing, and no one is curious."
She said that the Air Force has worked to increase its diversity by providing more scholarships to Historically Black Colleges and Universities and by changing the height requirement that previously kept many African American women from becoming Air Force pilots.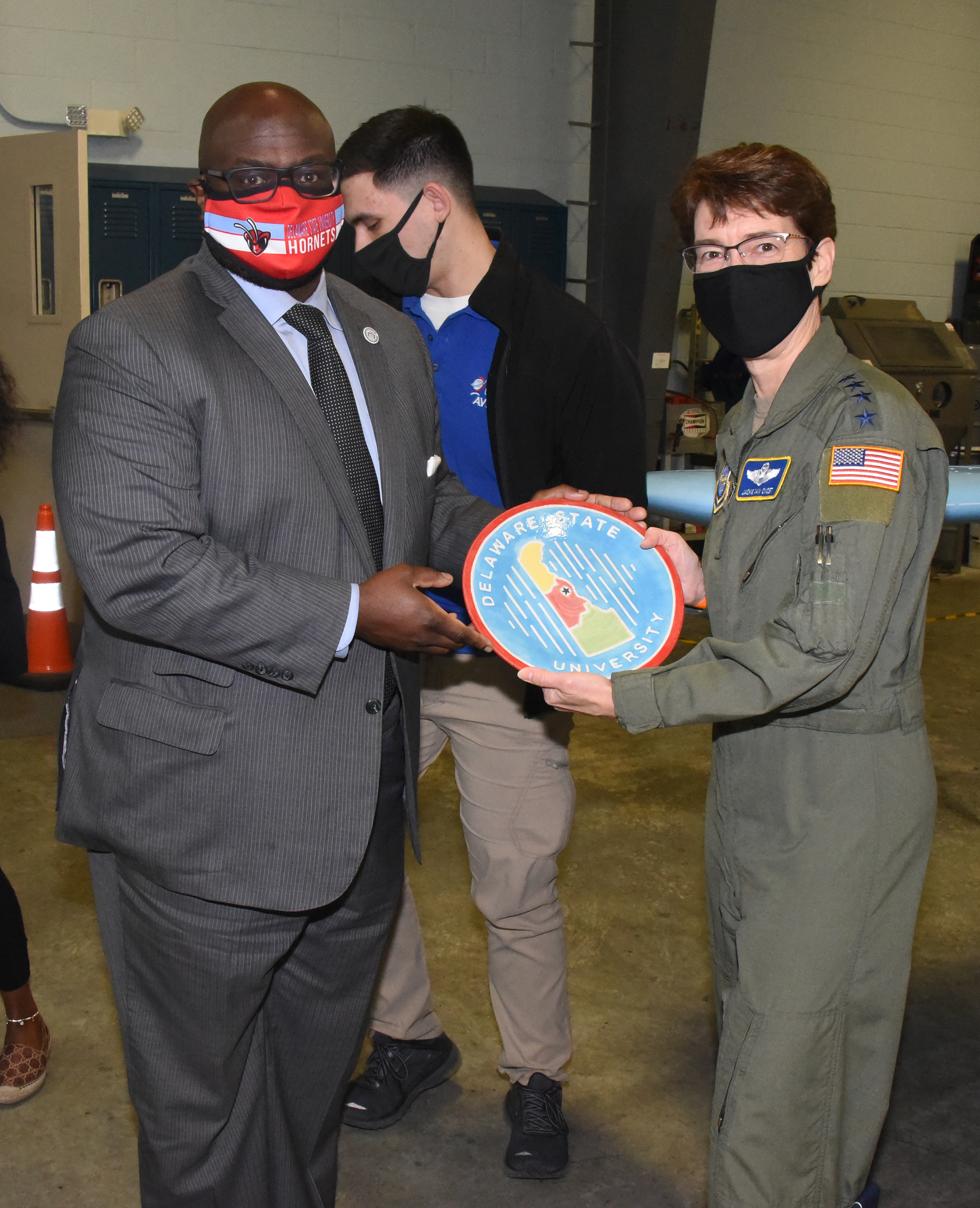 In talking about her career, Gen. Van Ovost said Amelia Earhart, the legendary female aviation pioneer influenced her greatly. She added at the time she was learning to fly, Sally Ride, the first female astronaut was also a significant influence.
Gen. Van Ovost said while the aviation students and cadets have people that inspire them from the past and present, they should also strive to be someone who serves as a positive influence for those who serve beside them and for those who come afterwards.
"You need to be a most important person to somebody," she said. "Everyone needs someone to walk beside, everyone needs to walk in front of them, and all of us have benefited from people who came before us."
She said the U.S. Space Force represents new opportunities. "We will take about 250 officers a year from all commissioning sources, and it will be available to those who are interested in STEM, are obtaining STEM degrees and are digitally fluent," Gen. Van Ovost said. She added that encompasses the managing of satellites, logistics, and getting cargo into the external atmosphere, as well as from continent to continent.
Gen. Van Ovost also talked about the current aviation state of affairs amid the COVID-19 pandemic.
"(Civilian passenger flights) are a little bit down, but in a few years, we think it will come back up," she said. "Domestic cargo flying has shot through the roof, up more than 20% because a lot more people are doing e-commerce now."
Jalyn Clark, a sophomore Aviation major said Gen. Van Ovost was inspiring.
"I'm starting as a private pilot, and knowing that it takes many struggles and failures, you have to keep going and stay committed to what you really want to do," Ms. Clark said. "She inspired me to not give up and to keep pushing."