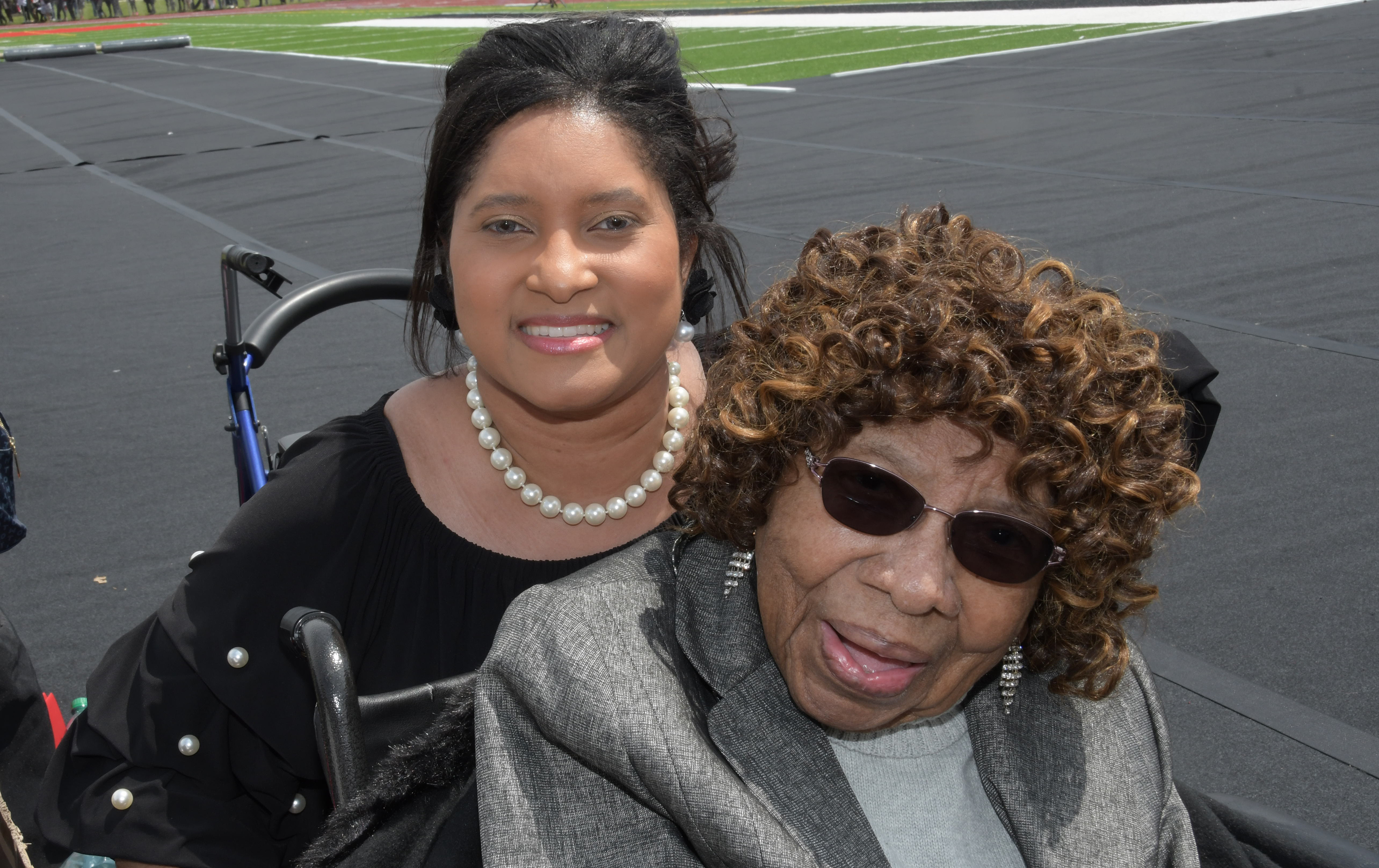 On Campus
University's oldest graduate reaches 106th Birthday
Monday, June 15, 2020
Courtney Stevenson continues to hold to her distinction as Delaware State University's oldest living graduate, as she reached her 106th birthday on June 12.
Mrs. Stevenson spent her birthday peacefully at the Cadia Healthcare Capitol in Dover where she resides. Although she could not leave the facility or receive visitors due to COVID-19 precautions, that did not stop her Alpha Kappa Alpha Sorority, Epsilon Iota Omega Chapter, from celebrating her birthday on the Legislative Mall.
Joined by Dover Mayor Robin Christensen, the sorority formed a large circle on the grassy mall area on June 12 and sang happy birthday. The group then released balloons in the air to celebrate her ongoing lifetime longevity.
After completing public school in her native Lynchburg, Va., and attending then-Morgan State College for a period, then-Courtney White later completed her undergraduate education at the State College for Colored Students, where she earned a Bachelor of Science in Home Economics in 1944.
During her Del State undergraduate years, she lived with the family of Dr. Charles Henry, a prominent African American dentist. She also attended services with them at Whatcoat United Methodist Church in Dover, where she met her future husband William Stevenson, who she married in November 1944. Their union would last 56 years until Mr. Stevenson's passing in 2001.
She went on to serve as a teacher for countless youths at the Garrett Preschool Program in Wilmington, Delaware State College High School, Thomas Clayton Elementary School in Smyrna and the Louis L. Redding Comprehensive High School in Middletown.
In 1961, Mrs. Stevenson joined the Home Economics faculty at then-Delaware State College where she taught for 30 years until her initial retirement in 1991. Not long afterwards, then-Del State President William B. DeLauder persuaded her to come out of retirement to serve as the College's acting Chair of the Home Economics Department – an interim post she had filled twice during her previous tenure. She retired again in 1994.
During her career, she also earned a Master of Art in Higher Education from New York University and did further graduate student at the University of Delaware, Iowa State University and Philadelphia College of Arts and Science.
She has been an active member of Whatcoat United Methodist Church in Dover for 77 years.