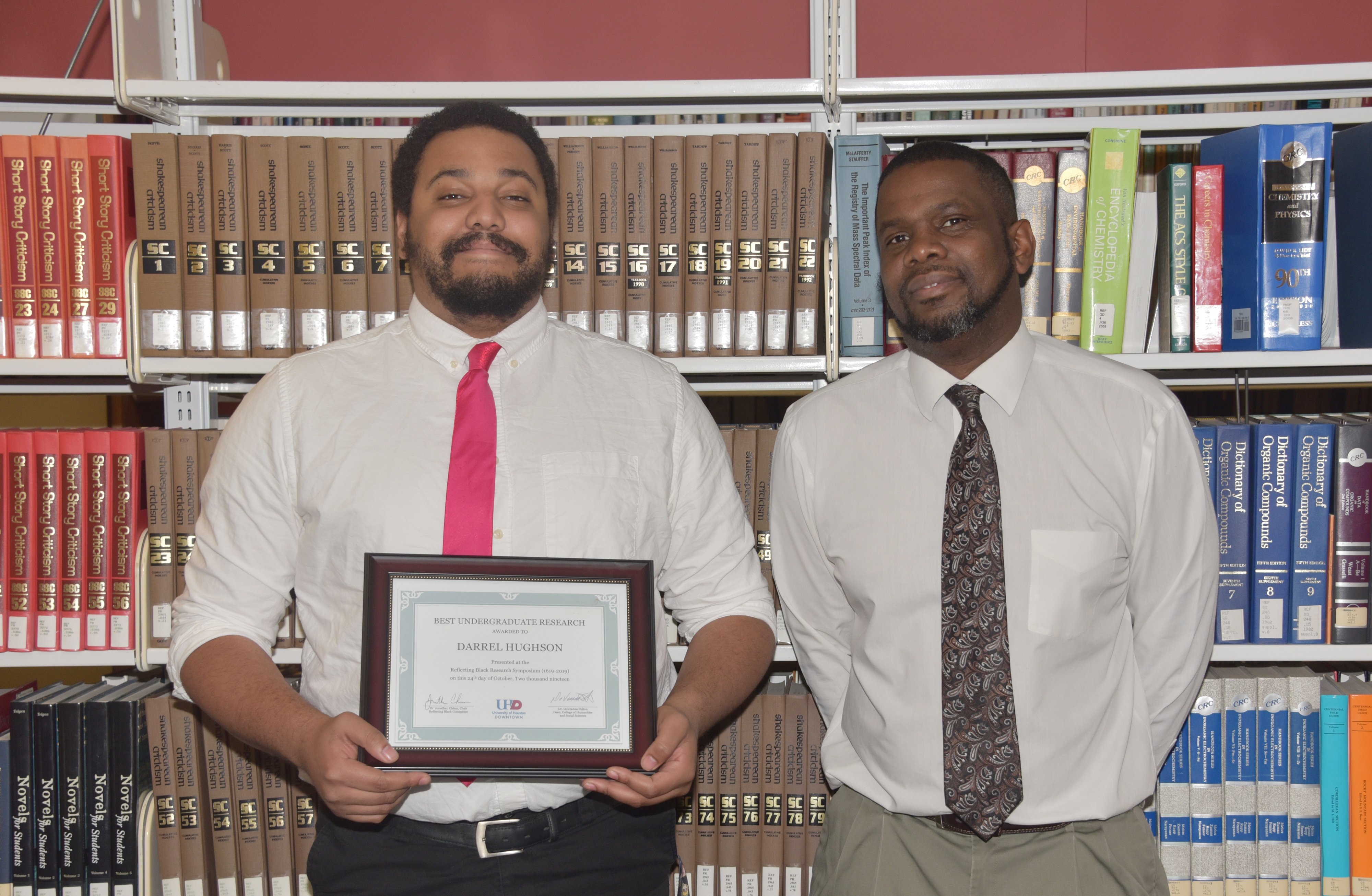 On Campus
English major wins first-place in research competition
Wednesday, November 20, 2019
Darrell Hughson, a junior English major from Newport News, Va., recently took his writing and research to a new level of achievement, winning first-place in a national symposium competition.
Mr. Hughson competed Oct. 24 at the 2019 Reflecting Black: 400 Years of African-American Life and History Research Symposium, held in Houston, Texas. His presentation of his research paper "Odyssey of the Black Scholar" took the first-place prize of $500 in the undergraduate category, topping nine other papers. Students from schools such as Yale University, Rice University, the University of Alabama, the University of California-Berkeley, and others attended and competed at the symposium.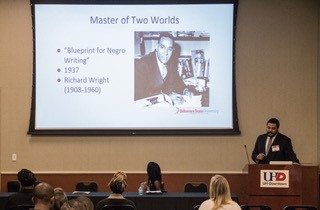 In his paper, Mr. Hughson used concepts presented in the 1949 classic The Hero with a Thousand Faces by Joseph Campbell, which argues hero stories all share a similar mythological basis and that each story's hero development goes through 17 levels of development.
Mr. Hughson took five of Campbell's level of development – Call to Adventure, Refusal to Call, Belly of the Whale, Apotheosis, and Master of Two Worlds – and applied them to the development of a "Black Scholar."
Dr. Ordner Taylor, a visiting assistant professor in the Department of Literature and Languages, introduced Mr. Hughson to Campbell's book in his World Literature I class. Subsequent discussions between the assistant professor and student – especially on extending Campbell's concept to development of a black scholar – led to Mr. Hughson' work on the paper.
"It was something unique that I felt I had an opportunity to explore." Mr. Hughson said. "Dr. Taylor thought it would be a good topic."
"Odyssey of a Black Scholar" references the experiences of legendary African-American figures such as Frederick Douglas and Booker T. Washington, as well as the intellectual perspectives of W.E.B. DuBois and Richard Wright.
While praising Mr. Hughson for the substance of his research, the comments of one of the competition judges also took note of his writing.
"One aspect that really put ("Odyssey of the Black Scholar") over the top was its very, very strong writing," the judge said. "The author clearly spent time editing and polishing to get the ideas down and the mechanics down."
Mr. Hughson said his well-received paper showed him that he has what it takes to compete academically. He added that the overall experience at the symposium expanded his horizons.
"Meeting people from so many schools really broadened my scope," he said. "The people were not just kind, but also interested in what I had to say."
The English major's aspirations are to be a higher education professor and to publish his own works.