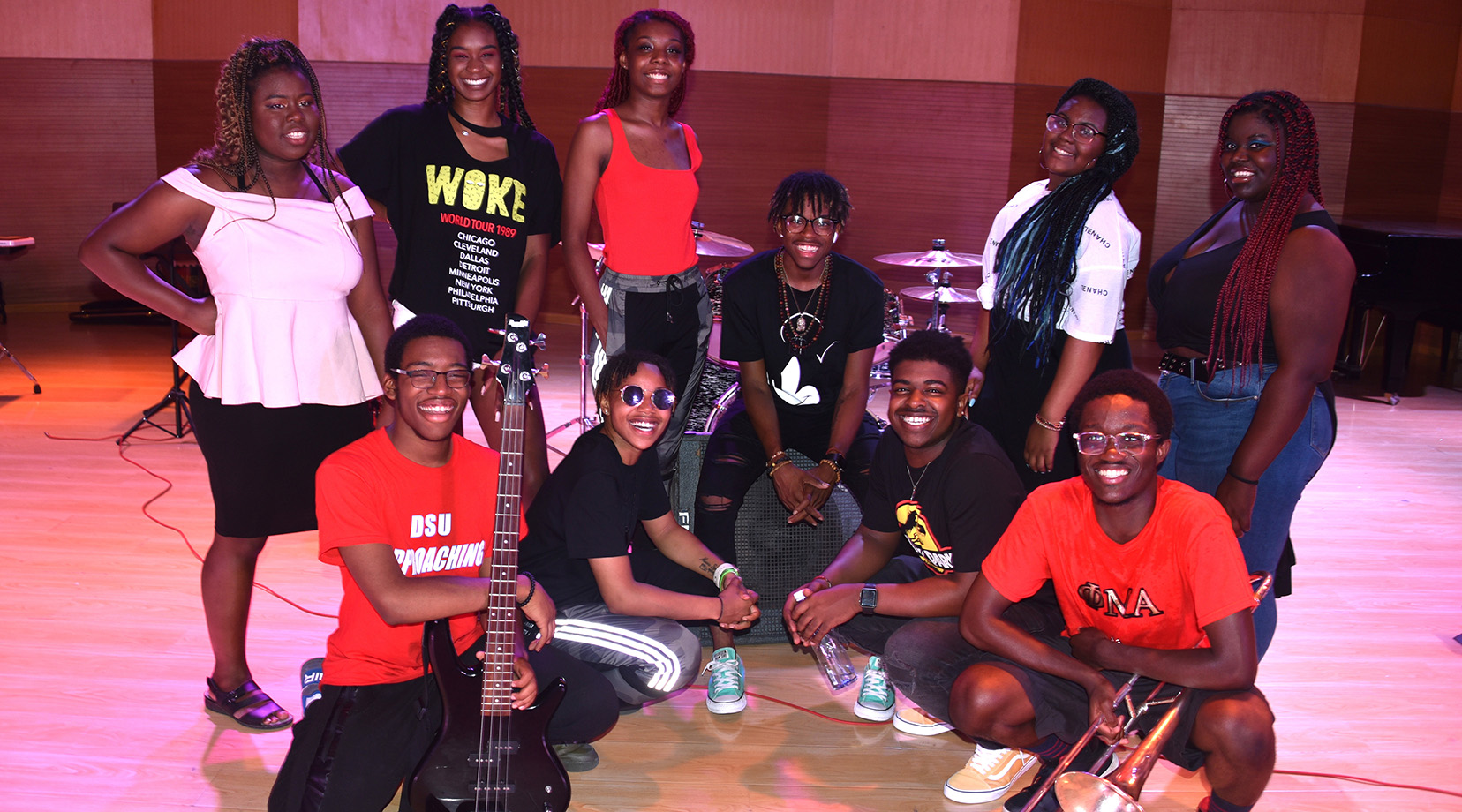 Partnerships & Collaborations, International Affairs, Student Success, Humanities, Education, and Social Sciences
Music ensemble gives performances in China
Tuesday, June 18, 2019
A group of students from Delaware State University showed off their performing arts prowess during a trip to China and were rewarded with the enthusiastic reception of their audiences.
The DSU Popular Music Ensemble performed at the Third Chinese and Foreign Exchange Concert at Beihua University in Jilin, China. It was the second consecutive year that DSU students traveled to Jilin to perform in that event.
Two evenings later at Dezhou University, the same ensemble of 10 students gave an even longer performance. 
To see images from both performances, click on the below photo slideshow link:
https://www.flickr.com/photos/48216028@N03/albums/72157709224373172/show
At both venues, the DSU students also performed selections with the students of the two host schools. At Beihua, the Hornets danced and sang in Chinese, and then the DSU instrumentalists joined musicians from the host school on a rock version of the classical favorite Pachelbel (Canon in D-major).
The DSU ensemble also performed with the Dezhou students on the song "Knocking on Heaven's Door," as well as on a selection by a Russian performer.
Participating DSU students were:
Nireh Traylor, a senior psychology major from Bear, Del., who sang "So Will I."
Chloe Humphrey, a sophomore music education major from Newark, Del., who sang "Someone Like You" and "Ain't No Sunshine."
Aishah Bradley, a junior music industry major from Philadelphia, Pa., who performed the songs "Crazy" and "Drew Barrymore."
Mozella Matthews, a senior vocal performance music major from Rehoboth Beach, Del., who sang "Electric Lady" and "Love Lies."
Imani Sulleman, a senior from Southern New Jersey, who sang the song "Old Town Road," as well as an original song she wrote entitled "Been Through."
Beauty Marsh, a music major from Prince George's County, Md., who performed "Bruno Mars" and "Mash Up."
The vocalists were capably provided instrumental backup by:
Kamin Clark, a bassist and sophomore instrumental performance music major from Dover.
Glamu Kpov, a trombonist and senior music industry major from Philadelphia.
Davyn Parham, a drummer and sophomore music industry major from Bear.
Issachar Scroggins, a pianist and sophomore music industry major from Newark, N.J.
The concerts were the climactic parts of the June 7-17 international experience for the Hornet music artists. In addition to taking a course in traditional Chinese music and rehearsing for the performances, the students visited museums, dined on authentic Chinese cuisine and visited world renowned sites such as the Forbidden City in Beijing and the Great Wall of China.
Ms. Traylor said it was her third time to travel to China and represent Delaware State University with her music talent. She said it was her favorite visit of the three, because the students were able to give more than one performance.
"It is different, but it's beautiful because they are so genuine as a people and are grateful for what they have, and it makes you rethink what you have at home," Ms. Traylor said.
Ms. Marsh said she was surprised by the "love" she felt from Chinese students. "You really didn't really expect them to support us they way that they have because we are from outside of the country, but they showed love."
"It has been a learning experience as we brought the two cultures together," Mr. Kpov said. "I sing in the choir at DSU and I was surprised to see that they are vocally trained. Everything we are learning from Dr. (Lloyd) Mallory at DSU, they are learning the same thing here."
Ms. Bradley said it has been an "eye-opening" experience with respect to the cultural differences and their approach to music.
"They have different instruments and different techniques; for instance, their scales are different from ours," she said.
Ms. Matthews said when she began her DSU academic journey as a freshman, she had no idea that it would lead to performing in China.
"It has been fun. The language barrier has been the hardest thing, but it has been interesting because everyone is trying to figure each other out. But overall, it has been a great experience," she said. "The traditional Chinese music has been very interesting, as it was a little harder to learn the words to the songs, but once you got the words it was fun."
Dr. Frank Gazda, professor of music, traveled with the students and oversaw their international experience.
"The students have learned a lot about Chinese culture, and the Chinese students have really received our students beautifully," Dr. Gazda said. "We have worked with the Chinese students and faculty and have learned a lot about traditional Chinese music."