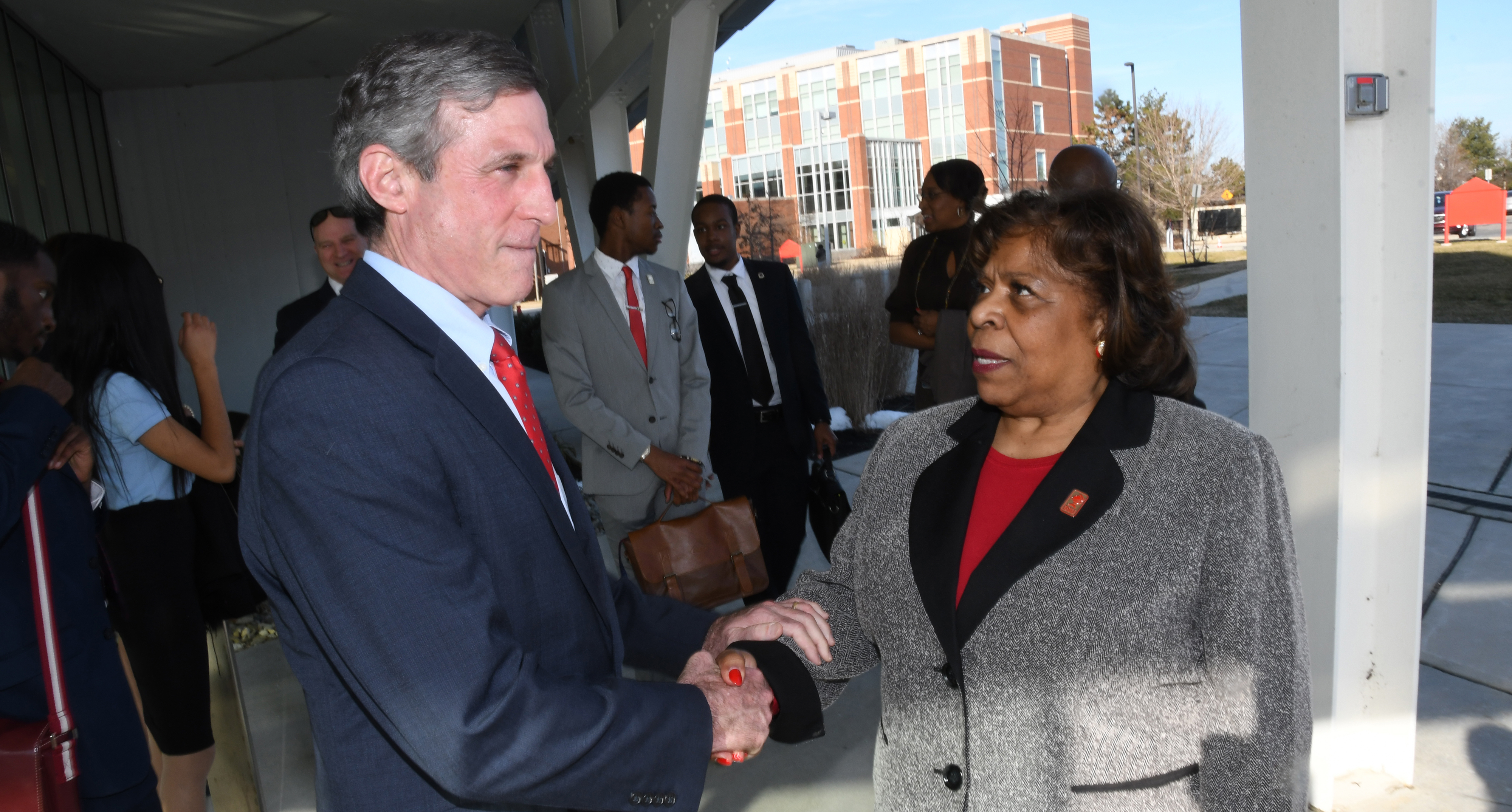 On Campus, Humanities, Education, and Social Sciences, Agriculture, Science, and Technology, Health and Behavioral Sciences
Gov. Carney visits DSU
Tuesday, February 5, 2019
Gov. John Carney paid Delaware State University and President Wilma Mishoe a visit on Feb. 5 to learn more about the research pursuits and hands-on experiences taking place at the institution.
To see images of Gov. Carney's visit, click on the below photo slideshow link:
https://www.flickr.com/photos/48216028@N03/sets/72157689452948463/show
During his Tuesday afternoon visit, Gov. Carney learned about the research taking place in the Department of Public & Allied Health's Kinesiology Lab. There Dr. Chris Mason, department chair, and Dr. Von Homer, visiting assistant professor, shared information with the governor about their research on neuromuscular stability and muscle tension and the development of analysis that can predictively identify those with a higher possibility of injury.
Gov. Carney then visited the Department of Mass Communication's radio and television studios, where he sat down for a five-minute on camera interview with senior Mass Comm major Morgan Poole. During the interview, he witnessed that the entire camera crew and control room technical were DSU Mass Comm students. Gov. Carney also received information from Renee Marine, program director, about the Mass Communications offerings at the University.
To see Ms. Poole's interview with Gov. Carney, click on the below link:
The state's Chief Executive ended his day at the Optical Science Center for Applied Research, where he visited some labs. Gov. Carney also heard from Dr. Melissa Harrington, University associate vice president for research, about the research expansion into the biomedical and psychology areas that would be possible if a second OSCAR building could be funded and built.
During his visit, Gov. Carney also saw the progress of the ongoing construction for the new residential hall on campus.