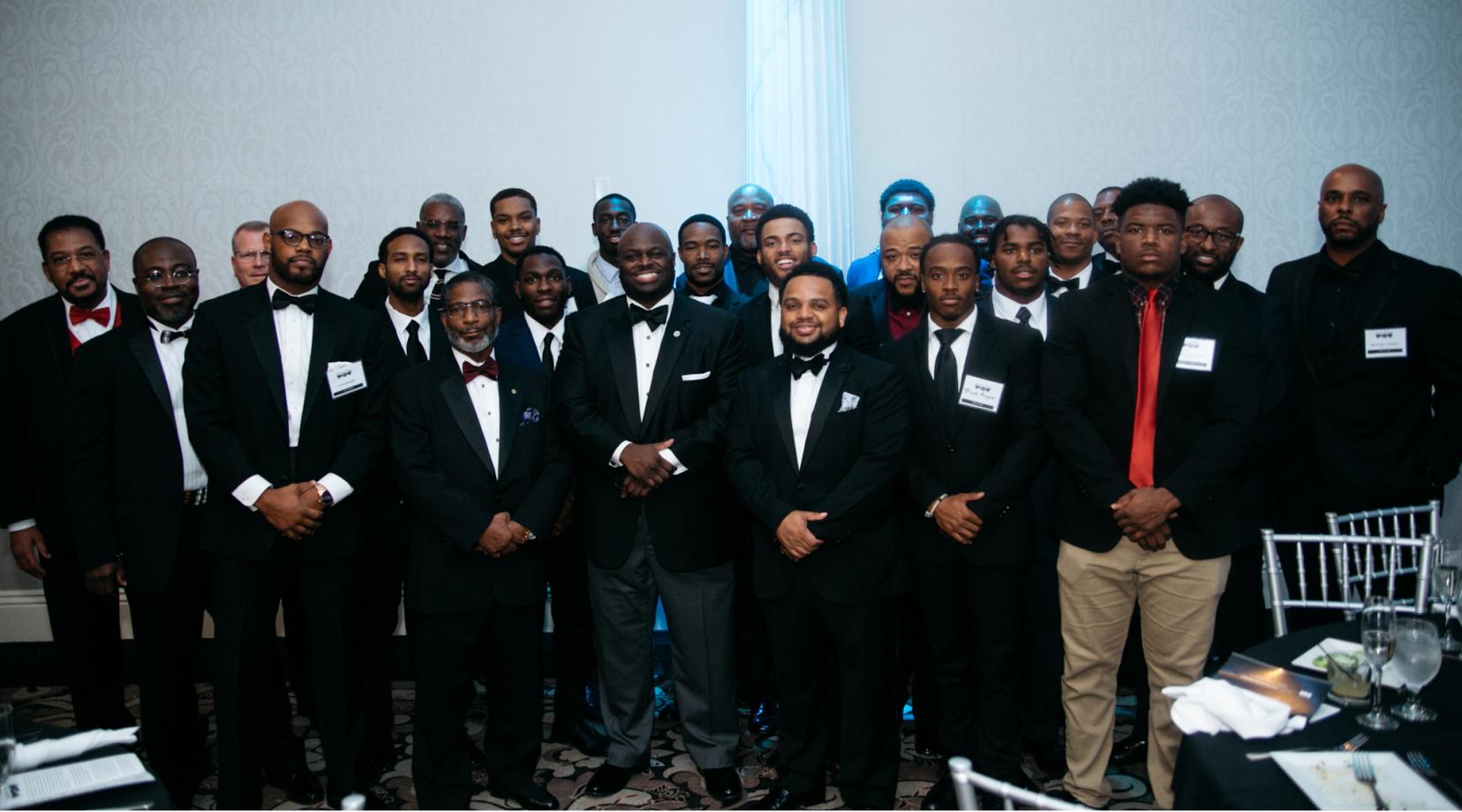 Student Success, On Campus, Faculty & Staff
Ebony Tie Affair event an evening of fellowship
Tuesday, November 27, 2018
Sometimes an event becomes a tradition, and a celebration becomes an inspiration that transcends generations. Such was the case with the 22nd Annual Ebony Tie Affair, hosted by Delaware State University on Monday, November 19, when 300 African-American men gathered for an elegant evening of camaraderie, great food, and mutual affirmation. Provost Tony Allen led a University contingent of over 30 administrators, faculty, staff, and students to the dinner.
"This event is more important than just its longevity," Allen said.  
Allen, who began attending Ebony Tie Affairs in 2001, explained that the dinner began as a one-time event to celebrate the achievements of African-American men in Delaware. It was the brainchild of an organizing committee chaired by James H. Gilliam, Jr., and including longtime Wilmington Mayor James H. Sills, former Delaware State University Trustee John W. Land, and News Journal Editor Norman Lockman, among many others. 
Allen chaired the event in 2016.
"Take a look around this room, and you'll begin to understand tonight's significance," Allen said, pointing out Calvin H. Christopher, Chair of the Delaware Human Rights Commission and board member of the Beautiful Gate Outreach Center, a major anti-HIV initiative. "Calvin was there at the start, one of the original committee members who conceived the idea and he's still here, touching the next generation of young black male excellence and achievement."
Also in attendance was Delaware State University junior Jahad Neibauer, a Management Information Systems major from Harrisburg, Pennsylvania. "A week ago, Jahad was earning MEAC Conference honors for his performance on the football field against Savannah State, and in less than two years he'll be out in the world with his degree. That critical connection between the generations from Calvin to Jahad is what we gather each year to strengthen."
Jahad understands; he said, "At first I thought this dinner would be about networking. It's really about community, and belonging to a tradition of African-American men who not only go out and achieve, but lift each other up. I'm proud just to be here tonight."
Delaware State University leaders attending the Ebony Tie Affair with the Provost included Trustees John Ridgeway, Norman Griffiths and Leroy Tice; Former Trustee Norman Oliver; Athletics Director W. Scott Gines; Football Coach Rod Milstead; Interim Dean of the College of Business Michael Casson; and Associate Dean of the College of Humanities, Education, and Social Sciences Akwasi Osei.