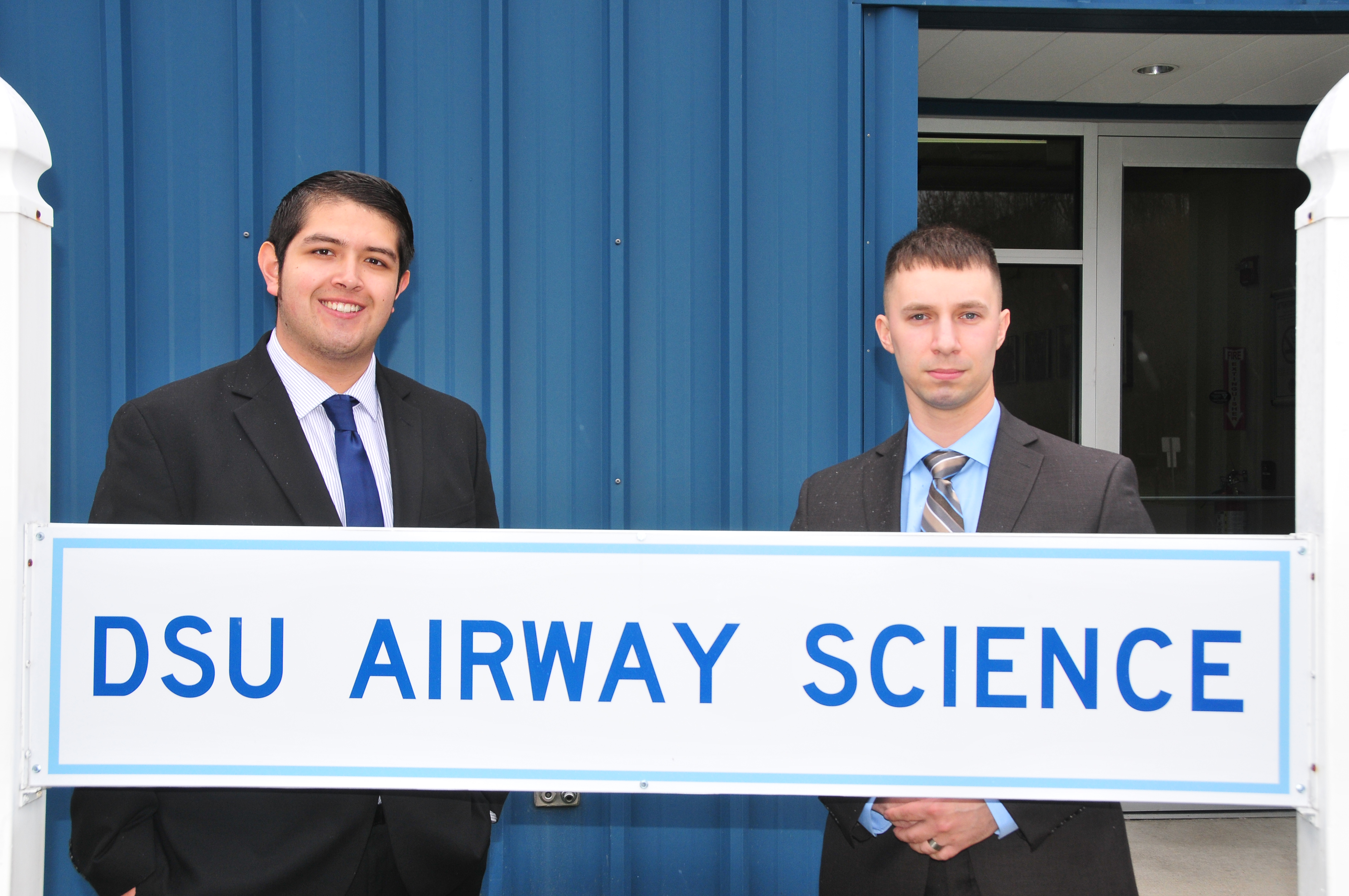 Business, Student Success, On Campus, Athletics
Seven seniors graduate with 4.0 at 2018 May Commencement
Thursday, April 26, 2018
A record number of students completed their undergraduate academic journeys at Delaware State University with perfect 4.0 grade point averages during the 2017-2018 academic year.
Seven graduating seniors at May Commencement join December Commencement's lone 4.0 graduate to bring the total for the entire school year to a record eight 4.0 graduates.
Among the seven 4.0 students who graduated in the Class of 2018:
Briana Villa – a senior Early Childhood Education major from Takoma Park, Md., and the daughter of Jennifer Villa and Michael Beckwith.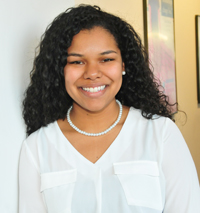 Ms. Villa said she was a good student at Montgomery Blair High School, but did not get straight As there. "But I had a 4.0 in my first semester at DSU, and after that I told myself that maybe I could do it again," she said.
Attracted to DSU by a partial sports scholarship, Ms. Villa played soccer during her first two undergraduate years. However, by her junior year, she stepped away from the intercollegiate sport.
"Playing at this level takes a lot of time," she said. "I stopped playing after two years so I could experience other things that the campus had to offer."
It also gave her more time to enhance her focus on her major by working in the Childhood Development Lab School, where for 2½ years she worked with toddlers ages one and two. "There is so much development going on at those ages – socially, emotionally and intellectually," she said. "To be able to support and watch that is awesome."
Ms. Villa said her plan is get some experience teaching before she goes to graduate school. "I have a job offer in Montgomery County (Md.), but I would like to stay in Delaware," she said.
Morgan R. Johnson – a senior Psychology major from Ansonia, Conn., and the daughter of Todd and Candace Clark-Johnson.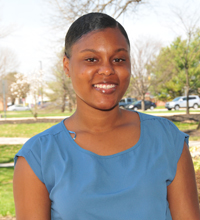 Although she was a straight-A graduate of Metropolitan Business Academy High School in New Haven, Conn., Ms. Johnson said she began her undergraduate journey just wanting to pass her courses. Nevertheless, each semester ended as a continuation of her academic perfection.
"By the time I got to my senior year, it didn't make any sense for me to get a B," she said.
Ms. Johnson began as a Criminal Justice major, but then changed her major to Psychology after her junior year. "I have aspirations to work for the FBI or the Drug Enforcement Agency, but I also would like to be a clinical psychologist," she said. "To work for (those federal agencies), I realized that I didn't have to have a Criminal Justice degree."
During her DSU years, Ms. Johnson was a residential assistant and off-campus worked as a sales assistant at Charlotte Russe in the Dover Mall. As a three-year member of Zeta Phi Beta Sorority, she served as the treasurer during her senior year. She is also a member of the DSU Collegiate Chapter of the National Organization of Black Law Enforcement Executives (NOBLE), for which she is president.
I have learned a lot at DSU in terms of time management and becoming a better writer," she said. "I have become more confident in myself and have become a better leader."
Ms. Johnson plans to continue her education and is currently submitting graduate school applications.
Ireanna Aleya Peete – a senior art education major who was born and raised in Jacksonville, Fla. She is the daughter of Elaine and the late Calvin Peete – the most successful African American professional golfer on the PGA Tour prior to Tiger Woods.
Ms. Peete inherited her father's love for the game, which led to her enrollment at DSU on a golf scholarship. She joined her sister Aisha Peete on the DSU women's golf team as a freshman in 2014 and has played in all four seasons her undergraduate years; during the last two years, she served as team captain.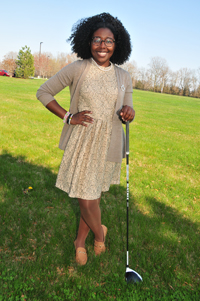 Although not a 4.0 student at Ponte Vedra High School in Jacksonville, she got off to a perfect start her first DSU semester with all As. She credits DSU Athletics with helping her continue that with each semester.
"Athletics – which offers study halls – does a good job ensuring that we get our work done," Ms. Peete said. "(The straight As) created a competition within myself, and after my freshman year I was always on edge about keeping my academics up."
She was able to maintain her 4.0 amid the passing of the father toward the end of her sophomore year in 2015. Ms. Peete and her sister Aisha (who graduated in 2016) played in the season's last tournament in memory of their father.
As an artist who prefers to express her creativity through the oil paint medium, Ms. Peete said she was inspired to go into art education by the "great art teachers" she had during her elementary, middle and high school years. "Art can be impactful," she said. "I want to make a difference."
In addition to the women's golf team, Ms. Peete was the corresponding secretary and currently the president of Curl and Coils Hair Care Association, which promotes healthy hair care on campus. She recently became a member of Alpha Kappa Alpha Sorority Inc.
Her immediate post-DSU path has already been set, as she has received a full scholarship as a fellow at Ohio State University, where she will continue her art education studies.
Ashley N. Buckingham – an elementary education major from Long Island, N.Y., and the daughter of Joseph and Teresa Buckingham.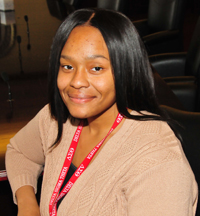 Ms. Buckingham said a seed was planted when as a freshman she had a conversation with a senior who had a 4.0 GPA. "I thought that was amazing. It increased my ambition to have great grades," she said. "At first I just wanted to make my parents and family proud, but as the years continued on, it became a challenge for me, and I didn't want to see any Bs."
She said the Mathematics for Teachers course presented the biggest challenge to her 4.0, which she met head on by seeking help from supplemental instructors (student tutors). It not only helped her maintain her academic perfection, but it also led her to later becoming a supplemental instructor.
Striving to maintain a 4.0 did not keep her from involvement in extracurricular activities. She has participated in the Hidden Vanity dance organization, the Fairy Godsisters of Delaware, Rotoract, ELITE (Educated Ladies Igniting True Essence), LIFT, the National Council of Women, as well as the Epsilon Alpha Chapter of Delta Sigma Theta Sorority Inc., of which she has serves as recording secretary and currently is the president.
Ms. Buckingham plans to go to graduate school, but first wants to get some experience teaching.
"I would like to get a special education degree in graduate school," she said. "But first I want to find out where I am going to teach, so I can be a part of a school system in the same region where I will go to graduate school."
Kirk E. Prange – a senior Aviation (Professional Pilot) major from Newark, Del., and the son of Ken and Aimee Prange.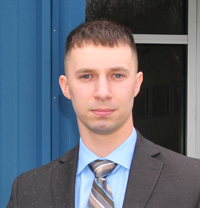 After his 2010 graduation from Delcastle Vocational High School, Mr. Prange spent four years in the Marines and afterward used his GI Bill benefits to enroll at DSU. "I went into my courses at DSU not knowing what to expect, because I had gone to vocational school," he said. "But once I got straight As in my first semester, I then just kept trying to do it again."
Mr. Prange has made DSU Aviation Program history becoming the first professional pilot student to earn a commercial rating for helicopter. He also might be the last, as DSU has discontinued its partnership with a helicopter firm that made the training possible.
He did not have many extracurricular activities outside of the classroom, the flightline, the Marine Reserves and home during his undergraduate journey. The Aviation major largely focused his priorities on maintaining his 4.0, getting his flight hours in and taking care of his wife Samantha at home.
Mr. Prange's plan is to become a Delaware State Police trooper. "It is always something I have wanted to do," he said. "I hope to be able to apply for their Aviation Department and fly for them."
Edgar Ortiz – a senior Aviation (Management) from Freehold, N.J., and the son of Martin and Noelia Ortiz.
Like the others, the first semester provided Mr. Ortiz with all the motivation he needed to maintain a 4.0 GPA. "I told myself, if I could do it once, I can do it again," he said.
Mr. Ortiz kept his GPA perfection on track while also holding other responsibilities. He has been a residential assistant (now senior RA), a two-term president of the DSU Chapter of the National Society of Leadership and Success, and was selected in 2016 by the White House Initiative on HBCUs to be a HBCU All-Star.
In addition to doing an internship at DuPont's Corporate Flight Department, he joined two other students in representing DSU at a 2016 HBCU Town Hall event hosted by the Bill and Melinda Gates Foundation in Seattle, Wash.
While his aspiration continued to be an air traffic controller, his horizons likely will continue to expand with respect to future possibilities in aviation management.
His next stop after receiving his DSU diploma will be graduate school to pursue a Master of Business Administration. He currently has three schools to choose from – he has already been accepted in the MBA programs at Monmouth University, Montclair State University and Seton Hall University, all in New Jersey.
"I want to get a general MBA, as it is the same as getting an aviation MBA," Mr. Ortiz said. "I am still focused to doing something aviation-related."
Curtis A. Hite Jr. – A senior computer science major from Philadelphia, Pa., and the son of Curtis Sr. and Cheryl Hite.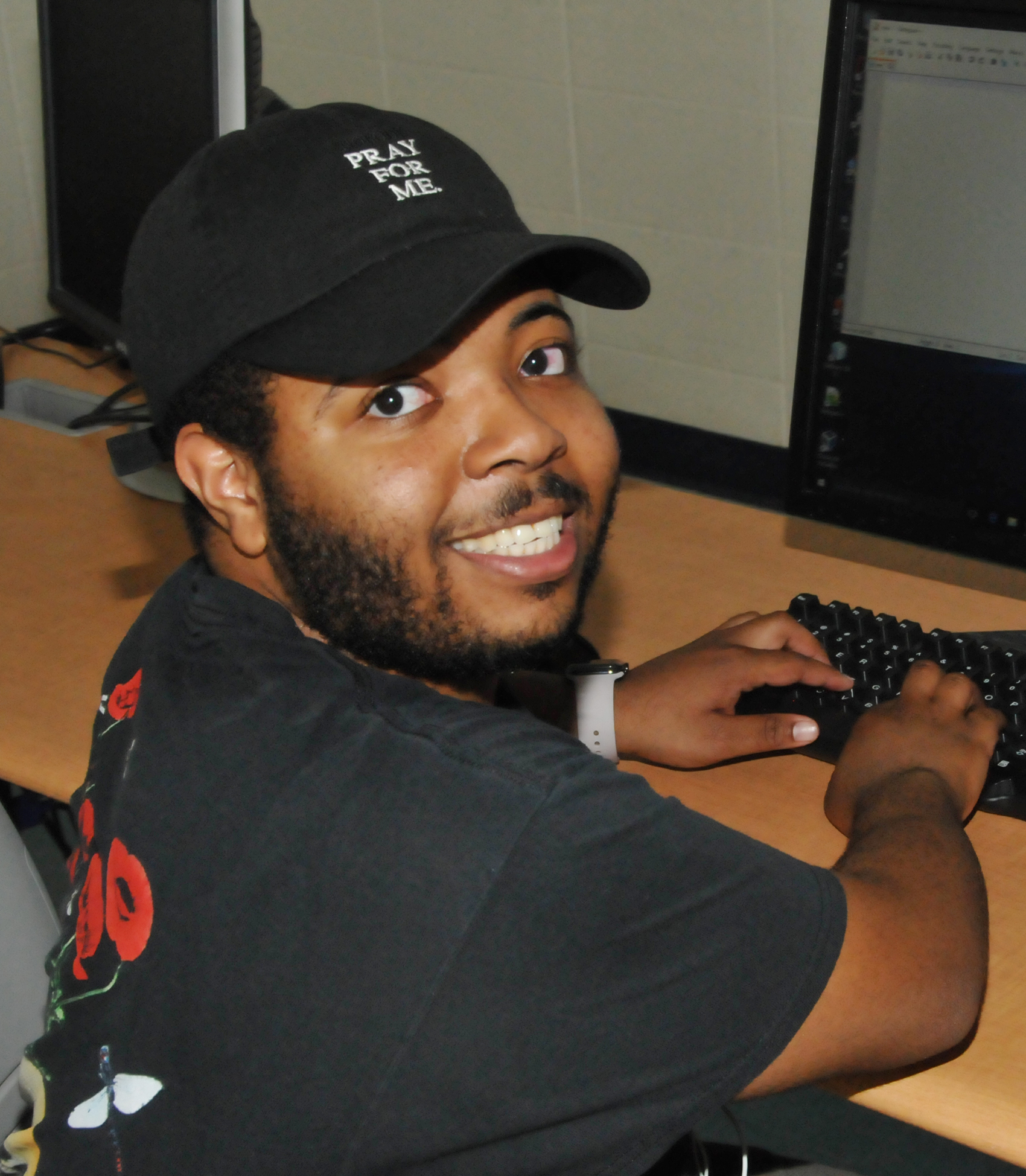 Mr. Hite credits his scholarship, his parents and his desire to do his best as the main factors in his 4.0 undergraduate success.
"At first the goal was to keep my DSU Premier Platinum Scholarship, so I had to keep my grades up," he said. "My parents were proud of me, so that helped motivate me."
He added that once he achieved the first set of straight As, he simply worked to continue the streak with each semester.
Outside of the classroom, his focus remained on computer science. He was a paid tutor for his department and worked with freshmen to get them involved with the department's computer science events. Mr. Hite's academic diligence also won him coveted internships with NASA and Apple.
Mr. Hite said at first he didn't want to come to DSU. "But it turned out to be the best experience, because of the people I met, the relationships I developed and the opportunities DSU gave me," he said.
Job-hunting will not be necessary after his May 12 graduation. "I've already got a job lined up as an entry-level software developer with IBM in Durham, North Carolina," he said.
He added that in the long term, he would like to own his own business. "More than likely, it will be a tech company because of my background."
During the 2017 December Commencement, Seth Alan Fair, an Elementary Education major from Greenwood, Del., was the lone 4.0 graduate from that ceremony.
Prior to the current school year, the 2008 academic year has held the record with six 4.0 graduates.