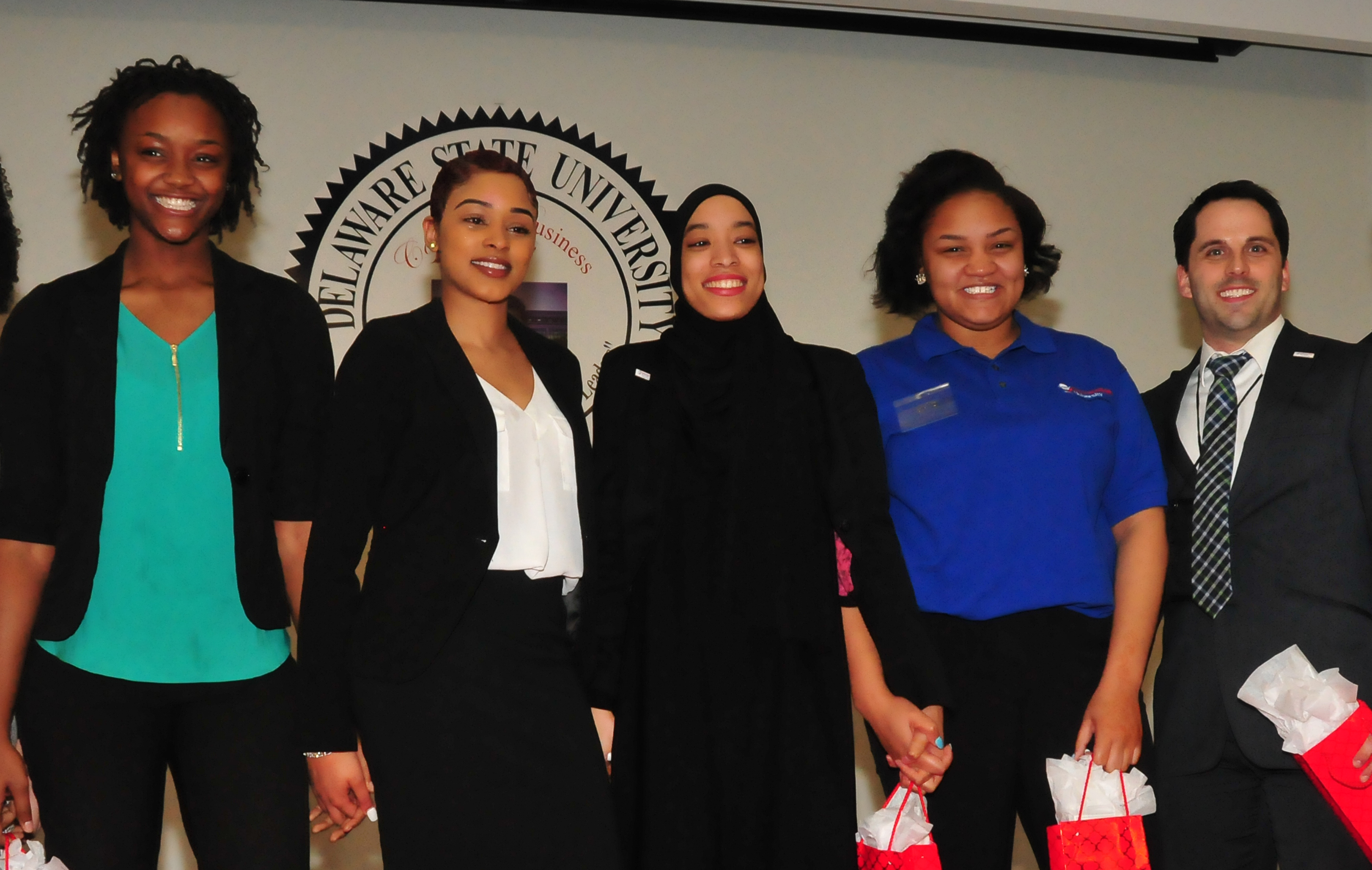 Business, On Campus
Deep Day Business Competition Winners
Thursday, March 29, 2018
Delaware State University's College of Business (COB) held its annual "Deep Day," which included a Business Case Competition that ended with the En'Liven team taking first place.
Deep Day is a daylong event designed to give College of Business students professional development sessions led by top-tier executives. The event also included Business Case Competition presentation, which culminated the Deep Day activities. Six teams competed by trying to come up with the best two-year plan that could contribute to the eradication of homelessness in the local area.
The first-place En'Liven team – Lashae Eden-Clemons, Kia Abrams, Alexis Sharif and LaShae Billips – took the top prize by developing a plan to partner with the Habitat for Humanity Restore Center, the Dover Interfaith Mission Shelter, the Small Business Development Center of Delaware, Pastor Regina Belle and Dover Mayor Robin Christensen, to start their nonprofit En'Liven. The plan called for En'Liven to use those resources to get homeless persons connected to housing possibilities and help them develop a small business venture.
En'Liven was coached by Brian Passerell, COB career and academic advisor.
Second-place went to the Legacy team – Jason Nunley Jr., Ruth Kotter, Muhamadu Bah, Kayla Reed and Brendon Li-A-Ping; their coach was Andrea Watkins-Cropper, COB industry liaison.
Third-place team went to the MIS/ERP team – Bailey Elmore, Michael Smith, Matthew Stearns, Xavier Wilcher, John Robinson; their coach was Zahid Zamir, business administration instructor.
The Deep Day keynote speaker was Christopher Nichols, Retail Market Manager for M&T Bank. Mr. Nichols is responsible for six regions and more than 100 bank branches in Southern New Jersey, Philadelphia, Delaware and the Eastern Shore of Maryland.
The event also feature a number of panel discussions that dealt with topics relating to transitioning from the classroom to the workplace, the art of the interview, understanding personal brand, as well as several leadership subjects. The discussion features panelists who represented a diverse array of executives from financial institutions, business corporations and consultant firms.
Deep Day also enlisted other visiting executives to participate in resume reviews and conduct mock interviews.
"The day aids them on their journey toward becoming successful business professionals with a global perspective," said COB Dean Donna Covington.