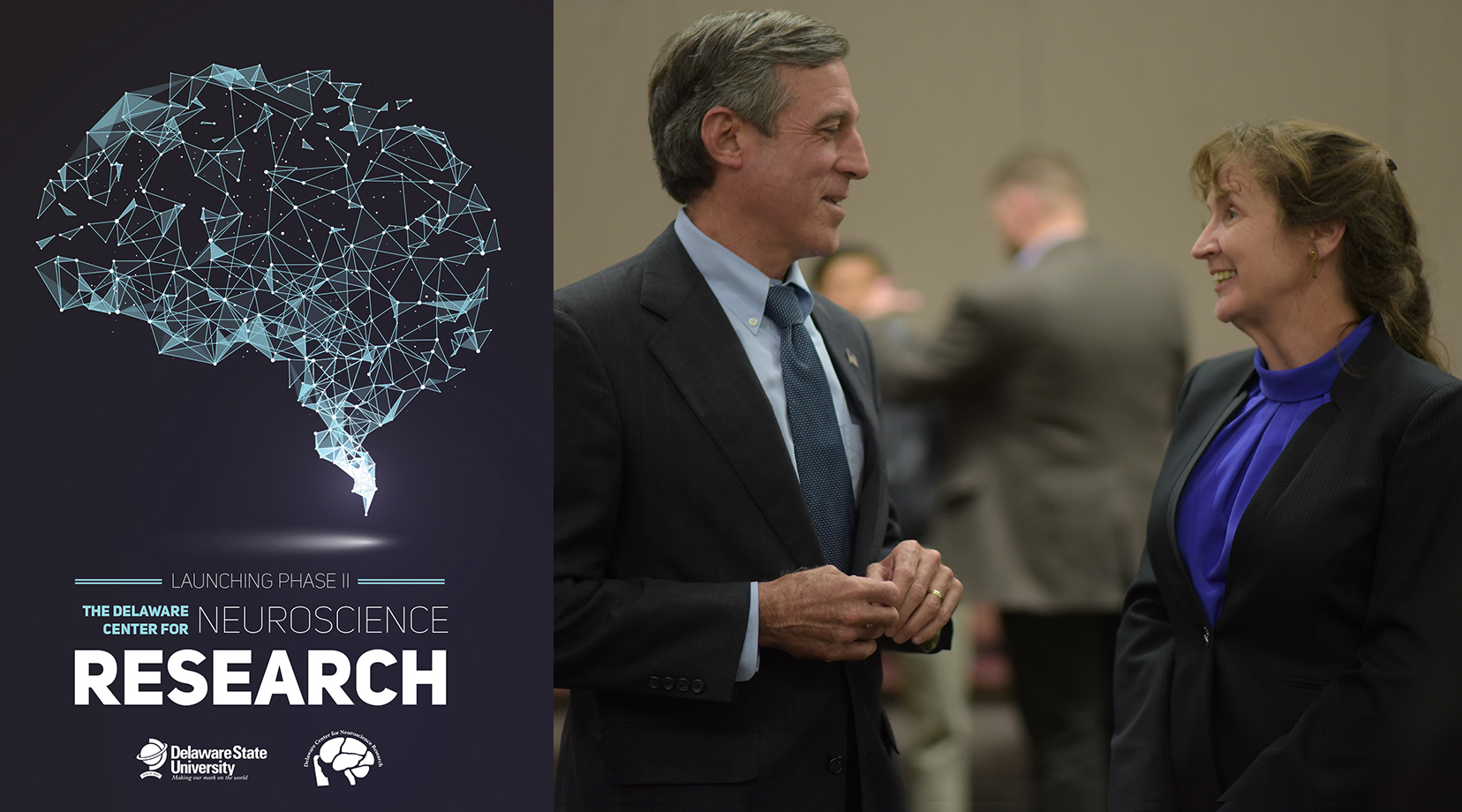 Research & Innovation
DSU Neuroscience Center awarded $10.9M NIH grant
Tuesday, November 21, 2017
The National Institutes of Health (NIH) has awarded DSU's Delaware Center for Neuroscience Research the largest grant in the University's history, $10.9 million over five years. This grant allows the DSU Center of Biomedical Research Excellence (COBRE) to build on successes achieved under the original $10.5 million received for Phase I of COBRE in 2012.
"The overarching goal of our Neuroscience Center is to bring together and support neuroscientists working at multiple scales, from human subjects to rodent and invertebrate models, to improve our understanding of the dynamic function of the brain," said Dr. Melissa Harrington, director of the Neuroscience Center and principal investigator of the Phase I and II COBRE grants.
The renewed funding will support Phase II research collaborations between DSU – the lead institution for the grant – and the University of Delaware.
Delaware leaders noted that the partnership between the universities gives the First State a strong position within the neuroscience research community nationwide.
"Five years ago, Delaware State University and the University of Delaware launched a joint effort to begin important neuroscience research, which solidified these prestigious universities' reputation as talented research institutions. This federal grant from the National Institutes of Health means that critical work will continue," said U.S. Senator Tom Carper. "Not only will this First State collaboration advance the study of the brain, but it will also attract talented students and scientists to our state."
"Delaware State University and the University of Delaware have an impressive capacity for collaboration and innovation," Gov. John Carney said. "This NIH grant will allow our in-state institutions to continue their work at the Delaware Center for Neuroscience Research, and prepare the next generation of innovators, researchers and biomedical professionals."
Phase I (2012-2016) established the Delaware Center for Neuroscience Research, provided research and professional development funding for center-affiliated investigators, and funded hiring of new faculty at DSU. Outcomes from Phase I included more than 70 publications by COBRE-supported researchers. Additionally, support provided through COBRE resulted in individual grant awards for six COBRE-affiliated investigators and helped DSU win additional grants to fund the establishment of an undergraduate summer research program and grow the neuroscience graduate program.
Phase II proposed activities include purchasing research instrumentation for UD's Center for Biomedical and Brain Imaging. Similar to Phase I activities, Phase II funding at both campuses will support new faculty recruits in neuroscience, and continue providing research and professional development support for affiliated investigators preparing them to pursue grant funding to establish individual research programs.