On Campus, Diversity, Equity and Inclusion
DSU Receives Gold Award for Diversity Work
Friday, September 8, 2017
The Delaware Chapter of the Society for Human Resources Management (Del-SHRM) recently presented a Gold Award to Delaware State University for its work on campus cultivating diversity and inclusion on campus.
DSU received the award on July 11 at Del-SHRM's Diversity and Inclusion Conference Ceremony at Dover Downs Hotel and Casino. Pamela Mosley Gresham, Esq., chairwoman of the DSU's Diversity Task Force, accepted the award on behalf of the University.
Del-SHRM recognized DSU for its following initiatives:
For partnering with TheDream.US to enroll Dreamers (undocumented immigrant students) at DSU.
For employing a campus interfaith director to interface with each religion-related student organization.
For being a numerous recipient of the Military Friendly School Award for its work in helping to guide our military and veteran students' transition from military life to college student.
For the establishment of a Diversity Unit within its Office of Human Resources, as well as the formation of a Diversity Task Force.
Del-SHRM honored eight nominees with Gold, Silver and Bronze Awards. DSU, the University of Delaware and the Eagle Group each received the top Gold Award.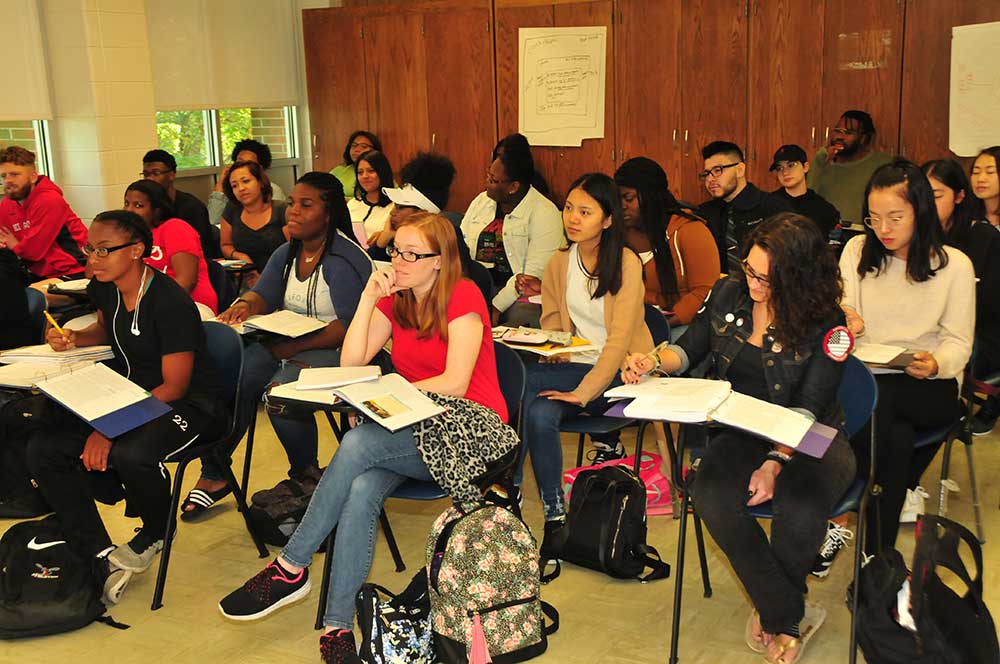 The DSU Diversity Task Force – established by President Harry L. Williams in March 2017 – is now working to build on the rich mix of backgrounds and existing sense of inclusion on the Del State campus.
The task force has undertaken a systematic review of campus diversity to learn how to provide additional support to individual ethnic, cultural, religious groups and others, as well as how to enhance inclusion at DSU. As part of that work, a survey will be launched during the current fall semester that will seek feedback from members of the DSU community on issues of diversity and inclusion on campus.
Chaired by Ms. Gresham, director of Labor Relations and Diversity in the DSU Office of Human Resources, the University's Diversity Task Force members include:
Dr. Donald Becker, chair of the Department of Mass Communications, Visual and Performing Arts.
Dr. Francine Edwards, interim dean of the College of Arts, Humanities and Social Sciences.
Trinette Fonseca, senior secretary, Office of Counseling.
Ann Knettler-Smith, coordinator of Student Accessibility.
Dr. Young-Sik Kwak, associate dean, College of Business.
Dawn Mosley, executive director of Marketing and Communications.
Kevin Noriega, academic advisor, College of Education, Health and Public Policy, Opportunity Scholarship students.
Micah Parker, campus maintenance mechanic/electrician.
Dr. John Rich, assistant professor of psychology.
Capt. Vincent Shipman, DSU Police Department.
Jordin Williams, interim director, Department of Wellness and Recreation.
Candy Young, Title IX director.
Dr. Rathee Nirmaljit, Education Dept. director of Graduate Programs
Irene Chapman-Hawkins, vice president of Human Resources.
Dr. Stacy Downing, vice president of Student Affairs.
David Sheppard, DSU general counsel.
"I have an amazing committee," said Ms. Gresham. "The diverse background of the task force members and what each individual brings to the table is tremendous and very important for the work we are doing."
Ms. Gresham added that a comprehensive report on DSU campus diversity and inclusion would be produced from the findings of the task force's work.
As one of the University's Core Values, the DSU community appreciates the diversity because it enriches our campus, said Mrs. Hawkins.
"We strive continually to build an inclusive and welcoming team of faculty, staff and administrators with diverse talents and skills from a multitude of backgrounds, who are committed to the success of our students, the growth of our University, and the overall quality and culture of DSU campus life," Mrs. Hawkins said.
"I am very pleased in the undertaking of the task force because we never want to take our diversity for granted," Mrs. Hawkins added. "At DSU our goal is to cultivate an atmosphere of inclusion and engagement that promotes and sustain a sense of belonging among students, staff and faculty."