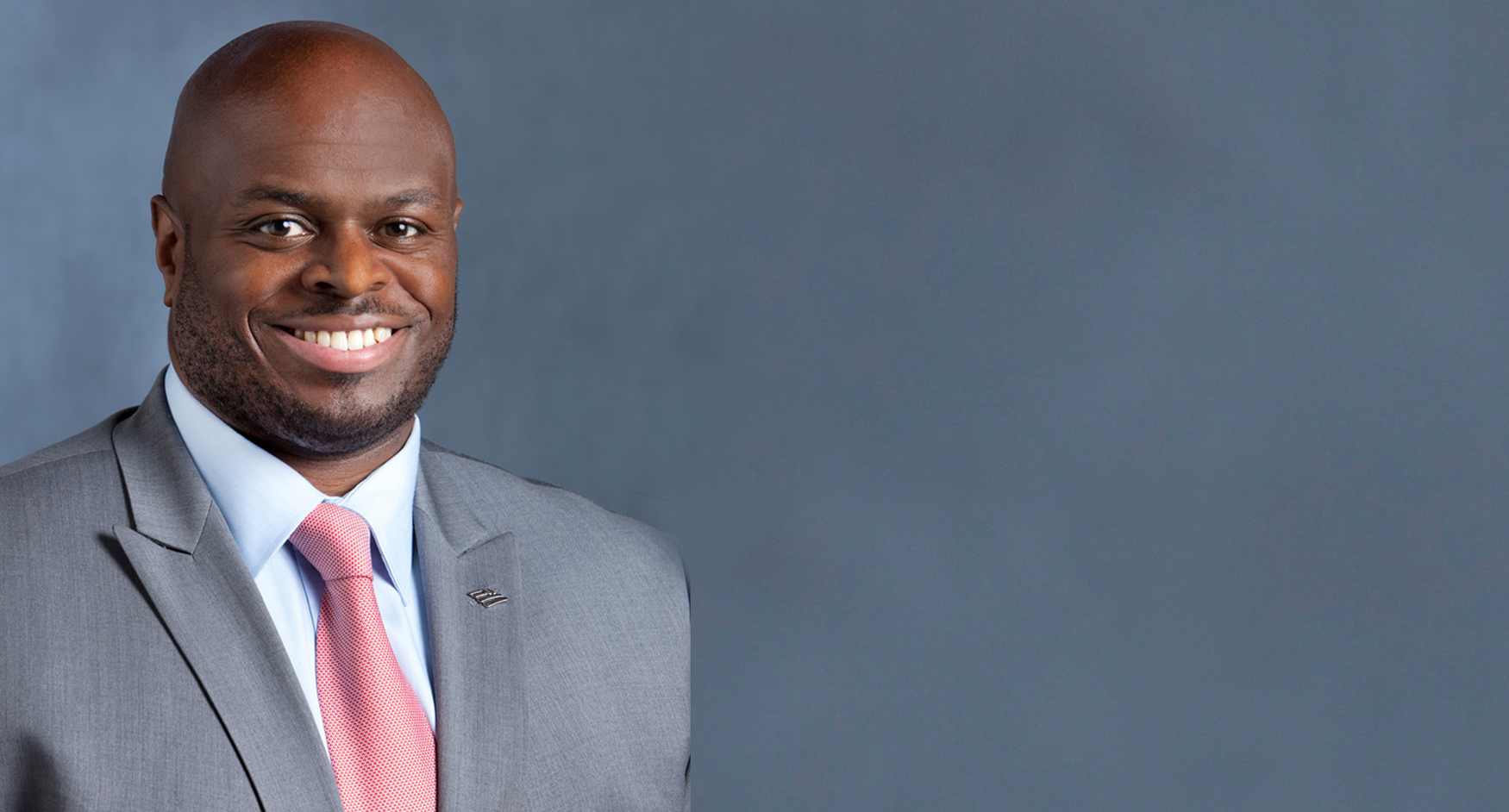 On Campus
DSU Appoints Dr. Tony Allen as New Provost
Thursday, June 15, 2017
DSU President Harry L. Williams today announced the appointment of banking executive and long-standing Wilmington civic leader Dr. Tony Allen as Delaware State University's next Provost.  Dr. Allen will be the Chief Academic Officer leading a faculty of 212 professors and 21 academic departments serving more than 4,600 undergraduate and graduate students.
Calling the appointment a pivotal move for DSU, Dr. Williams noted that Dr. Allen is well respected locally and nationally for his keen intellect and strong character. 
"His substantial educational background, coupled with a successful career in the private sector and extensive public service credentials make him an excellent fit to be the No. 2 executive leader at DSU and to lead the institution's academic transformation," Dr. Williams said. "Dr. Allen's leadership will put student success first and support the continued growth in the scholarship, research and community service that distinguishes our institution."
Currently, Dr. Allen is the Head of Corporate Reputation for Bank of America, a discipline he designed to enhance the bank's brand among influential external audiences including media elites, national social justice advocates, academics, and elected officials at the federal and local levels. During his time at Bank of America, Allen was a key advisor to retired Vice Chairman David Darnell, led corporate communications for three of the company's largest businesses and co-chaired the Diversity & Inclusion Council for Global Marketing and Corporate Affairs.
"Tony and I have worked together for 13 years," said Delaware State Chamber of Commerce Chairman and Bank of America Market President Chip Rossi.  "I know his commitment, his expertise and his passion for people.  He went about his work here with a diligence and savvy that has served our company quite well and has helped me lead Bank of America in Delaware with a focus on our teammates and the communities they call home." 
In 2012, Rossi and Dr. Allen co-led the donation of a 450,000-square-foot facility to the Longwood Foundation to build a campus of city schools, primarily focused on eliminating the achievement gap for 2,500 students of color and their mainstream counterparts.  Rossi continued, "Tony's departure is a bittersweet moment for us, but we are all very proud of him and know that this next step in his journey will serve DSU's students, faculty, staff — and Tony — well."
Previously an Executive Vice President with MBNA and the founding President of the Metropolitan Wilmington Urban League, Allen also spent several years working for former Vice President Joseph R. Biden as a speechwriter and special assistant.  In 1994, Dr. Allen began his career as the co-founder of Public Allies Delaware, a leadership development organization for young adults interested in full-time public service careers.  Since that time, more than 600 "Allies" have graduated from the program, contributing nearly 1 million hours of volunteer service to Delaware communities.  
Vice President Biden commented on Dr. Allen's appointment:  "I have known Tony for 20 years. When he worked for me, he was a full-time staffer, pursuing his doctoral studies, raising a family and serving on just about every board or committee of consequence in the state.  In the past few years, he has proven to be a tireless advocate for the overlooked, underserved or ignored, 100 percent committed to making this a better, more hospitable, opportunity-filled place to live and raise a family. 
"Del State is a perfect fit for Tony.  He embodies the school's ideals of providing the highest quality education for all, regardless of what you look like, where you come from or who you love.  The University is lucky to have him, and the state of Delaware is lucky to keep him, right here, where I am sure he will continue to serve our communities with passion and purpose."
Dr. Allen joins Delaware State University at a critical time in the state's history.  Governor John Carney commented, "DSU has created opportunity for diverse populations of students for generations, and it is critical that the University assume an even larger role as an economic driver in Delaware in the coming years.  Tony's experience in both the public and private sectors make him uniquely qualified to lead these efforts."
As Provost, Dr. Allen will continue several of his ongoing commitments to Delaware communities, most notably his Chairmanship of the Wilmington Education Improvement Commission, which was created to strengthen public education for low-income students of color throughout Delaware. The Commission's mandate is outlined in two seminal reports, Strengthening Wilmington Education: An Action Agenda (2015) and Solutions for Delaware Schools (2016).
Congresswoman Lisa Blunt Rochester, who serves on the Congressional Committee on Education and the Workforce, added, "As a member of the House Higher Education and Workforce Development Subcommittee, I am elated to hear of the appointment of Dr. Tony Allen as DSU Provost.  Tony brings to the post impeccable management skills, a service-minded code of ethics, great intellect, and a humble spirit.  He is an educational hero in the eyes of Delawareans — from the boardroom to our communities."
Excited about the opportunity, Dr. Allen said,
"I am extraordinarily grateful to President Williams, the Search Committee and the entire Delaware State University community for this tremendous chance to join an institution I have watched undergo an unmistakable transformation under President Williams' leadership."  
"I am equally buoyed by the tasks in front of us.  Delaware State University's future depends on its success in meeting the challenges of a changing environment for higher education, and a more connected global community.  Addressing these challenges requires higher levels of innovation, a strong institutional profile and the development of a unique and stable niche in an increasingly competitive and turbulent marketplace."
"Our country is better positioned for the future if every segment of society sees success as a link to that of their fellow citizens.  And so we will begin with the end in mind: rigorously supporting the success of our students, promoting the outstanding scholarship of our faculty, and contributing to our communities — in Delaware and around the world — in every field of human endeavor."
Dr. Allen will begin his tenure with Delaware State University on August 15.  
In addition to the above endorsements, Dr. Allen also received numerous expressions of support from other Congressional delegation members, DSU faculty member and others. Praises for the appointment were heard from:
U.S. Sen. Thomas R. Carper, Delaware
"Tony Allen brings to DSU years of experience in business and helping youth succeed in Delaware. From his leadership of the Wilmington Education Improvement Commission to helping found Public Allies Delaware, Tony has committed his life to helping families and strengthening education programs that serve them. Delaware State University helps to drive the economy in Kent County, and the institution is a leader in research and education among universities around the country. I know Tony will help DSU continue in the right direction. Hornets rising!"
U.S. Sen. Chris Coons, Delaware
"Dr. Tony Allen has demonstrated over two decades his passion for improving education and opportunity. I have long been impressed with his character, energy and persistence in advancing social justice. After years of successful leadership at Bank of America, I'm excited by Tony's next chapter in service. I'm thrilled he will serve as DSU's next Provost, and I congratulate Tony, Dr. Williams and the DSU board."
Quinetta M. Roberson, Ph.D., Fred J. Springer Endowed Chair in Business Leadership, Villanova University
"I am thrilled to hear that Dr. Tony Allen will be appointed as Provost and Executive Vice President for Academic Affairs. Within the banking industry, Tony has created a name for himself given a demonstrated ability to set strategy, lead with purpose, cultivate collaboration both internally and externally, grow talent, and deliver results. As the chief academic officer for DSU, these capabilities will now be used to create and implement academic priorities that will drive the university's advancement as a center for teaching, research and public service and one of the premier HBCUs in the country. This is quite a coup, and I congratulate President Williams, the Trustees and the DSU community on attracting such a talent!"
Richard Barczewski, Ph.D., Chairperson, Department of Agriculture and Natural Resources, Delaware State University
"Tony Allen brings a wealth of leadership and experience from the business world that will benefit DSU as it transforms into a leading HBCU.  His familiarity with Delaware and the needs of its citizens will go a long way to helping DSU in this transformation."
Charlie Wilson, Ph.D., Chairperson, Department of Biology, Delaware State University
Dr. Allen has a long history of building consensus among disparate groups, and serving as a strong advocate for students and the community alike. I look forward to him transferring his skills and experiences in advocacy to the benefit of our students, faculty, and University.
Akwasi Osei, Ph.D., Chairperson, Department of History, Political Science and Philosophy, Delaware State University
"With the appointment of Tony Allen as Provost and VP for Academic Affairs, DSU is now on track to tackle our academic challenges.  For those of us focused on our core enterprise, this is a much welcome development."
Joseph Amoako, Ph.D., Chairperson, Department of English and Foreign Languages, Delaware State University
"The appointment of Dr. Tony Allen as the Provost and Vice President for Academic Affairs is a lubricant for the wheels of the academic administration because he will set in motion the recommendations which were made by the Academic Administration Taskforce."
Adriana Leela Bohm, Board of Education, Red Clay Consolidate School District, New Castle County, Del.
"Tony Allen is an intellectual, an advocate, and a man of the people. I am thrilled he will be the next Provost of Delaware State University because as a visionary he will create new opportunities for students; he will be active in our community around social justice issues; and he will be a passionate and radical advocate for creating a more equitable form of public education from pre-school through college."
Hugh B. Price, former President and CEO of the National Urban League
"Delaware State University has made a superb choice in selecting Dr. Tony Allen as Provost and Vice President for Academic Affairs.  His longtime leadership in community affairs and civil rights aligns perfectly with the mission and values of the institution.  With his impressive intellect, Dr. Allen will honor and reinforce the lofty academic standards of Delaware State.  And his business acumen will serve the university well as it navigates the organizational and financial challenges of the 21st century."
Dave Sysko, Executive Director, Laffey McHugh Foundation
"Delaware State University's appointment of Dr. Tony Allen as Provost and Vice President for Academic Affairs is wonderful news for the students and faculty of this prestigious University. Tony, a close friend for over 25 years, has outstanding leadership skills and a passion for excellence in education. Tony Allen will be a tremendous addition to the DSU Team."