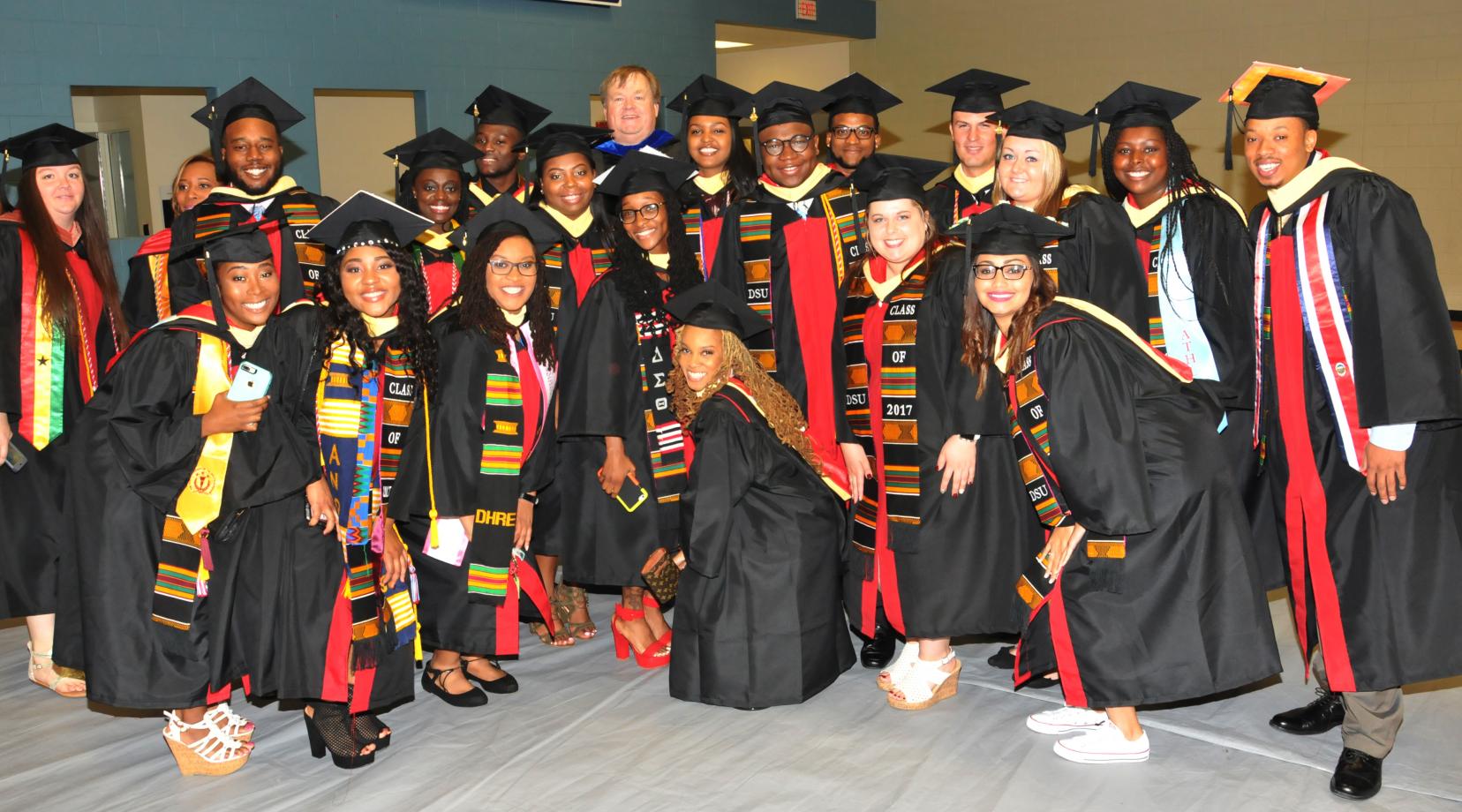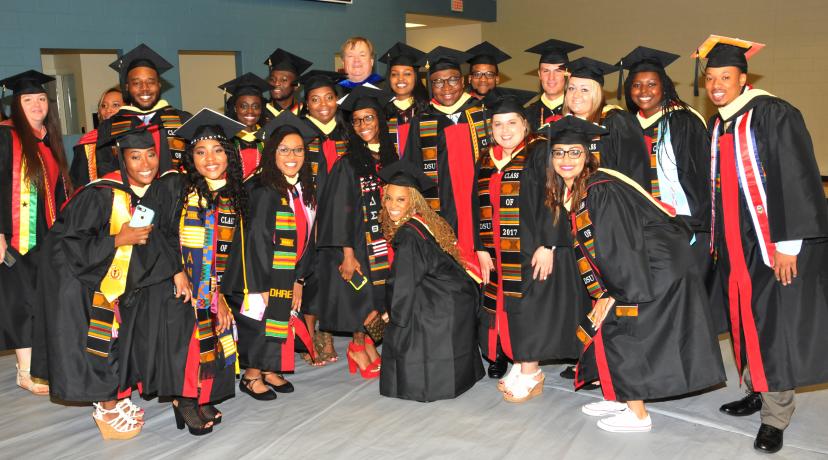 On Campus
DSU Celebrates Three Commencements Indoors
Sunday, May 14, 2017
The all-day rain that descended upon Delaware on May 13 did not dampen the spirits of the graduating Class of 2017, but it did force DSU to move the Commencement exercises inside Memorial Hall Gymnasium, where the University had to hold three separate ceremonies due to the space limitations of that edifice.
To view images from the three Commencement Ceremonies, click on the below slideshow link:
https://www.flickr.com/photos/48216028@N03/sets/72157681675910301/show
About 650 DSU doctoral, master's and bachelor's graduates participated in the three ceremonies, which were held at 9 a.m., noon and 3 p.m. in the packed gymnasium and were presided over by DSU President Harry L. Williams and Dr. Saundra DeLauder, interim vice president of Academic Affairs.
This spring's graduating class produced 172 honors students, which included 34 Summa Cum Laudes (3.75 GPA or above), 51 Magna Cum Laudes (3.5 to 3.74), 76 Cum Laudes (3.25 to 3.49) and 11 honorable mentions (transfer students with 60 or more credits and a 3.5 GPA or above).
Dr. Williams also presented Presidential Academic Excellence Awards to the following three graduates, all of whom maintained a 4.0 grade point average throughout their undergraduate years:
Daija Grier, a psychology major from New Jersey.
Ronald Postell, a sociology major from Smyrna, Del.
Timesha Ray, a textiles and apparel studies major from Washington, D.C.
Dr. Williams also awarded the Presidential Leadership Award to Deshaun Terran Crawford, a computer science major from Lewes, Del. A Cum Laude graduate, Mr. Crawford's extracurricular leadership pursuits included serving as a M.A.L.E Project mentor, a senator in the National Society of Black Engineers and the event chair of the Computer Science Department Event Planning Committee.
During the 9 a.m. ceremony, U.S. Rep. Lisa Blunt Rochester of Delaware – the first-ever woman and African-American elected to serve the state in Congress – was the keynote speaker. Rep. Rochester encouraged the graduates to continue working hard, to take advantage of every opportunity, to realize that they already possess the keys to success – intellect, courage and heart – and to experience not just their professions, but also all that life has to offer.
"Even if you're not sure exactly what you're going to do, don't panic. The reality is even if you have it all figured out, change happens," the congresswoman said. "There will be some failures, some letdowns, but embrace them and grow. In the words of (gospel artist) Donnie McClurkin, 'we fall down, but we get up'."
The keynote speaker for the noon and 3 p.m. commencement ceremonies was Eugene Young, advisory director for the Delaware Center for Justice. In that capacity, the Wilmington native works with legislators and state officials to bring about reforms to the criminal justice system. He is also the founder and chair of Network Delaware, a community empowerment and leadership development nonprofit organization.
Mr. Young told the graduates of a trip in which his organization took youth to Memphis, Tenn., where they visited the Lorraine Motel where Martin Luther King Jr. was assassinated. He noted that a plaque in the motel's parking lot had the Genesis 37:19-20 scriptures, "…Behold, this dreamer cometh…let us slay him…and we shall see what will become of his dreams."
Mr. Young said it is the graduates' turn to move the dream of Dr. King forward.
"You are our family, you are our communities' special forces, and we are looking for you to go out and change the world," he said. "We need you to be a part of civic associations, to mentor young people, to run for public office, to support nonprofit and community organizations that are trying to do the right things, and to be exceptional."
Mr. Young added, "I want you to be hungry and understand that you have more work to do."
During 9 a.m. ceremony, Dr. Williams presented honorary doctoral degrees to:
Dr. Richard Allen Williams, a Wilmington, Del. native who became the first African-American to graduate at Harvard University. He went on to receive a M.D. degree and maintain an illustrious career in the greater Los Angeles, Calif., area in a number of positions, including chief of cardiology, medical director, an author of a number of medical textbooks and publications, as well as the first black full professor in the history of the Department of Medicine at the UCLA School of Medicine. He is an internationally recognized authority on hypertension, heart failure and sudden cardiac death. Dr. Williams founded the Association of Black Cardiologists (ABC) in 1974 and served as its president for 10 years; he also became the first chairman of its Board of Directors.
Delaware State Rep. Stephanie T. Bolden of Wilmington, who currently in her seventh year as the longest-serving African-American woman to hold elected office in Delaware. A 1969 graduate of then-Delaware State College, she also served five terms on the Wilmington City Council – which included her election as the first female president pro-tempore – and has devoted more than 30 years as an educator in both public schools and institutions of higher education. The growth and improvement of public safety, public health, education and the quality of life for senior citizens have been Rep. Bolden's high priorities throughout her public service career.