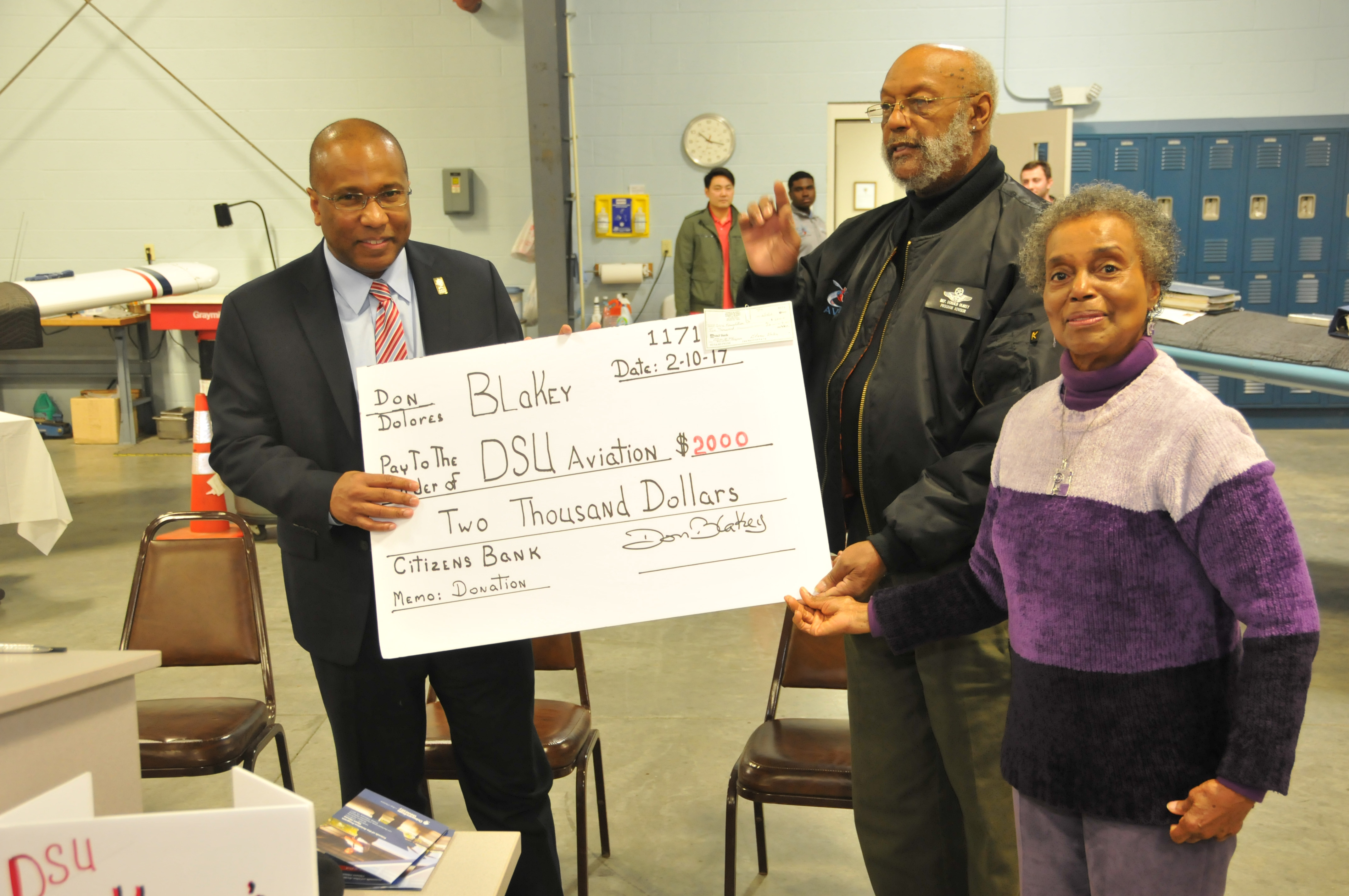 Business, DSU Impact
 Friends of Aviation Program Launches Fundraising Campaign
Friday, February 17, 2017
A new fundraising campaign has been recently launched to bring some much needed financial support to the DSU Aviation Program.
DSU alumnus Dr. Donald A. Blakey, Class of 1958, is spearheading the Friends of the Aviation Program fundraising campaign, which he announced at the Aviation Program Open House on Feb. 10 at the Delaware Air Park.
For images from the open house, click on the below link:
https://www.flickr.com/photos/48216028@N03/sets/72157676792336713/show
Attending the open house was a good mix of state legislators, DSU alumni and friends, folks from the Delaware aviation community along with the faculty, staff and students of the DSU Aviation Program.
Dr. Blakey, a former elected Delaware House of Representative member, said that money is currently tight in the state budget. As a result, financial support for the Aviation Program will have to come from elsewhere.
"We want to be another force that will provide strong support for DSU's Aviation Program," Dr. Blakey said. "We especially want to help the program to equip the plane with essential technology upgrade that are needed.
According to Lt. Col.(ret.) Michael Hales, DSU Aviation Program director, all of the program's 10 aircrafts must be upgraded with the required Automatic Detection Surveillance-Broadcast (ADS-B) technology by 2020, if it is to be in compliance with Federal Aviation Administration standards. Otherwise, DSU will have to stop offering the Aviation Degree Program Professional Pilot concentration.
To show that he practiced what he preached, Dr. Blakey and wife Delores presented a $2,000 donation to kick-off the campaign. That was followed by a donation of $1,000 from alumna Dr. Reba Hollingsworth, Class of 1949, and from Donna Covington, dean of the College of Business, under which the Aviation Program falls.
"As the dean of the College, investing in student success is a priority for me," Dean Covington said. "I want to join our Friends of the Aviation Program in ensuring our students have the best equipment possible to prepare them for their future."
The Aviation Program provides students with quality education and experience in preparation for careers in the aviation industry. Curricula in the Program lead to a Bachelor's of Science degree with concentrations in Aviation Management or Professional Pilot.
"With competitive overall flight lab fees, the only HBCU in the nation with its own fleet of ten (10) aircraft, and an experienced and dedicated instructor staff, Delaware State University (DSU) is simply the best Flight Education opportunity on the east coast of the United States," Lt. Col. Hales said.