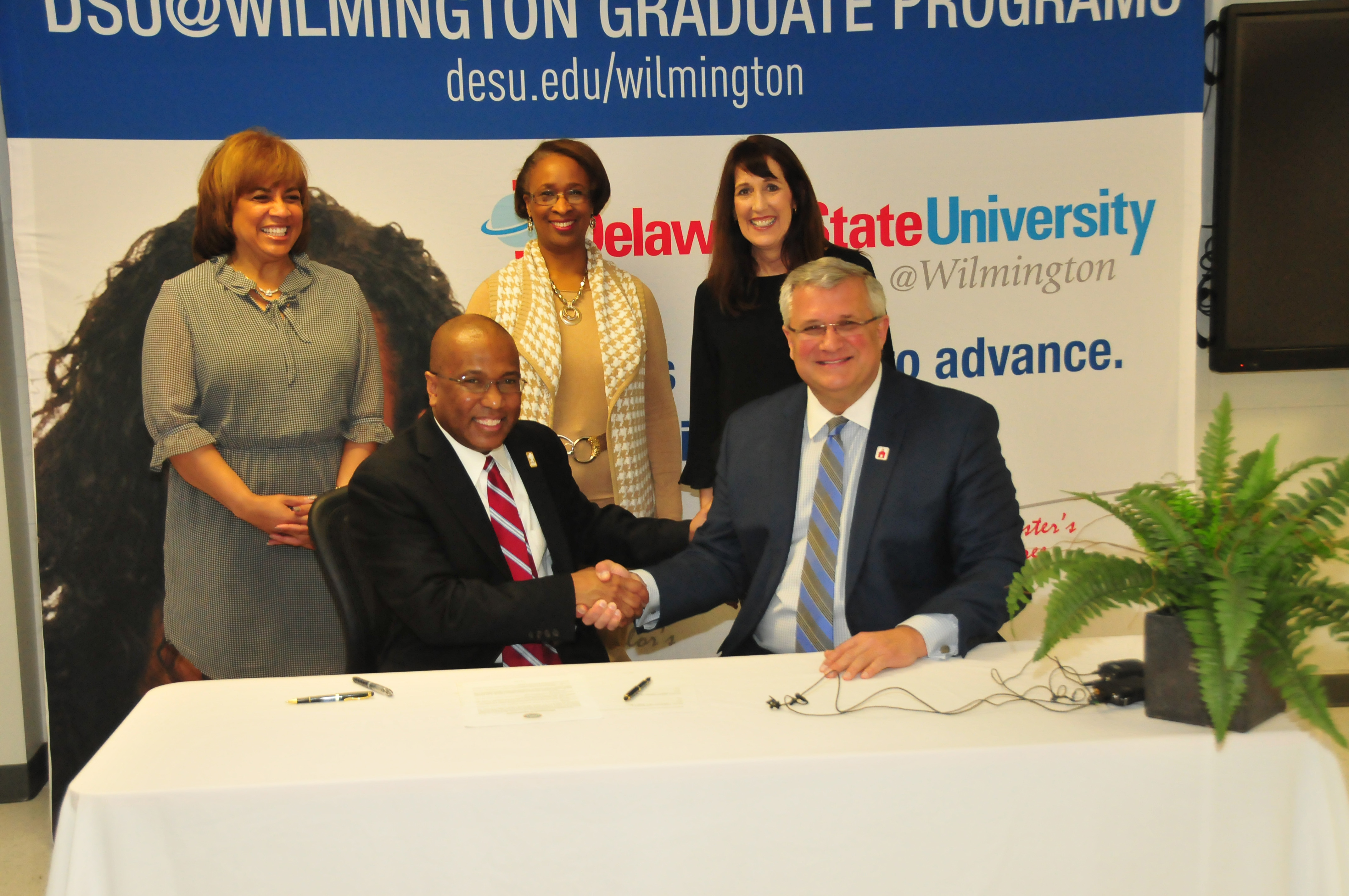 Graduate Studies, Partnerships & Collaborations
DSU@Wilmington, Red Clay School District Sign Agreement
Friday, February 17, 2017
Delaware State University and the Red Clay School District in Greater Wilmington, Del. today signed an agreement that will open the door for high school students of that district to take upper level computer science classes at the DSU@Wilmington facility on Kirkwood Highway.
DSU President Harry L. Williams joined Dr. Merv Daugherty, superintendent of the Red Clay School District at the DSU@Wilmington location in signing the agreement.
The DSU president noted that the agreement demonstrates the versatility of the DSU@Wilmington facility.
"In addition to offering master degree programs for graduate students, the site's value to the community is going even beyond that to provide classroom space for highly motivated Wilmington high school students who are preparing themselves for college," said Dr. Williams. "This agreement also affirms the priority DSU has placed on promoting the STEM (Science, Technology, Engineering and Mathematics) discipline, not only among our University students, but also among high schoolers to better prepare them for the rigorous education they will receive on the college level."
"DSU has been focusing many of our Early College High School students in Dover on STEM subjects, and now we are expanding that emphasis by sharing our DSU@Wilmington facility with Red Clay students to give them the opportunity to broaden their IT knowledge before they take their first college courses," Dr. Williams added.
Dr. Daugherty said the idea for a more intensive course of study in technology came after meetings with local business owners.
"Through meetings with local businesses and corporations, Red Clay has learned of the need for district students to graduate high school more versed in computer skills," he said. "This is an opportunity for interested Red Clay high school students to take upper level computer and coding classes in a college setting. This initiative will provide students the opportunity to expand their knowledge and awareness in the IT field.
Courses in computer science and the communication field will be offered to students. We are hopeful these courses will prepare our students for college or careers."
Dr. Daugherty said the center will be open to all Red Clay juniors and seniors in high school, as well as to students from the other New Castle County school districts.
The center will open with space for roughly 50 students, but the potential is to expand the capacity to hundreds of students. "The university's site on Kirkwood Highway will allow us to grow," the Red Clay superintendent said. "There are a lot of IT jobs openings at all different levels. Students will be employable right out of high school, or they can go on and further their studies in college."