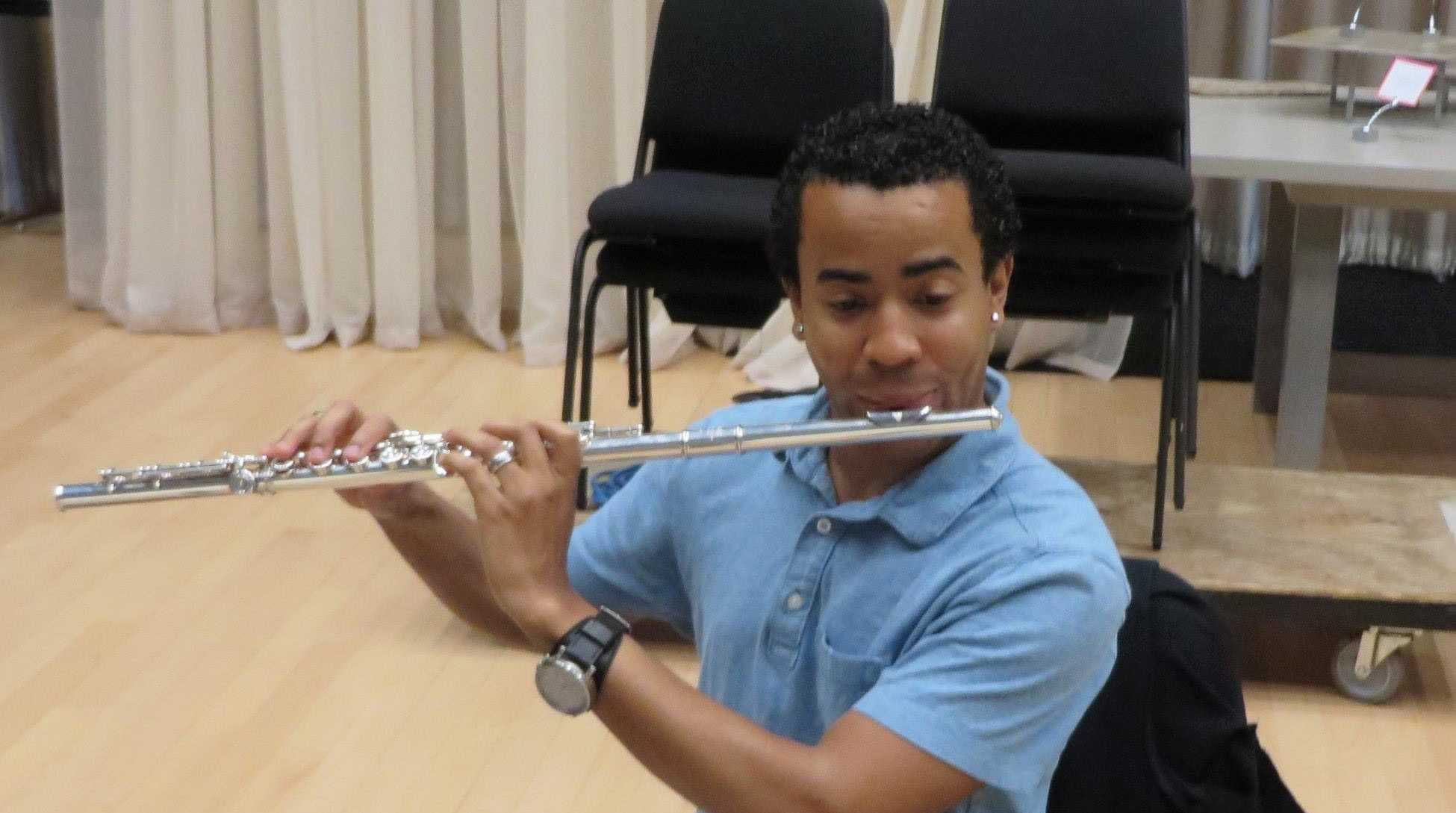 Student Success, On Campus, Humanities, Education, and Social Sciences
Brass and Woodwind Day - CANCELED
3/28/2020
9:30 AM - 3:00 PM
Bank Of America Building
EVENT CANCELED
Join us for the Brass and Woodwind Day. Bring your instruments!
Clinics and ensembles open to all players.
Free Admission
| | |
| --- | --- |
| 9:30 am | DSU Student Concert |
| 10:00 am | Dr. Brian Levels, Multiple Woodwinds Performance and Masterclass |
| 11:00 am | Clinics/Reading Sessions (Dr. Levels Woodwinds, The USAF Brass Quintet Brass) |
| 12:00 pm | Lunch Break |
| 1:00 pm | Wayne DuMaine Performance and Masterclass |
| 2:00 pm | Air Force Brass Quintet concert |
Professional development hours available through DMEA.
Please pre-register below to play in a participant ensemble or take part in the chamber music masterclass.
Guest Bios
Dr. Brian Levels
Brian E. Levels is an accomplished national and international multiple woodwind specialist.  A native of Texas, Brian graduated with a Bachelor of Music degree (cum laude) in multiple woodwind performance from the University of North Texas. He went on to earn his Master of Music degree in multiple woodwind performance the following year, also from UNT. His national and international touring experience includes performances with 42nd Street, Aida, Hairspray, Ain't Misbehavin', and most recently Legally Blonde. Brian has played with the University of North Texas Symphony Orchestra and Wind Symphony, which included a Grammy nomination in 2004 and 2005. He also has performed extensively in the Dallas area with the Paradigm orchestra, Lyric Stage, and with the local Broadway tours of Porgy and Bess and Phantom of the Opera at Winspear Hall. Dr. Levels has performed with the Omaha Symphony Orchestra, The New Philharmonic at the Kaneko Center, Opera Omaha, Omaha Symphonic Winds, Creighton University, and The Hudson Chorale. He served on the music faculties at the Omaha Conservatory of Music, Peru State College, and The University of Nebraska at Omaha. Brian earned the Doctor of Musical Arts degree in multiple woodwind performance at UNT in 2014. His primary teachers include: flute, Mary Karen Clardy; clarinet, Richard Shanley, James Gillespie, and John Scott; saxophone, Eric Nestler; oboe, Charles Veazey and James Ryon; bassoon, Kathleen Reynolds. Dr. Levels currently serves as a freelance musician and teacher at Friends Seminary in New York City.
Wayne J. du Maine
A native of St. Louis, MO, Wayne J. du Maine has been performing successfully in the New York City area for over thirty years. As a trumpeter, Wayne has performed and recorded with such ensembles as the New York Philharmonic, Orpheus Chamber Orchestra, and Orchestra of St. Luke's. He currently holds the principal chair with the Brooklyn Philharmonic and the American Composers Orchestra. Mr. du Maine has also led the Hartford Symphony, Brooklyn Philharmonic, and Westchester Philharmonic as conductor of educational concerts. As a trumpet soloist, he has performed numerous concerti with the Concordia Orchestra as well as orchestras from Pittsburgh, Cincinnati, St. Louis, Jacksonville, Springfield (MA), and Mid Coast (ME).
As a longtime member of the Manhattan Brass, Wayne has presented and created numerous educational outreach programs for K­-12 students in the five boroughs, CT, NJ, and PA. He enjoyed his 20 years as a faculty member of Juilliard's Music Advancement Program, where he led the trumpet ensemble and was founder, music director, and conductor of the MAP Orchestra. He has also taught at Columbia University, Princeton University, Bar Harbor Brass Week, and the Bowdoin Music Festival. Wayne is currently the Director of Bands at the Elisabeth Morrow School in Englewood, NJ, where he leads the Jazz Ensemble, Concert Bands, Jazz Quintet, Rock Band, and Trumpet Ensemble.
Mr. du Maine dedicates his summers to performing at music festivals. This began back in the late 80s, when he spent three summers with the Tanglewood Music Center Orchestra performing as principal trumpet under Leonard Bernstein and Seiji Ozawa. He has since performed at festivals including Spoleto, Aspen, Vermont Mozart, Manchester (VT), Berkshire Choral, Bard, and, most recently, the prestigious Marlboro Music Festival.
Wayne has also been contracted to play many Broadway shows like Titanic, Music Man, Man of La Mancha, and The King and I. He has served as associate conductor for Fiddler on the Roof, the Lincoln Center production of South Pacific, and The Scottsboro Boys.
A major highlight of his career was having the opportunity to perform with Prince at his Paisley Park home in Chanhassen, MN. Wayne can be heard on Prince's Newpower Soul recording.
Mr. du Maine holds degrees from the Juilliard School where he received the Peter Mennin and William Schuman Awards for outstanding excellence. He has been an associate musician with the Metropolitan Opera for 26 years. As a member of ensembles such as Absolute, Xenakis, and Orpheus, he has toured five continents.
US Air Force Brass Quintet
The Ceremonial Brass is the official ceremonial ensemble of The United States Air Force. Stationed at Joint Base Anacostia-Bolling in Washington, D.C., it is one of six musical ensembles that form The U.S. Air Force Band. Featuring 38 active duty Airmen musicians, the Ceremonial Brass includes brass and percussion instrumentalists, a bagpiper and a drum major. The ensemble provides musical support for funerals at Arlington National Cemetery in various configurations to include 16-member ensembles for full-honor funerals and individual buglers to render taps. Additionally, the Ceremonial Brass supports state arrivals at the White House, full-honor arrivals for foreign dignitaries at the Pentagon, patriotic programs, and change of command, retirement and awards ceremonies.
The origins of the Ceremonial Brass trace back to 1964 when The United States Air Force Headquarters Command Band was incorporated into The U. S. Air Force Band as a ceremonial unit. It became an all brass and percussion ensemble in 1985 and was renamed "The Ceremonial Brass." Today, this elite group is responsible for more than 1,000 ceremonial performances each year. Members often perform in smaller chamber music formations, such as quartets and quintets, at military and civilian ceremonial functions, education outreach events, and local concert venues.
As part of The U.S. Air Force Band, the Ceremonial Brass honors those who have served, inspires American citizens to heightened patriotism and service, and connects with the global community on behalf of the U.S. Air Force and the United States. The excellence demonstrated by these Airmen musicians is a reflection of the excellence displayed by Airmen stationed around the globe. Each member is proud to represent all Airmen, whose selfless service and sacrifices ensure the freedoms we enjoy as citizens of the United States of America.