On Campus
Tamekca Faria-Frisby receives 2023 DAWN Rising Star award
Tuesday, November 7, 2023
The Delaware ACE Women's Network has awarded a 2023 DAWN Rising Star Award to Tamekca Faria-Frisby, Director of Advisement in the DSU College of Business.
The DAWN Rising Star Award is presented annually to one outstanding woman in each higher education institution in Delaware whose potential to achieve is evident. Ms. Faria-Frisby is the awardee this year from Delaware State University.
A number of DSU staff and faculty member joined Mr. Faria-Frisby's mother and husband at the event to show celebratory support for the DSU honoree. The award was presented at the Oct. 26 Delaware ACE Women's Network Fall Awards Dinner at the Wilmington University, Dover campus.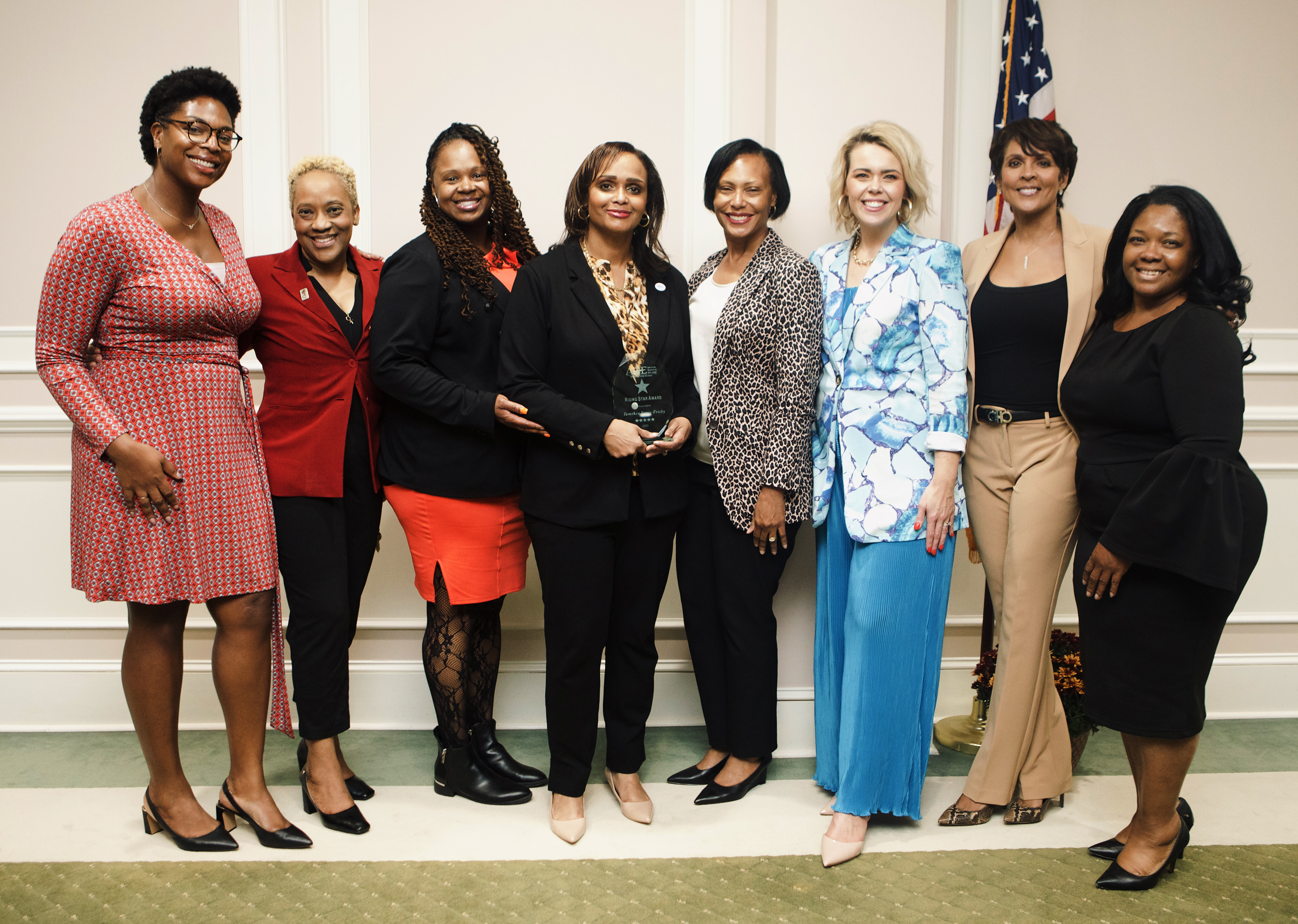 Dr. Jarso Saygbe, Associate Vice President of Student Success Division of Academic Affairs, which oversees all student advisement throughout the University, said the honor to Ms. Faria-Frisby is well deserved.
"Tamekca is a servant leader who seeks to serve and support her team members and fosters a sense of community in her role as a director," Dr. Saygbe said. "Ms. Faria-Frisby is passionate about her work and an exceptional professional committed to student success."
DSU also celebrates two new appointments to the DAWN Executive Leadership team.  Kenisha Ringgold and Dr. Kim Krzanowksi were selected to join Dr. Dawn Mosley to represent Delaware State University. Kenisha Ringgold is the Deputy General Counsel, and Dr. Kim Krzanowksi is the Executive Director of the Early Childhood Innovation Center.
Ms. Ringgold and Dr. Kranowski expressed sincere gratitude and excitement to serve and support women in higher education.
"As a new member of DAWN, I am witnessing firsthand the profound impact that occurs when leaders in higher education come together to exchange ideas and cultivate a new generation of leaders," Ms. Ringgold said. "Witnessing the impact of the honoree's dedication and unwavering commitment to excellence in a room filled with remarkable women was both inspiring and empowering."
"DAWN has been a wonderful part of my professional life in higher education for so many years. It has helped be grow as a leader, mentor and colleague," Dr. Krzanowski said. "Serving on the DAWN Executive Committee now allows me to use the skills developed over numerous leadership positions to support this amazing organization focused on developing women leaders. It's a full-circle moment for me!"