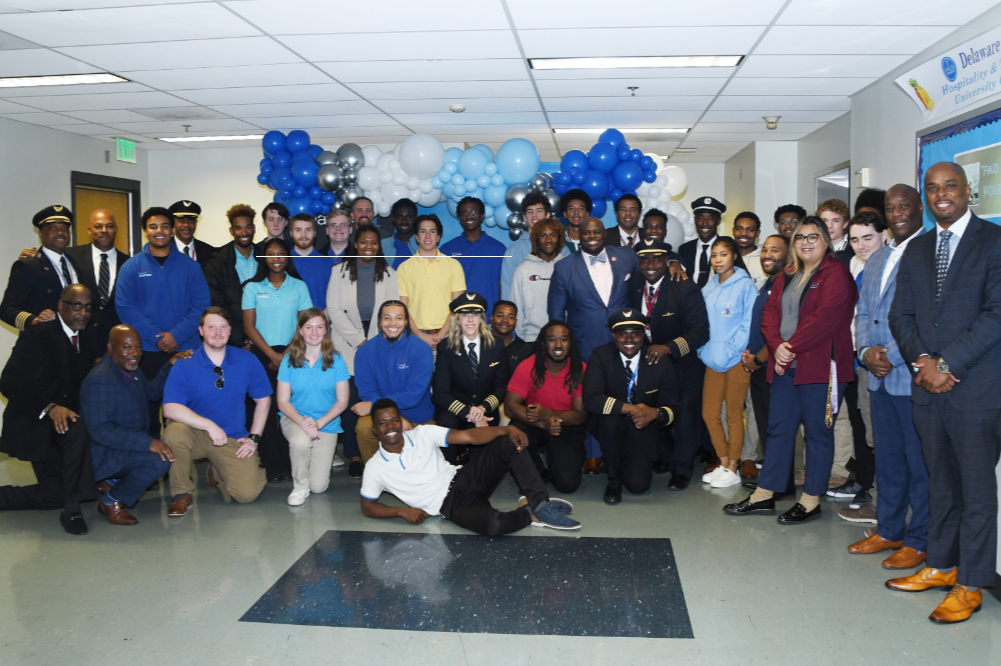 On Campus
DSU, United Airlines sign Aviate Program agreement
Thursday, November 16, 2023
Delaware State University has signed an agreement with United Airlines to provide its Aviation students an opportunity to enter United Aviate – a pilot career development program that provides a secure path to its flight deck.
University President Tony Allen and Capt. Mike Bonner, Managing Director of Aviate and Pilot Strategy, signed the agreement during a Nov. 16 signing ceremony on the DSU campus.
"Under Lt. Col. Michael Hales' leadership, our Aviation program has grown threefold and is not just the largest in the HBCU Community, but the high quality, low-cost provider among all aviation programs east of the Mississippi," said Dr. Allen.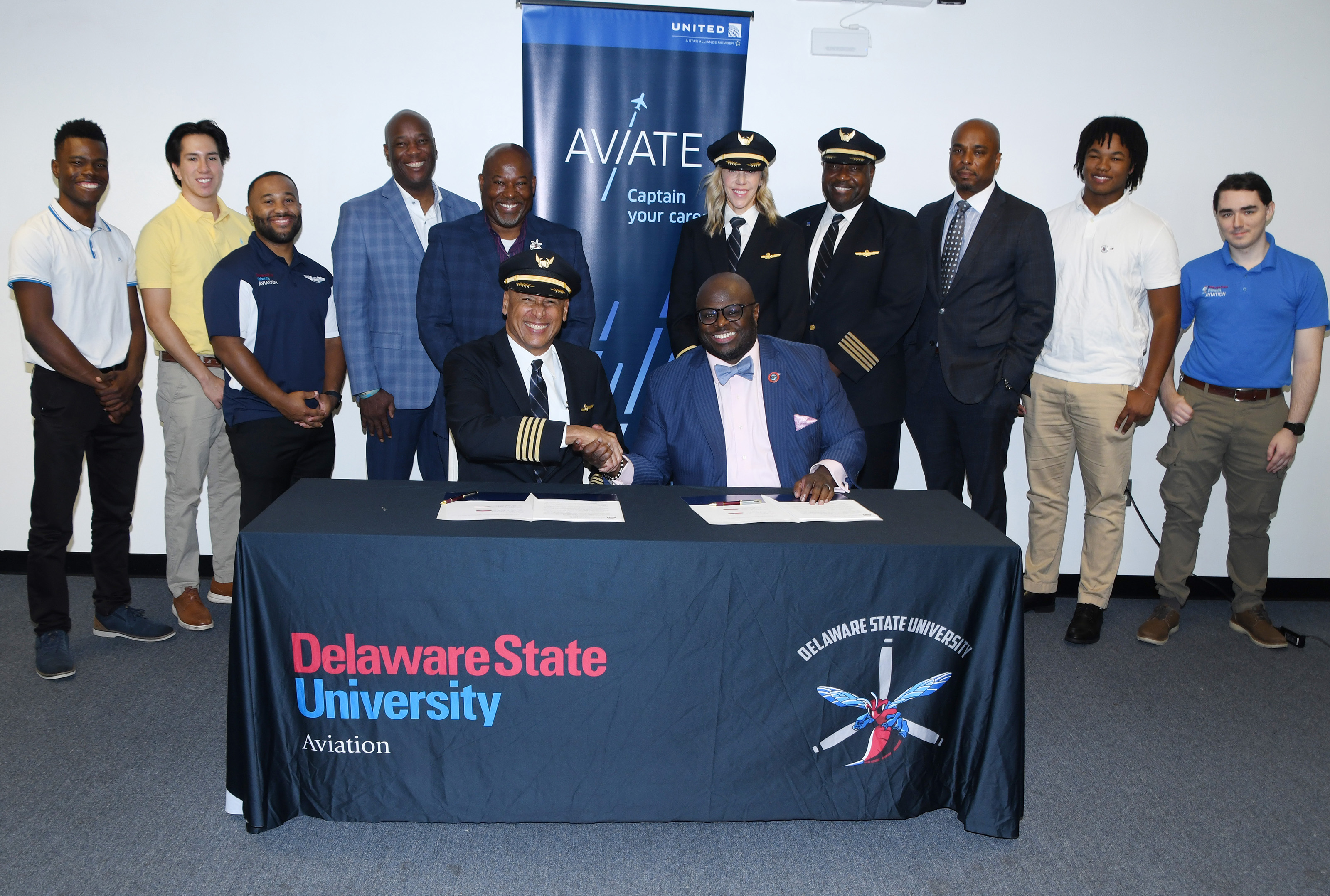 "Our partnership with United Airlines and their Aviate program has been several years in the making and includes a deep, longstanding partnership with JPMorgan Chase and Regional Market President Tom Horne," the DSU President said. "Between the three of us, there is an unwavering commitment to build a substantive, inclusive talent pipeline of pilots and Aviation management professionals for many years to come."  
"We are proud to partner with DSU as their longstanding history of attracting and developing skilled aviators incorporates well into our pilot recruitment strategy," said Capt. Bonner. "Current and future DSU aviation students will benefit from this partnership in their journeys to becoming professional pilots."
Lt. Col. Hales said becoming a full-fledged partner within United Airlines' Aviate ecosystem is a tremendous development for the DSU Aviation Program and its professional pilot students.
"It is our intention to populate United Airlines with DSU graduates as pilots and various other Aviation Professionals at all levels of company management and leadership," Lt. Col. Hales said. "This launch ceremony is particularly significant because it expands United Airlines' ability to gain access to recruit from our best and brightest students and graduates across all disciplines within Delaware State University, not just for our pilot graduates."
As an Aviate university partner, DSU's Aviation Program Professional Pilot students who meet the eligibility requirements can apply to Aviate and upon acceptance receive a conditional job offer as a United First Officer.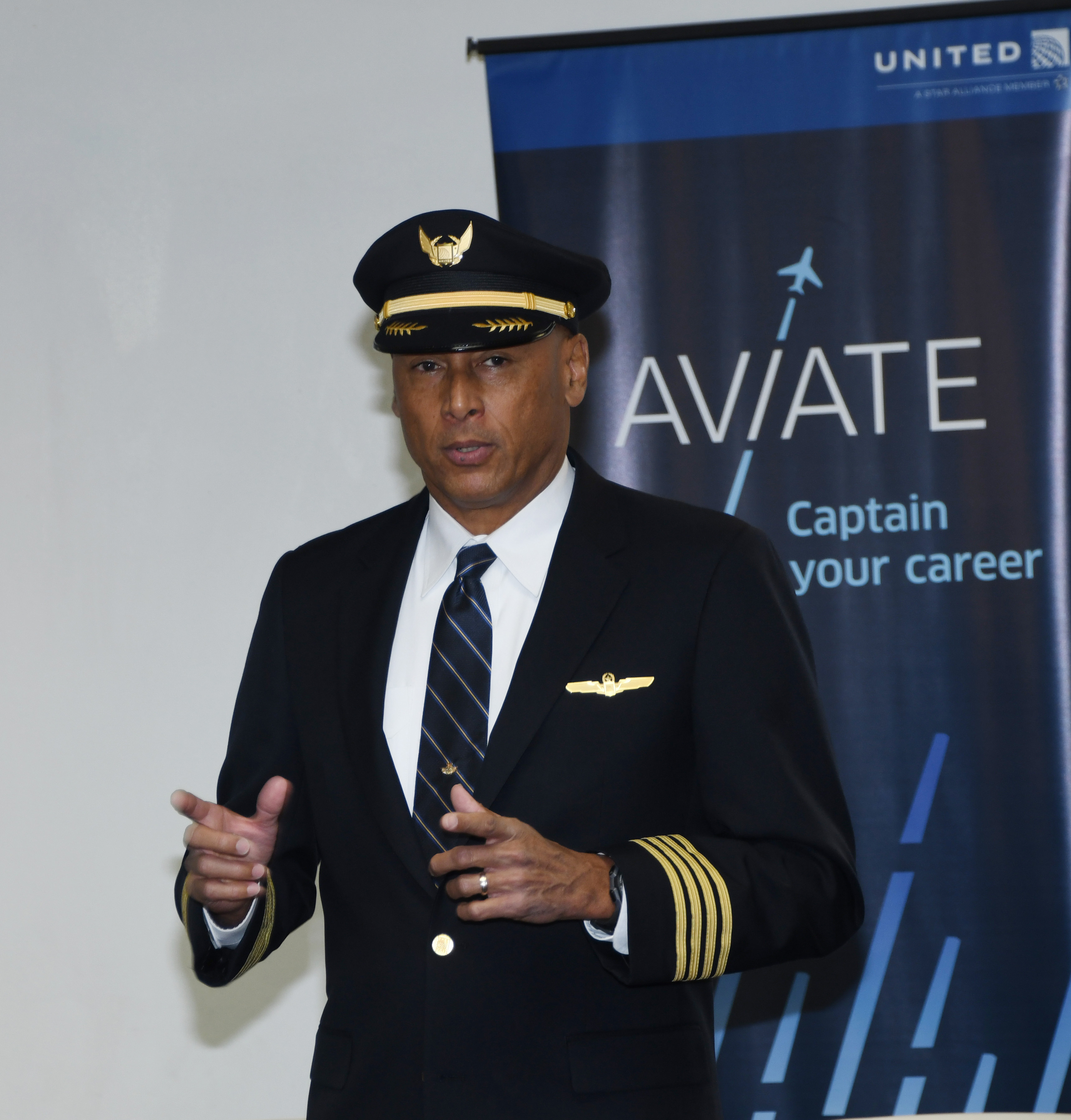 To be eligible, DSU Aviation professional pilot students must have completed at least two semesters of full-time coursework or graduated with an R-ATP eligible aviation major at DSU, be in good standing at DSU, possess a Private Pilots Certificate, FAA medical certificate, and have no more than three primary training failures.
As a part of Aviate, after completing their undergraduate journey at DSU, the Aviation graduates will continue their pilot journey by accumulating building experience towards becoming a United Airlines pilot.
The Aviate participants will then have an opportunity to fly for a United Express or Part 135 partner and work their way to becoming a United Airlines First Officer.
In his words to DSU in 2021, United Airlines President Brett Hart noted that the Aviate Program is not only designed to diversify the airline's pilot pipeline, but it is also an exciting and lucrative career opportunity for thousands of men and women.
"Future Aviate pilots, many of whom we hope will hail from Delaware State University, will uphold the extraordinary standards that generations of United pilots have established for professionalism and expertise," Mr. Hart said. "Inspired by the Aviate motto, "Love to fly, born to lead," we look forward to working side by side with our partners at Delaware State University, and we welcome the next generation of aviators to the flight deck."
Delaware U.S. Sen. Chris Coons has spoken highly of the partnership. "This effort will not only create new opportunities for women and people of color to become pilots, it will provide the industry with access to exceptional talent from HBCUs like Delaware State University, which are already working to graduate more pilots from underrepresented groups with the support of the bipartisan FLIGHT Act, which I introduced and helped pass into law," Sen. Coons said.
Delaware State University joins Elizabeth City State University (N.C.) and Hampton University (Va.) as the first HBCUs to become a part of the Aviate Program.
The DSU Aviation Program currently has 110 Professional Pilot students and 47 Aviation Management majors. In addition, the Aviation Program recently launched its new Helicopter Flight Training Program; there are six students in its inaugural semester.
Established at the institution in 1987, the Aviation Program currently possesses a fleet of 26 airplanes, which are maintained at Delaware Airpark in Cheswold, Del., the program's base of flight training operations.