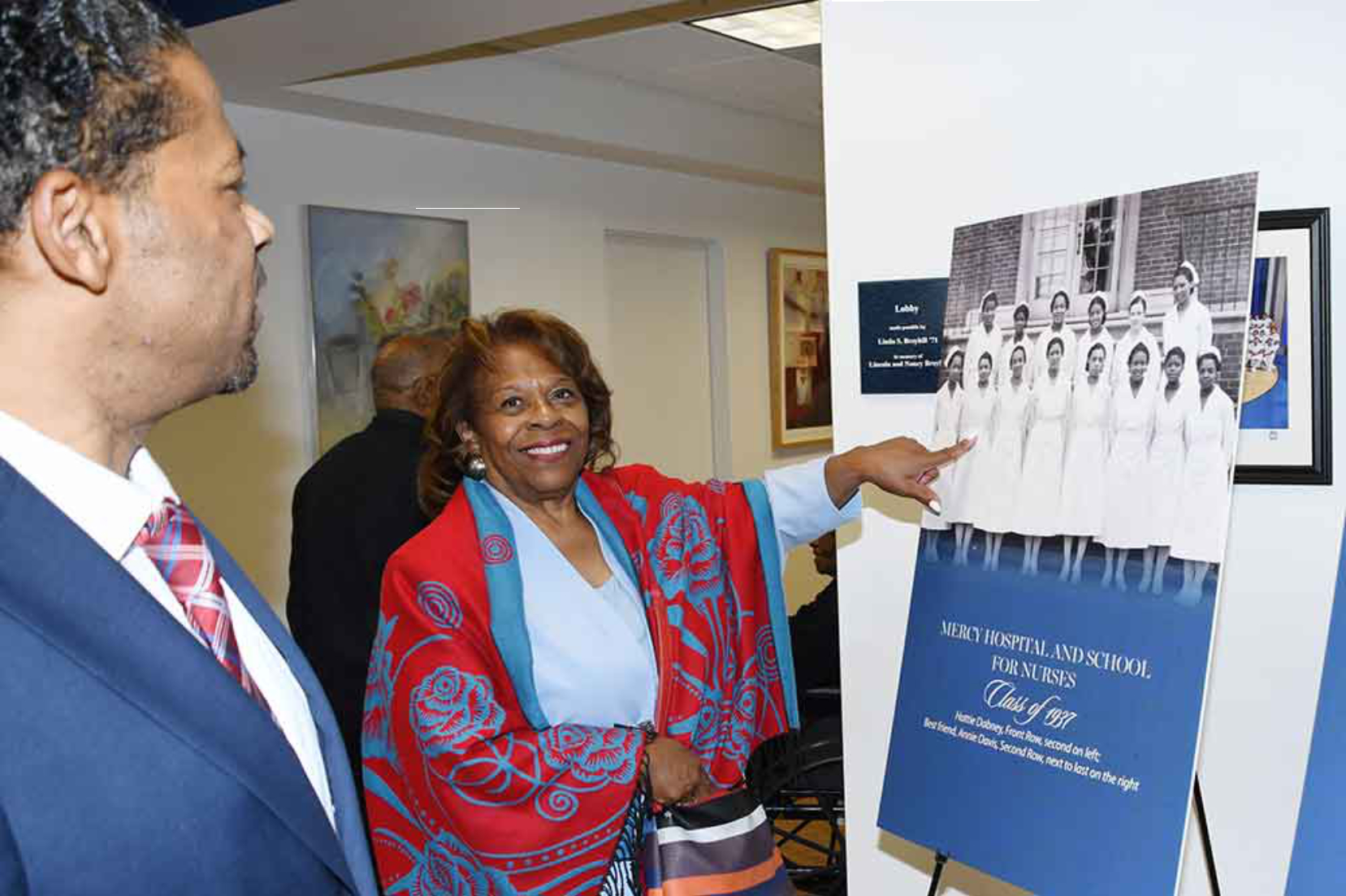 On Campus
Johnston Hall renamed Hattie Dabney Mishoe Nursing Hall
Sunday, October 22, 2023
Delaware State University honored one of its most beloved First Ladies on Oct. 19 as it renamed its Johnston Building at DSU Downtown after Hattie Dabney Mishoe – the wife of the institution's longtime 7th President, Dr. Luna I. Mishoe.
In recognition of her contributions in the establishment of the Nursing Program in 1975 as well as her "motherly" service for 27 years as the campus' First Lady, the University renamed the Johnston Building the "Hattie Dabney Mishoe Nursing Hall."
For images of the Oct. 19 Renaming Ceremony, click on the below link:
https://www.flickr.com/photos/48216028@N03/albums/72177720312144249/show 
The renamed building located at 300 S. New Street in Downtown Dover – an edifice that was part of the University's 2021 acquisition of the former Wesley College property – is home to the DSU Nursing Program.
During the Renaming Ceremony held in a tent outside of the building, Gov. John Carney recalled that with the current need for more nurses, DSU had the state's full support in its acquisition of Wesley College and its Nursing Program.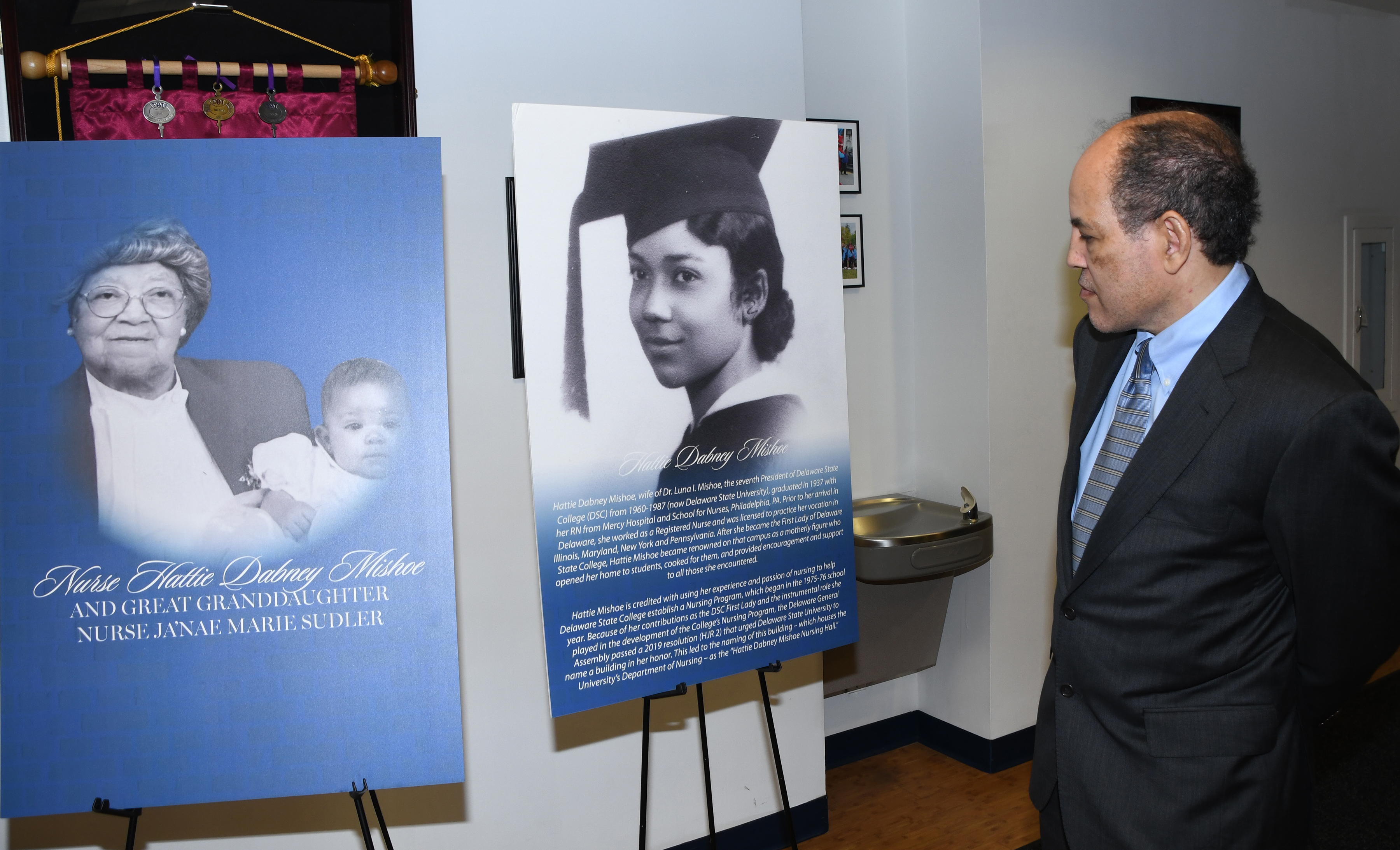 "This renaming is a great way to connect the past with the future," Gov. Carney said. "The past is the great things done by the Mishoe family, and the future are these young men and women right here," pointing at the nursing majors seated in the audience, "at a time when we need them more than ever."
Lt. Gov. Bethany Hall-Long said that Hattie Dabney Mishoe was ahead of her time. "Mrs. Hattie Mishoe epitomized the best of Delaware and the best of Del State, and I can think of no better way to start Homecoming," she said.
Rev. Rita Mishoe Paige said her mother had a major impact at Del State, with her family, and in the city, state, Mount Zion Church, schools, The Links, Eastern Stars, Golden Circle and community.
"At DSU she supported the athletes and coaches, and traveled to the football and basketball games," Rev. Mishoe Paige said.  "She loved the student body and enjoyed taking time to talk and listen to them."
Rev. Mishoe Paige said when Mom saw a need for change, she had no problem with contacting the appropriate elected official.
"She fought and pursued until her request was granted or until she had an answer as to why her request could not be granted," Rev. Mishoe Paige said. "One summer as a youth in the NAACP, she helped us organize a protest Downtown against businesses that had no black employees."
Alumnus Joel Coppadge, '81, called Mrs. Mishoe "The First Lady of First Ladies" as he spoke on behalf of the countless students who were blessed by her motherly presence.
"She was a woman of strong faith, high character, and she had a very warm heart," Mr. Coppadge said. "She walked this campus and you can see her smiling and talking with students just about anywhere and everywhere. Mother Mishoe was always mothering, always loving, and always caring about her Delaware State College students."
Dr. Gwen Scott-Jones, Dean of the DSU Wesley College of Health and Behavioral Sciences, said that Mrs. Mishoe's impact continues to bear fruit in the DSU Nursing Program. "Since the 2021 Wesley acquisition, DSU has enrolled more than 550 students in the Pre-Nursing/Nursing Programs," Dean Scott-Jones said. "Also, we will be launching two additional master's degree programs in Family Nurse Practice and Psychiatric Mental Health Nurse Practice."
Dr. Wilma Mishoe noted that the sign that was at the entrance of the campus for many years – Enter to Learn, Go Forth to Serve – applied greatly to her mother.
"She went forth to serve, everybody, everywhere, in every way she could," Dr. Mishoe said.
A graduate of Mercy Douglas School of Nursing, Mrs. Mishoe worked as a Registered Nurse and was licensed to practice her vocation in Illinois, Maryland, New York, and Pennsylvania. When her husband Dr. Luna I. Mishoe was appointed in 1960 as then-Delaware State College's seventh President, Mrs. Mishoe permanently stepped away from her nursing vocation to focus on her full-time duties as the First Lady of the College.
Mrs. Mishoe passed away in 2009.