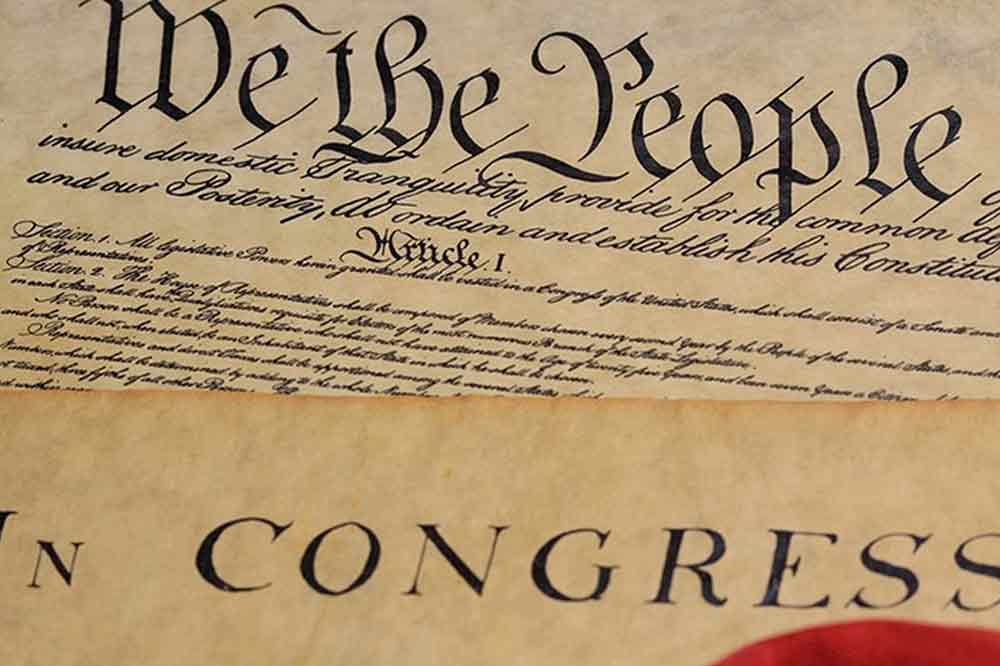 On Campus
Celebrate Constitution Day!
Monday, September 11, 2023
September 17 is Constitution Day and Citizenship Day!
Constitution Day commemorates the formation and signing of the U.S. Constitution by 39 brave men on September 17, 1787, recognizing all who are born in the U.S. or by naturalization, have become citizens.
Also known as Citizenship Day, Constitution Day is an American holiday honoring the day 39 delegates to the Constitutional Convention signed the United States Constitution.  Written in 1787, ratified in 1788 and in operation since 1789, the United States Constitution is the world's longest surviving written charter of government. Its first three words –– "We the People" –– affirm that the government of the United States exists to serve its citizens. For over two centuries the Constitution has remained in force because its framers wisely separated and balanced governmental powers to safeguard the interests of majority rule and minority rights, of liberty and equality, and of the federal and state governments. Since 1789, the Constitution has evolved through amendments to meet the changing needs of a nation now profoundly different from the 18th-century world in which its creators lived.
Resources for celebrating
All Americans are encouraged to observe this important day in our nation's history.
In commemoration of Constitution Day, Delaware State University recognizes important facts and resources in reference to the U.S. Constitution!
Please stop by our table at the Martin Luther King Jr. Student Center, 2nd floor, on Wednesday, September 13, from 12 p.m. – 2 p.m. The Office of Scholarships & Financial Aid will have handouts with great information and snacks available!
The Office of Financial Aid also encourages the campus community to take a close look at Constitution resources and test your knowledge at the websites below:
Key dates in history
May 25 - September 17, 1787 Delegates meet at Independence Hall in Philadelphia, Pennsylvania, to draft the Constitution.
September 17, 1787 The approved Constitution is signed by 39 delegates from 12 states (all but Rhode Island).
December 7, 1787 Delaware is the first state to ratify the Constitution.
June 21, 1788 9 of 13 states ratify the Constitution, rendering it officially established.
April 30, 1789 After an election, George Washington is sworn in as the first president of the United States of America.