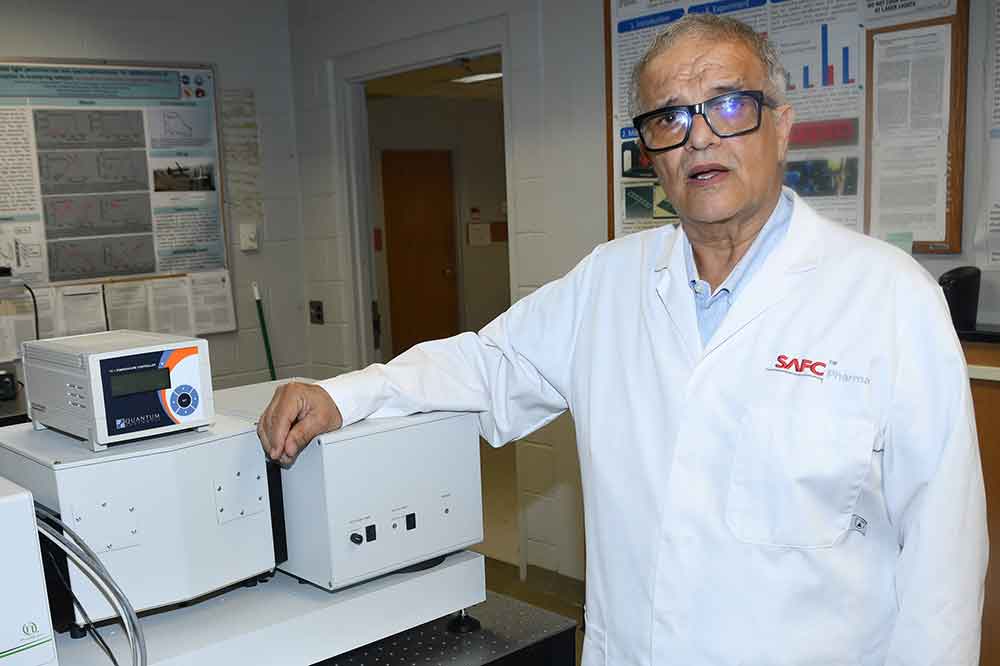 On Campus
University receives new four-year, $750,000 research grant
Thursday, May 18, 2023
The U.S. Department of Defense (DoD) has provided significant support to Dr. Aristides Marcano and his ongoing singlet oxygen research through an award of a four-year, $750,000 grant.
The grant funding – through the DoD's Research and Education Program for Historically Black Colleges and Universities – will support Dr. Marcano's research that seeks to develop more efficient ways for the photogeneration – the generation of something by light – of singlet oxygen.
Dr. Marcano, a Professor of Physics and Engineering, is the lone principal investigator of the grant, technically entitled "Induced Raman Scattering for Efficient Generation of Enhancer-Free Singlet Oxygen."
Singlet oxygen is an active oxygen molecule that is widely used in cancer photodynamic treatments, in the photo inactivation of virus bacteria and fungi, protein studies and other remarkable applications.
While it was previously believed that photosensitizers were needed for the photogeneration of singlet oxygen, Dr. Marcano along with other collaborating researchers discovered the laser blue light could be used for the process instead of photosensitizers. Their work was published last year in the Journal of Photochemistry and Photobiology.
"This research should significantly impact the applicability of photodynamic therapies and photo-disinfection strategies," Dr. Marcano said.