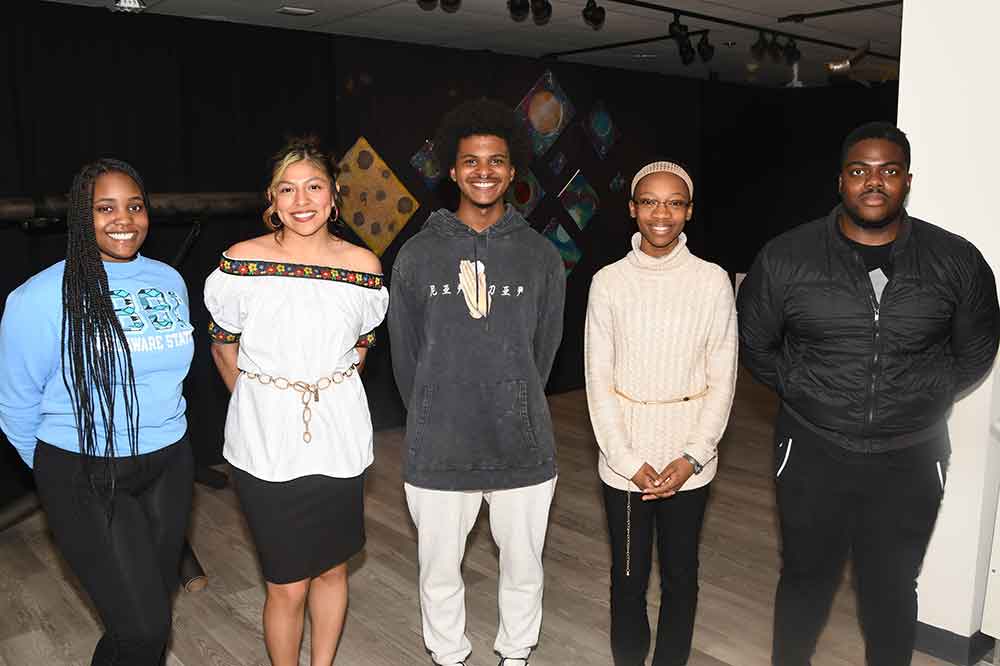 On Campus
Six University students selected for prestigious Princeton Univ. Program
Tuesday, May 9, 2023
A group of Delaware State University students has been selected for a prestigious summer program – The Princeton Archives, Artistry, Research and Curation (AARC) Program.
Six students have been selected for the program: Jeidy Cruz, a graduating senior Studio Arts major from Wilson, N.C.; Brandy Jacobs, a senior Early College High School student majoring in Art from Delaware (who will be a freshman at the University in the fall); Ebube Maduka-Ugwa, a graduating senior Mass Communications major from Lagos, Nigeria; Rokhaya Ndiaye, a junior History major from Bear, Del.; Ehi Obanor, a graduating senior History major from Lumberton, N.J.; and Zion Weeks, a junior Mass Communication major from Wilmington, Del. The students, who will join other selected HBCU students, were chosen through a competitive application process.
The June 10-22 AARC Program – which is a collaboration between the Alliance of HBCU Museums and Galleries and the Princeton University Library and Museum – will be presented in two parts on Princeton University's historic campus in New Jersey.
The first part of the AARC Program will introduce the students to the archival field, to the use of primary-source documents; to the steps involved in acquiring, describing, and providing access to documents; and to career options in the profession. Students and program facilitators from Princeton and participating HBCUs will also engage in critical discussions about archival practice, social justice and the importance of diversity in archival collections.
The participants will learn about archives through lectures, discussions, tours, workshops, and field trips led by special collections staff, librarians, and featured guest lecturers from both Princeton and participating HBCUs. The students will then coordinate with a mentor and work on an archival project at their home institution.
The second half of the AARC Program will also take place on the campus of Princeton University. During the second week, selectees will be able to see and conceive of possibilities for art, cultural heritage, objects, sculpture and photographs, which the spaces they enter will allow them to glimpse in new ways.
Since the Princeton University Art Museum (PUAM) is in the midst of constructing a new building, discussions will also involve the practical, financial and logistical realities of directing a museum through monumental change.
There will also be a focus on curatorial practice and the professional career possibilities within a museum while interfacing with selected artists in Trenton, N.J., as well as visits to the Metropolitan Museum of Art in New York City and the National Museum of African American History and Culture in Washington, D.C.