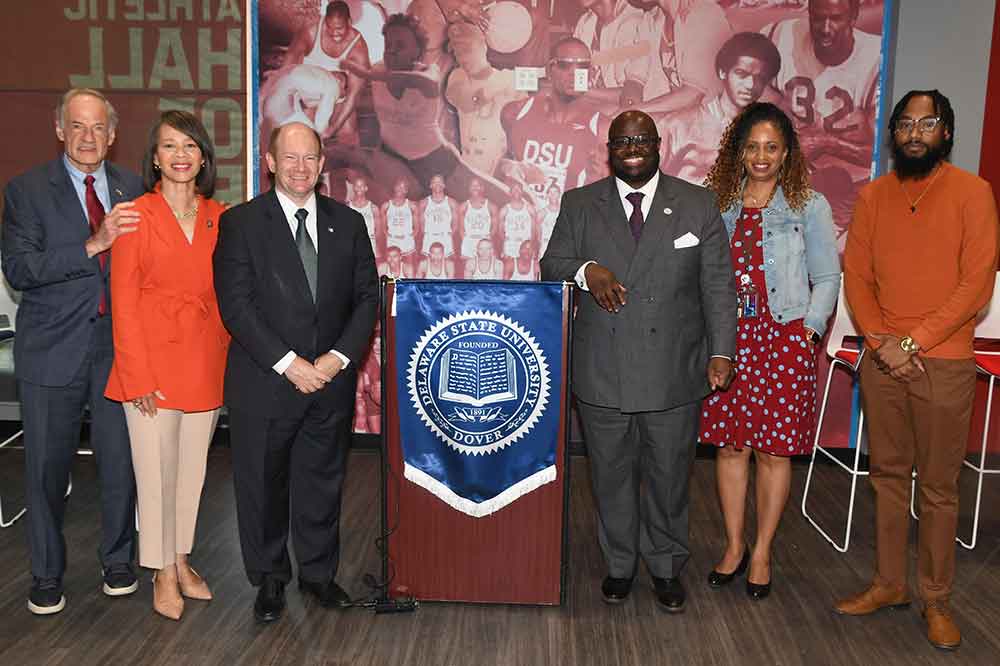 On Campus
Del. Congressional Delegation announce new funds for University
Monday, April 24, 2023
The Delaware Congressional Delegation held an April 24 media event to announce some good financial tiding for Delaware State University and also held a Youth Conference, both in the MLK Jr. Student Center.
Sens. Tom Carper and Chris Coons along with Congresswoman Lisa Blunt Rochester's event revealed that just under $1.68 million in federal money is forthcoming to Delaware State University in support of the following initiatives:
$886,000 in support of a University Farm Incubator Module that will enable the institution to expand its programs and reach out to under-resourced and social disadvantaged populations that have interest in farming. Most of the funding will be used in support of the erection of associated structures such as a training building and a greenhouse, as well as a new water well. The incubator farm will be established on University property and could be expanded to other state-owed parcels.
$300,000 in support of the Black Male Initiative Summer experience, two separate two-week residential camps that will each host 40 male participants that will range from the 9th to 12th grade from all three Delaware counties. It is hoped many of the participants will be persuaded to continue their education after high school and enroll in Delaware State University.
$490,000 to support the Space Education Excellence in Delaware Program within the University's Optical Science Center for Applied Research. This research initiative will focus on the search for evidence of life through the analysis of interplanetary dust particles through the use of infrared spectroscopy technology. The research will attempt to detect whether such dust particles contain "biosignature" compounds that indicate the presence of organic molecules.
Sen. Carper noted the importance of the Black Male Initiative.
"We need more black males in colleges and universities like (Delaware State University)," Sen. Carper said. "We need them to go out and create and economic opportunities."
Sen. Coons said this announced federal funding to the University relates to partnerships, innovation and possibilities.
"This is $1.6 million in targeted federal grants that is going to help Delaware State University train the next generation of more diverse young farmers, and support young men and hopefully recruit them into teaching and education careers launched here at Delaware State University," Sen. Coons said. "And to research partnerships with NASA that will help to excite and ignite the minds of young potential scientist."
Congresswoman Blunt Rochester noted the funding supports the ongoing upward trajectory of Delaware State University.
"It is about Hornets rising to new levels of greatness, but also making sure we as a state, we as a country, and we as a world rise to new levels of greatness," U.S. Rep. Blunt Rochester said.
Dr. Shelly Rouser, Chair of the University's Education Department, spoke at the media event about the need for more black male teachers.
"We know that having teachers that look like our students and represent the diversity of our student population is important," Dr. Rouser said. "But as important as that is… I want to emphasize the importance of all children to see teachers that do not look like them. It is extremely important that our young people have learning experiences and see intellect coming from all people."
Prior to the 11:30 a.m. media events, Delaware's elected federal officials spent the morning with 140 high school students as part of the Delaware Congressional Youth Conference, also held in the MLK Jr. Student Center. U.S. Sens. Carper, Coons and U.S. Rep. Blunt Rochester shared some of their legislative priorities, and also fielded questions and concerns from the young audience.