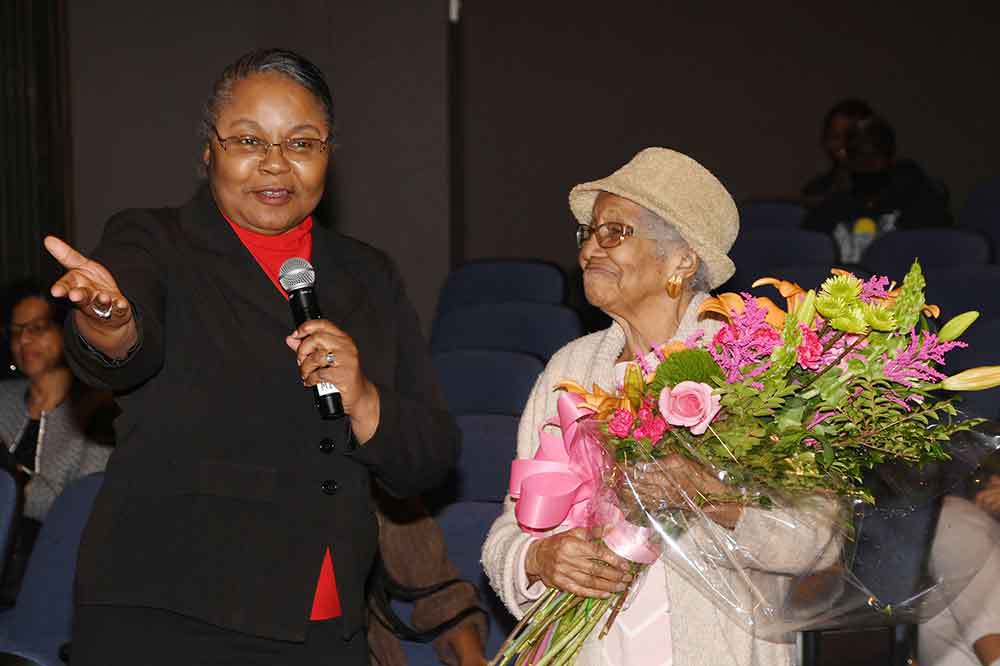 On Campus
University honors oldest living alum – Susan Young Browne
Wednesday, March 29, 2023
In the summer of 2020, Susan Young Browne became the oldest living alumna of Delaware State University at age 102.
At the beginning of the current 2023 spring season, she still holds that distinction – now less than one month shy of turning 105 years old.
The University's Diversity, Equity & Inclusion Council honored and celebrated Ms. Browne during a March 28 program "Celebrating Women Who Tell Our Stories" in the Education and Humanities Theatre.
For images of the event, click on the below link:
https://www.flickr.com/photos/48216028@N03/albums/72177720307114363/show
The University's oldest living alumna talked about her life during a "fireside chat" interview led by Miss DSU Bralyn Page.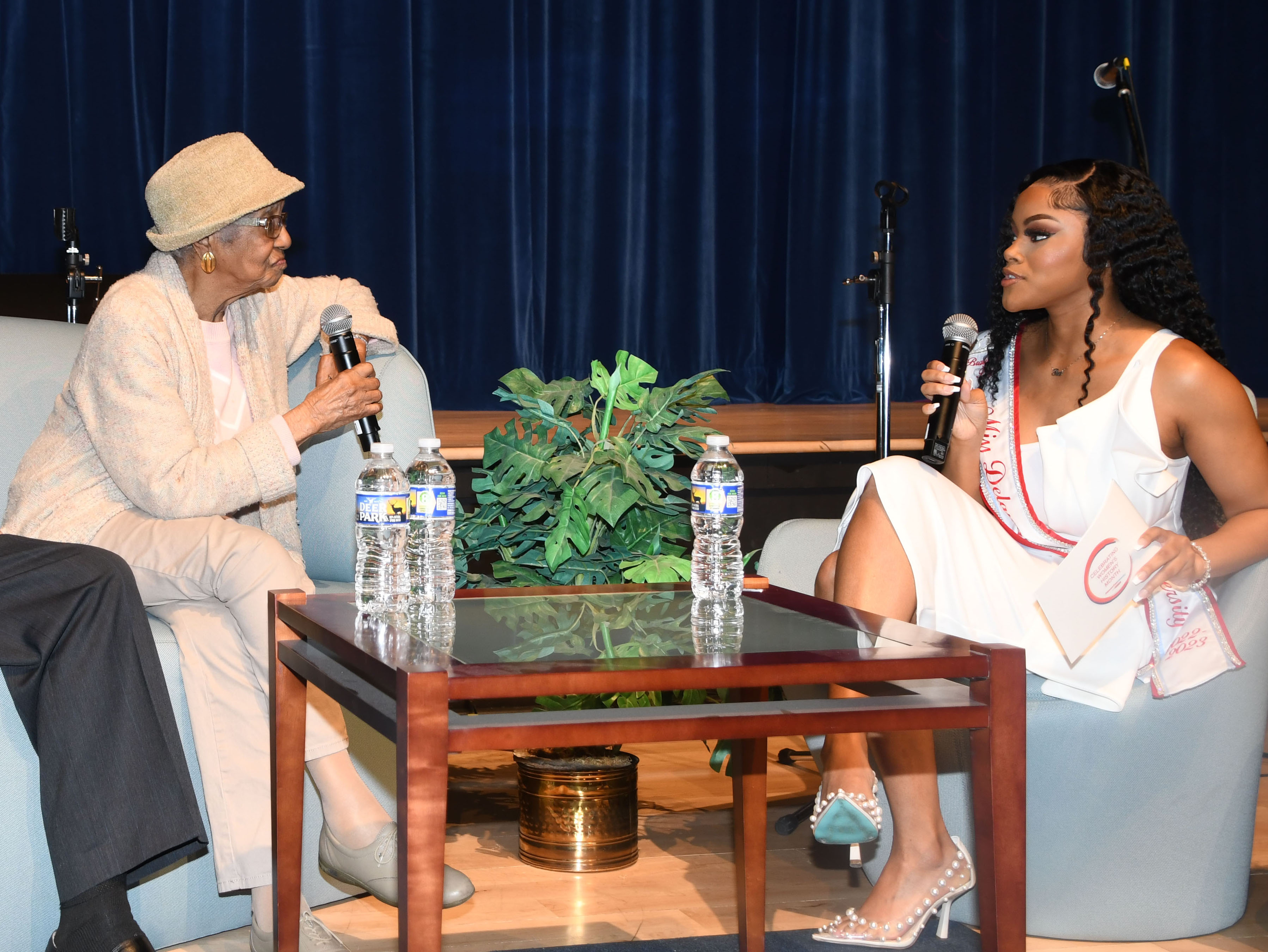 Her exceptional advanced years notwithstanding, the attending audience witnessed her move and walk under her own power, heard her articulate information about her life, and learn that even at her age, she still drives a car.
Born April 24, 1918, in Lincoln, Del., Susan was the 10th of 12 children of her parents George and Susie Brown. By the time she was school age, her father – a tenant farmer – had moved the family to a 40-acre farm located between Houston and Milford, Del.
It was then that Susan began her years within Delaware's segregated education system, which spanned her elementary and high school years, as well as a large part of her later livelihood as a public school teacher. "I went to school in a one-room school in Houston, Del., and we lived five miles from the (colored) school," Susan said.
Ms. Browne said that as a youth she took a liking to going to school. "The most important things I had in mind was to get an education and become a teacher," she said.
Because of segregation, Ms. Browne enrolled in the State College for Colored Students High School – which was the only high school for blacks in Kent and Sussex County. She said living on the Del State campus was a step up for her and many others.
"Most of the young ladies were from the country, where we didn't have any electricity or running water; we didn't have bathrooms," she said. "We were glad to be (on campus) and to be continuing our education at the Delaware State College for Colored Students High School."
She said she later began her undergraduate journey at the State College for Colored Students, which took her seven years to complete because she got married and also had to take some time off from studies to go to work to make some money to cover the college costs.
After graduating with a bachelor's degree in Education in 1945, she began her teaching career. "At first I taught grades one through eight, but then I decided that I liked the third grade, so that was the grade I started teaching," Ms. Browne said.
After beginning her teaching career in 1945 with brief periods at Ellendale Elementary School and John Wesley Elementary School in Milford. Ms. Browne then  taught at Lockwood Elementary School in Hartly. Del., from 1946 to 1956. She then taught at Booker T. Elementary School in Dover, while at the same time serving as the business manager for her husband's school bus service.
With that district's end of segregated education in 1965, Susan was reassigned to teach at Fairview Elementary School, where she taught until her retirement in 1977 – which completed a 30-year teaching career.