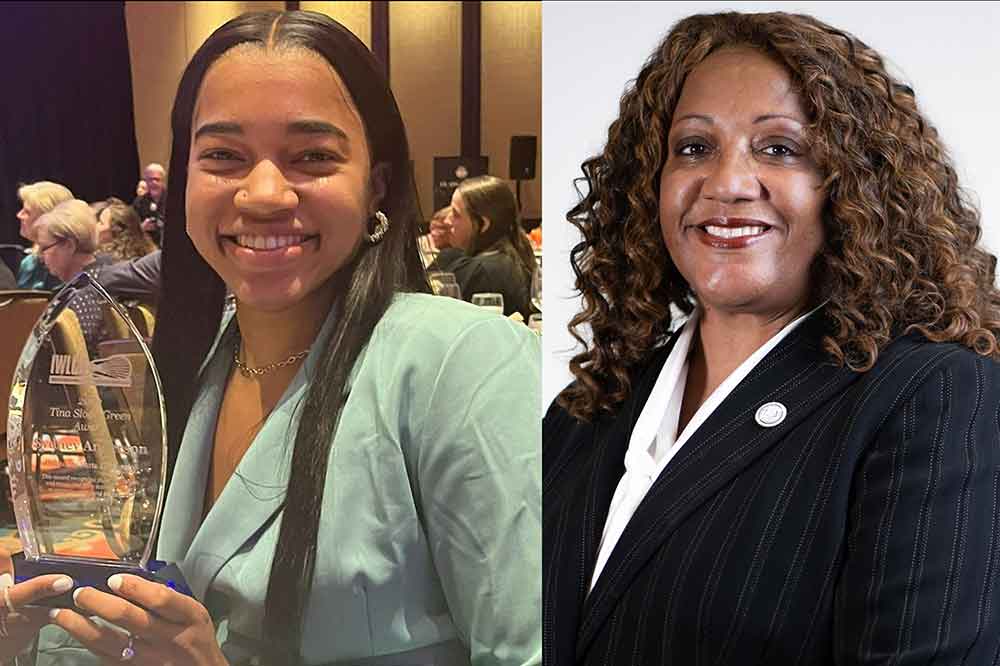 On Campus
Three University members named "Most Influential" in Delaware
Monday, March 27, 2023
Delaware Online recently named University Director of Athletics Alecia Shields-Gadson and Hornet women's lacrosse player Sydney Anderson among the 2023 "Most Influential" in the First State.
Shields-Gadson has been recognized for the second year in a row as one of Delaware's most influential sports leaders. She was appointed by Delaware State University President Dr. Tony Allen as the university's Director of Intercollegiate Athletics in August 2021. She is also a member of the National Collegiate Athletic Association (NCAA) Division I Council, serving a key role in advancing the association's mission, traditions, values and reputation, in addition to serving as an advocate for the organization. 
Anderson, a junior on the Hornets' lacrosse team, is recognized by Delaware Online among the "Most Influential" for community impact. The article cited her award by the Intercollegiate Women's Lacrosse Coaches Association (IWLCA) for reporting the news about the controversial stop and search of the team's bus by police in Georgia on its return home from a game in Florida last spring. Anderson was presented with the IWLCA's 2022 Tina Sloan Green Award for her achievements during the organization's Hall of Fame and Honors Banquet in Dallas, Texas.
In addition, University President Tony Allen has been named among Delaware Today's "Most Influential People."
The magazine noted that Dr. Allen has sought to elevate the public image of Delaware's historically Black university since becoming its leader in 2020. Joe Biden became the first president to visit DSU's campus last year when he touted his debt relief plan — no doubt in part because of his strong connection to Allen. 
While the magazine also noted that the university broke enrollment records in the fall of 2022, increasing by 40% in a decade, it neglected to mention Dr. Allen's leadership in navigating the University through the COVID pandemic since his elevation to President in 2020. The management of the COVID crisis made Delaware State University an institutional example to other colleges and universities in how to keep campus populations healthy during the pandemic.