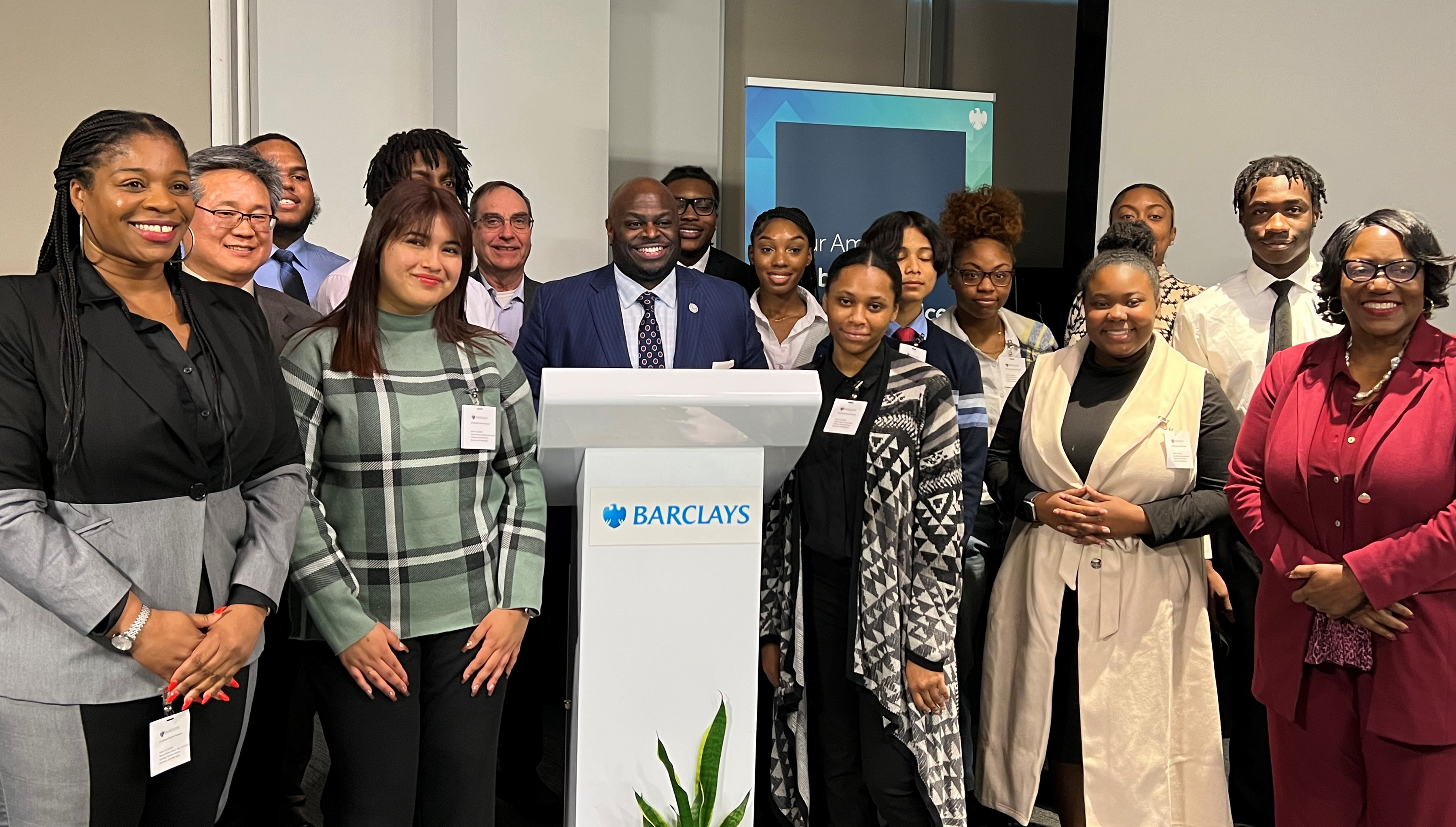 On Campus
College of Business students spend a day at Barclays
Thursday, February 9, 2023
Barclays US Consumer Bank opened its doors to Delaware State University business students on Tuesday, giving them a firsthand look at the work environment, a mock interview and headshot, lunch, and two panel discussions.
Chief Executive Officer Denny Nealon told the students that the London-based bank – in business for more than 300 years – had their future in mind.
"We believe deeply in Delaware State University….you are getting a great degree at a great school," he said. "We have a lot of good things on the agenda but we have a motive – we want you to think that this is a great place to work.  We want to attract Delaware State students."
Their efforts weren't lost on Delaware State Junior Amir Conwell, a College of Business student concentrating in business management. "I'm really enjoying the community they have here," he said. "It's not like a rubber stamp job…you can express yourself."
The event aligns with Barclays' intent to build direct relationships with universities and their students to augment the traditional HR recruitment activities. 
"We wanted to give the students something tangible that will help develop them as they prepare to enter the workforce," said Patrick Chilson, colleague experience officer in the Chief Executive Office.  "We want to leverage and deepen the relationship with Del State, to attract top talent from the University."   
In the morning, students got advice and personal stories from Barclays employees, designed to showcase the bank as a potential future site for internships or employment.
Yah Hughes, Assistant Dean of the College of Business, said Tuesday's exercise was another example of how work outside the classroom can really matter. She said Tuesday's outing was the first such event since COVID and that visits to additional Delaware companies are in the works.  "It's a good idea to expose our students to our corporate partners," she said.
The afternoon panel, Black Excellence 3.0, included Dr. Tony Allen, president of Delaware State.  He noted that while HBCUs comprise only 3 percent of the nation's colleges and universities, they graduate 20 percent of the country's doctors.
"From my perspective, corporations need to lean in on HBCUs," he said. "Then they are doing the right thing. If they are not, then they are not fully committed to the talent pipeline."
Tox Sotande-Peters, who leads the Black Professionals Resource Group at Barclays, served as the moderator. He said any discussion of African American achievement should include HBCUs.
"HBCUs represent Black Excellence," he said. "They engage students in different ways. Today's students want opportunities but also a good culture."