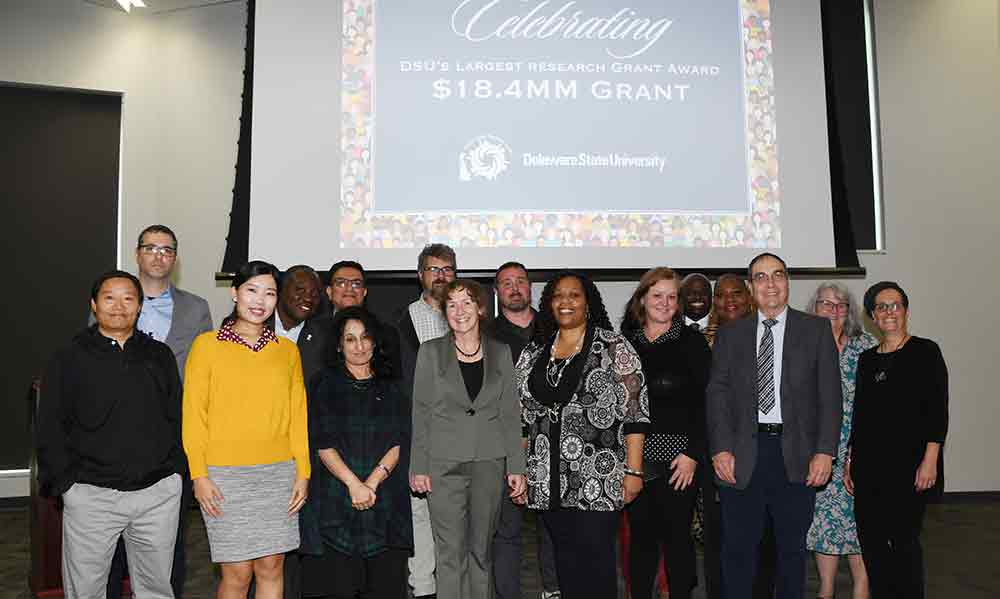 On Campus
University celebrates school-record $18.36M NIH research grant
Wednesday, November 30, 2022
Delaware State University has received a five-year, $18.36 million research grant from the National Institutes of Health (NIH) that will support the establishment of the Interdisciplinary Health Equity Research (IHER) Center on campus.
This NIH funding is the largest research grant ever awarded to Delaware State University in its 131-year history, surpassing the previous record of $10.9 million received from the NIH in 2017 in support of the institution's Delaware Center for Neuroscience Research.  Since 2016 the University's growth in federal research awards has doubled to $45 million.
The grant – awarded through the NIH's Research Centers in Minority Institutions Program – will enable the IHER Center to bring together a group of interdisciplinary faculty researchers, some focused on investigating the social and behavioral determinants of health and others using biomedical approaches to study the health conditions that have a disparate impact on underserved populations.
University President Tony Allen said the grant represents a continued and fundamental shift at the University. "We have much more work to do, but this opportunity is symbolic of two things," Dr. Allen said. "An exceptional interdisciplinary faculty who can focus on the most pressing, real-world scientific inquiry of our time and a commitment to bringing our intellectual capital – faculty, staff and students – to the communities we call home."
According to Dr. Melissa Harrington, the University's Associate Vice President of Research and the co-Principal Investigator of the grant along with Dr. Sangeeta Gupta, Delaware is a state with significant health disparities and a large number of residents in poor health. She notes while Delaware is ranked 30th out of the 50 states in overall health outcomes, the First State is 40th for the high incidence of cancer, high cholesterol and high blood pressure; 43rd for the incidence of obesity; 45th for high risk HIV behaviors; and 49th for drug-related deaths per capita.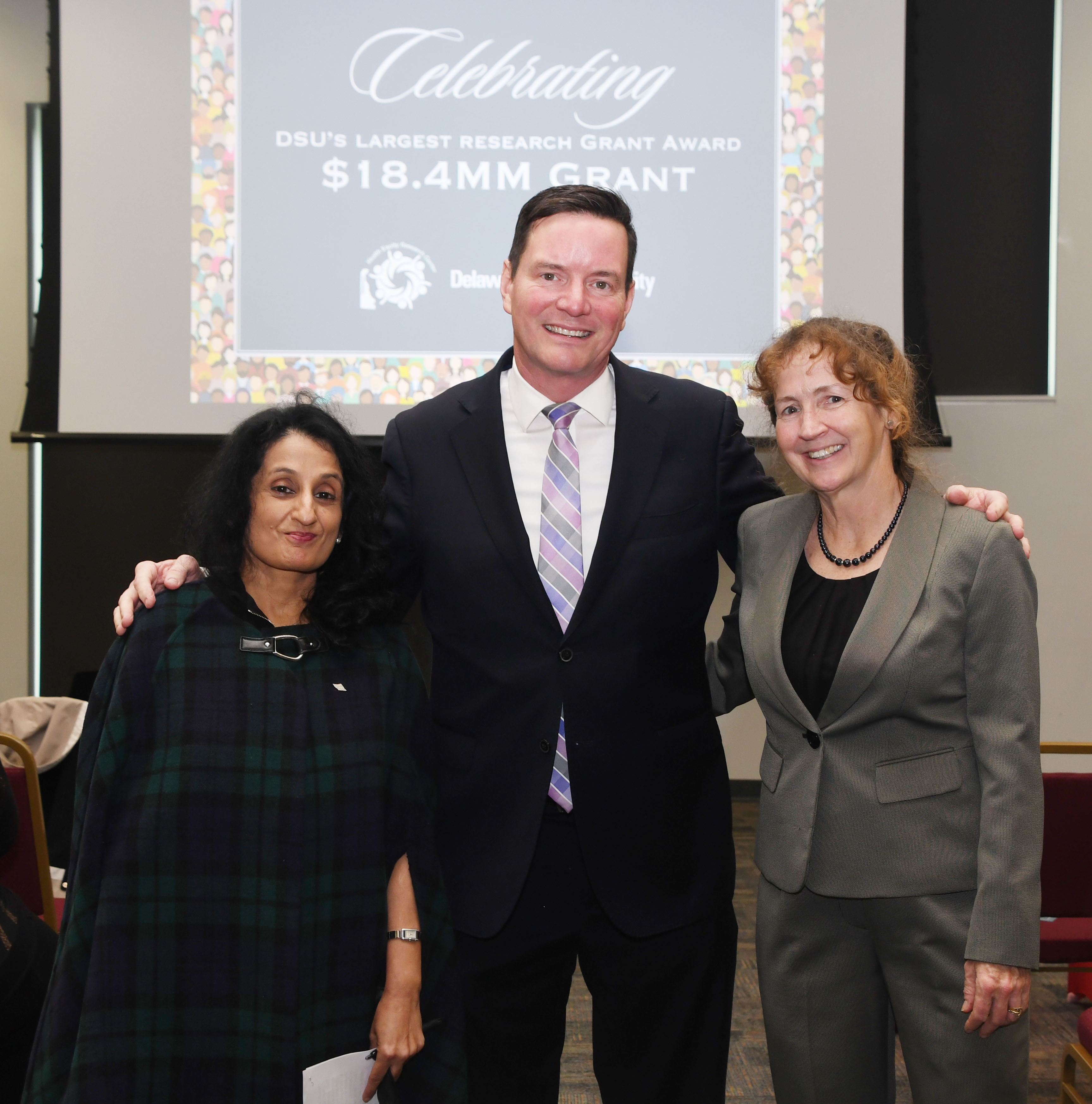 "The IHER Center that we will establish with this new grant will develop interventions that can improve health by changing peoples' behavior and modifying their risk factors – problems that can be best addressed through collaborative research that engages the community and partners with community-based organizations," Dr. Harrington said. "The Center will have a Community Engagement Core to help develop those collaborations and partnerships, and we will particularly target Kent and Sussex Counties as lower Delaware has been relatively understudied and underserved."
State Sen. Trey Paradee noted that the IHER Center will address a need that has existed in the State of Delaware for a long time.
"Segments of our black and brown communities in this state are not receiving the health care that they should, and obviously need to do a better job of delivering health care to black and brown communities," Sen. Paradee said. "The infant mortality rate in our state for children of color is nearly four times that of white children. That is a terrible mark on our state, and we need to do a better job of addressing that."
The grant funding will support researchers by developing or expanding core facilities providing services in biostatistics, qualitative social and behavioral research methods, microscopy and electrophysiology. The project will also support investigators working with human subjects by providing an infrastructure for the secure collection, analysis and storage of data.
The IHER Center will be able to recruit scientists with expertise in behavioral and social research related to health equity to join the University's interdisciplinary team of researchers. It will also provide opportunities to establish pilot grant programs for early-stage investigators for research related to understanding and eliminating health disparities.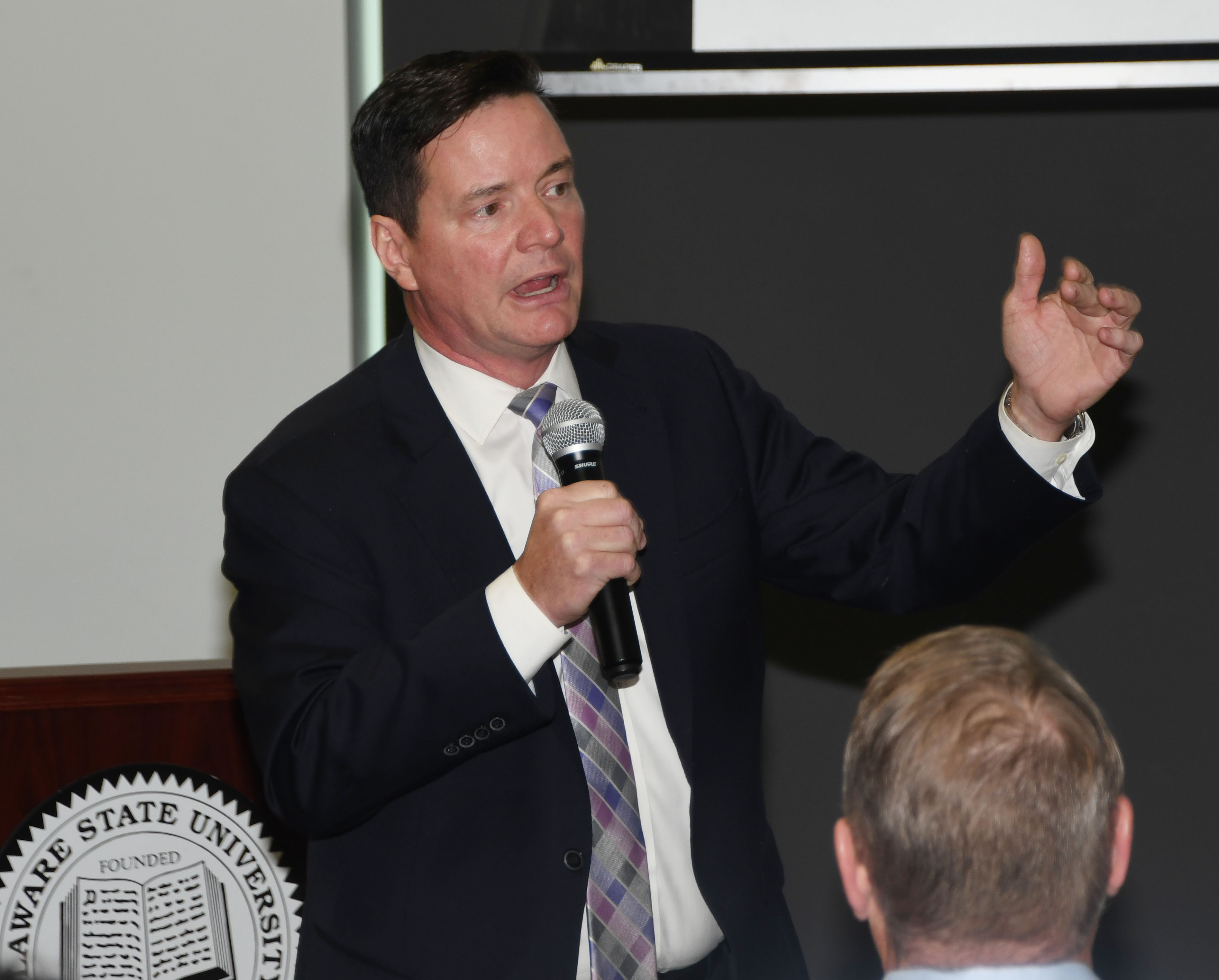 To make the research impactful and responsive to community needs, investigators will work with community partners to assess the needs of underrepresented populations in Kent and Sussex counties, as well as the existing resources and services already in place. Dissemination strategies will be developed to engage community members in health disparities research and to disseminate research findings to the underrepresented groups that could benefit.
The IHER Center Project will involve faculty from the University's College of Agriculture, Science and Technology; College of Humanities, Education and Social Sciences; College of Business; and Wesley College of Health and Behavioral Sciences.
Dr. Harrington said the expectation is that the NIH funding and the resultant IHER Center will make DSU a leading institution for behavioral, social, and biomedical research related to health disparities.
Sen. Paradee said that the NIH grant will continue the already exceptional growth of the University.
"When you attract research dollars, you attract more talented professors who want to be a part of something great," Sen. Paradee said. "When you attract talented professors, obviously you are delivering a better education experience for our young people who come to Delaware State University."   
In addition to Drs. Harrington and Gupta, the IHER Center team members include:
Dr. Dorothy Dillard, Director of the Center for Neighborhood Revitalization and Research
Dr. Cynthia Newton, Director of Partnerships and Programs, College of Health & Behavioral Sciences
Dr. Brian McNaughton, a Senior Fellow, Delaware Institute for Science & Technology
Dr. Derald Wentzien, Visiting Professor of Business Data Analytics in the College of Business
Dr. Nicole Bell-Rogers, Associate Professor of Nursing
Dr. Gwen Scott-Jones, Dean of the College of Health and Behavioral Sciences
Dr. Janeese Brownlow, Assistant Professor of Psychology
Dr. Sokratis Makrogiannis, Associate Professor in the Division of Physics, Engineering, Mathematics and Computer Sciences.
Dr. Akash Dania, Chair of the Department of Accounting
Dr. John Balzerini, Associate Professor of Psychology
Dr. Sharron Goodman, Assistant Professor of Sociology
Dr. Jianli Sun, Director of the Cell Electrophysiology Core
Dr. Sabrina McGary, Chair of the Department of Biological Sciences
Three research project are already underway in the IHER Center:
Dr. Brownlow is leading a project entitled "An Investigation of Mental, Physical and Sleep Health: The Role of Social Determinants."
Dr. McNaughton is spearheading a project entitled "Integrating Low-Cost Paper-Based Devices and Personalized Immunotherapeutics to Treat Triple Negative Breast Cancer."
Dr. Makrogiannis has launched research on "Machine Learning-based Imaging Biomarkers for Metabolic and Age-related Diseases."
Below is a video link to a statement about this grant by Yewande Oladeinde, Social and Behavioral Science Administrator, National Institutes of Health:
https://www.dropbox.com/s/uip0v41zyrkc4sm/DSU_RCMI%20video.mp4?dl=0