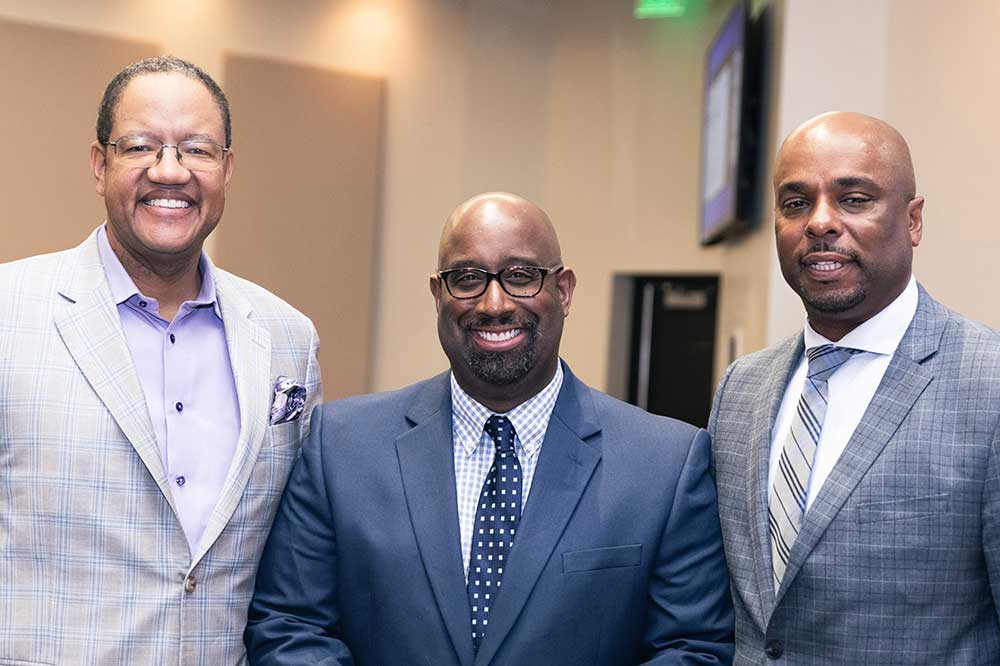 On Campus
Impact Conference held at the COB
Wednesday, November 2, 2022
The Global Institute for Equity, Inclusion and Civil Rights at Delaware State University brought together national leaders and experts in diversity recently for two days of powerful talk.
The IMPACT conference was held at the Bank of America Building, which houses the University's College of Business on the Dover campus.
"The conference was a great opportunity to hear from some of the most intriguing professionals in the country," said Dr. Sonel Shropshire, Associate Vice President of the Institute. "The topics were dynamic and insightful to the overall mission of how diversity is activated nationwide."
Ten speakers over the course of two days covered topics that included key elements in creating a diversity plan, addressing conflicts, retaining talent and effective marketing.
 "The IMPACT conference uniquely advanced the Global Institute's ultimate goal of developing and sharing new pathways to transforming our communities of color and "closing the gap on an inclusive economy" without displacing citizens, but having them envision, embrace, and collaborate on new inclusive redevelopment plans which have tangible benefit to all," said Michael Casson, Dean of the College of Business.
Keynote speaker on the first day of the conference was Michael Strautmanis, Executive Vice President for External Affairs for the Obama Foundation.
During President Obama's first term, Strautmanis served as Chief of Staff for Senior Advisor Valerie Jarrett in the White House Office of Public Engagement. He then served as a Vice President for the Walt Disney Company before joining the Obama Foundation.
His message was one of building things through collective action. "It's not enough, in my opinion, to tear things down," he said.  "We've got to build something, and create the society we want our children to live in…We can only accomplish this together."
On the second day, the distinguished speaker was Kiesha Nix, Vice-President for Charitable Affairs for the Los Angeles Lakers.
From her roots in South Central, Los Angeles, she rose in her career to become one of the most powerful women in sports philanthropy. She has been named by Sport Illustrated/Empower Onyx as one of the "100 Influential Black Women in Sports." Nix said along with hard work, she had to "ruffle a few feathers" in her rise to become the first African American female Vice President in her organization.
She did not think it okay to forget where she came from. "It's okay to be the first," she said. "It's not okay to be the only."
Conferences such as IMPACT are one of several projects underway at the Institute, founded in 2018 as a network designed to develop and share proven pathways for transforming communities of color and "closing the gap to an inclusive economy."
The IMPACT conference was made possible through funding by the Barclays Community Reinvestment Act Program.