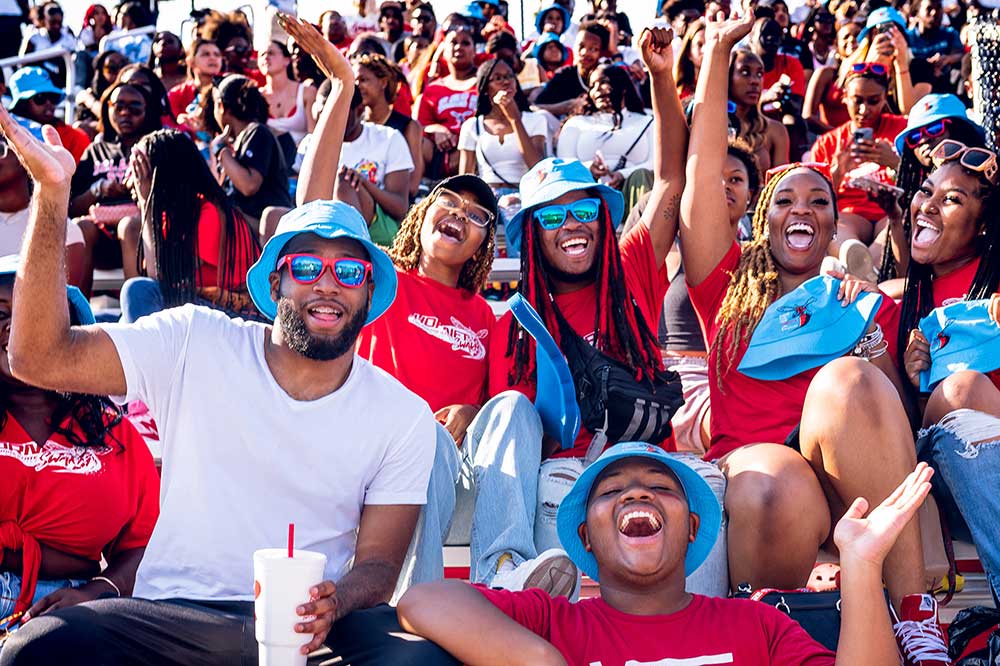 On Campus
University Sets Record – 6,200 students enrollment!
Friday, October 28, 2022
Last week, in his first visit to the University as President of the United States, President Biden declared, "There is no better example of a university that has changed so many lives." Per this morning's official release of fall semester 2022 enrollment numbers, the University has the opportunity to change even more.
Consistent with its rise in national rankings among Historically Black Colleges and Universities (HBCUs) and regional higher education institutions in the Northeast, Delaware State University has once again shattered multiple enrollment records, including surpassing 6,200 total students for the first time in its 131-year history. The numbers represent a 33% increase since 2017.  
The achievement marks the fourth time in the last five years the University has grown its enrollment. The effort is also consistent with the institution's strategic goal to reach 10,000 students by the end of the decade. Read the full strategic plan, Reach 2026.
"The best signal of success for any higher education institution is this: more students wanting to enroll, wanting to join our family, wanting to make their mark in a smaller, more interconnected global community," said University President Tony Allen. "Regardless of what you look like, where you come from, or your financial means, we want a student profile that looks more and more like the country we need to be: inclusive, contemporary, and built for generations to come." 
Allen noted that the recent success is driven by a University-wide commitment to access and opportunity, including enhancements to the state-funded Inspire Scholarship Program, expansion of its Early College School, and a significant new emphasis on the University's graduate and online programs.  
The expansion of the state-funded Inspire Scholarship provides a four-year, full tuition scholarship to Delaware-graduating high school seniors with a 2.75 GPA and a commitment to public service. Of the nearly 700 first-year in-state students, 67% are INSPIRE scholars. The current first-year class totals more than 1,400, which is also a record.
The Early College School, a University-sponsored chartered school where high school students can earn up to 60 college credits before they are ever admitted into any University, has also proven to be a key driver. This Fall, 7th and 8th grades were added and the school now boasts a total enrollment of nearly 600 students, 64% of whom ultimately chose the University over the last five years.   
Early College School Alumnus and current University Senior Zachary Bernard noted, "Knowing that every step I take forward is literally making history in my bloodline has pushed me to take advantage of every opportunity at Delaware State University." Zachary introduced President Biden last Friday.  
Dr. Harry L. Williams, President Emeritus of Delaware State University (2010-2017) and currently the President and CEO of the Thurgood Marshall College Fund, brokered the Inspire Scholarship and established the Early College School during his tenure. He said the University's continued growth is no surprise. 
"The University has been strategic in growing in a fashion that has markedly increased the university's footprint and profile in Delaware and across the country," Dr. Williams said. "Delaware State's future is extremely bright, and the university continues to be a smart investment for corporate, philanthropic, and government partners at the federal, state, and local levels."
Graduate and online enrollment also saw significant year-over-year increases, at 5.7% and 56.8%, respectively. Tony Boyle, Senior Vice President of Strategic Enrollment Management and Student Affairs and the University's chief architect of the growth plan, added, "Today is a total team effort throughout every corner of the University and is reflective of a total embrace of the Strategic Plan. And we all know we have more work to do."
According to the latest U.S. News & World Report's HBCU rankings, Delaware State University recently rose to #8 among all Historically Black Colleges and Universities and also became the #2 Public HBCU in the country.