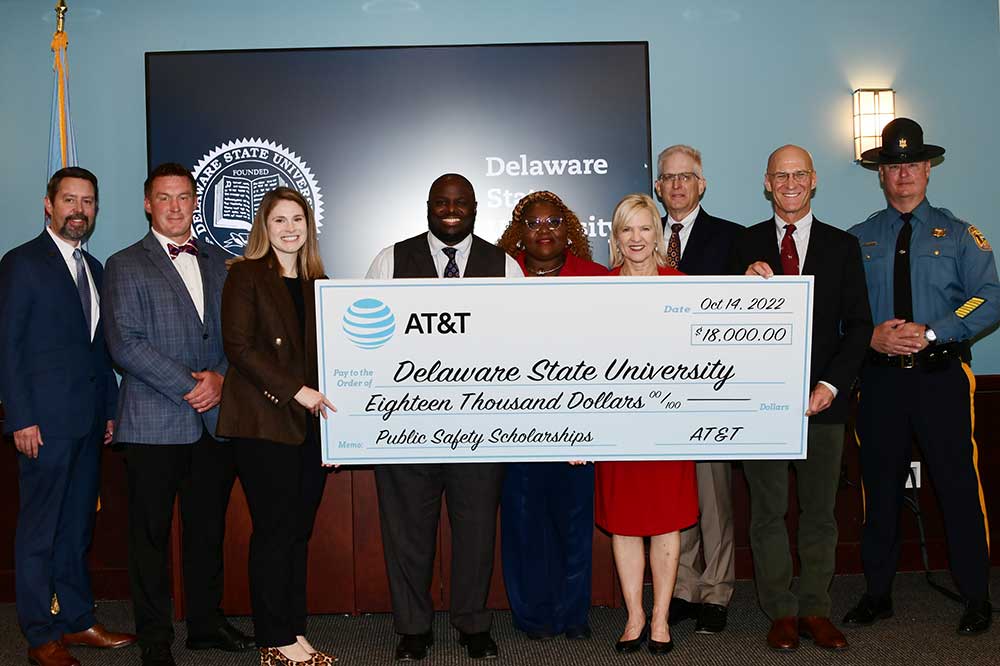 On Campus
University Receives AT&T donation to support trauma certificate program
Friday, October 14, 2022
Delaware State University's Wesley College of Health and Behavioral Sciences (WCHBS) has received some scholarship support through an $18,000 donation from the AT&T Foundation.
The donation will result in scholarships to first responders who enroll in the CHBS Trauma Academy's certificate program in Organization Trauma and Resiliency Training Program, said Dr. Gwen Scott-Jones, CHBS Dean.
"This certificate program will focus on imparting knowledge and values that enable professionals to skillfully engage in service delivery to individuals who are impacted by toxic stress and complex trauma," Dr. Scott-Jones said. "More specifically, our overall goal is to educate and train professionals to provide culturally responsive and trauma-informed care."
Representatives of AT&T presented the check to University President Tony Allen and other University officials during an Oct. 15 special event on campus. Also attending were Delaware Lt. Gov. Bethany Hall-Long and Dover Mayor Robin Christensen.
"At AT&T, we've building out the FirstNet® wireless broadband network built specifically for public safety in Delaware and across the United States," said Denis Dunn, president, AT&T Delaware. "We also think it's important to help prepare those who will be protecting communities across Delaware. That's why we're supporting Delaware State University."
Michael Quaranta, President of the Delaware State Chamber of Commerce who also attended the event, noted it was a good development for public safety in the first state. "With Delaware State University teaming up with AT&T for this scholarship program, we're not only strengthening our workforce, we're preparing young people to keep our communities safe," he said. "That's a winning combination for our entire state."