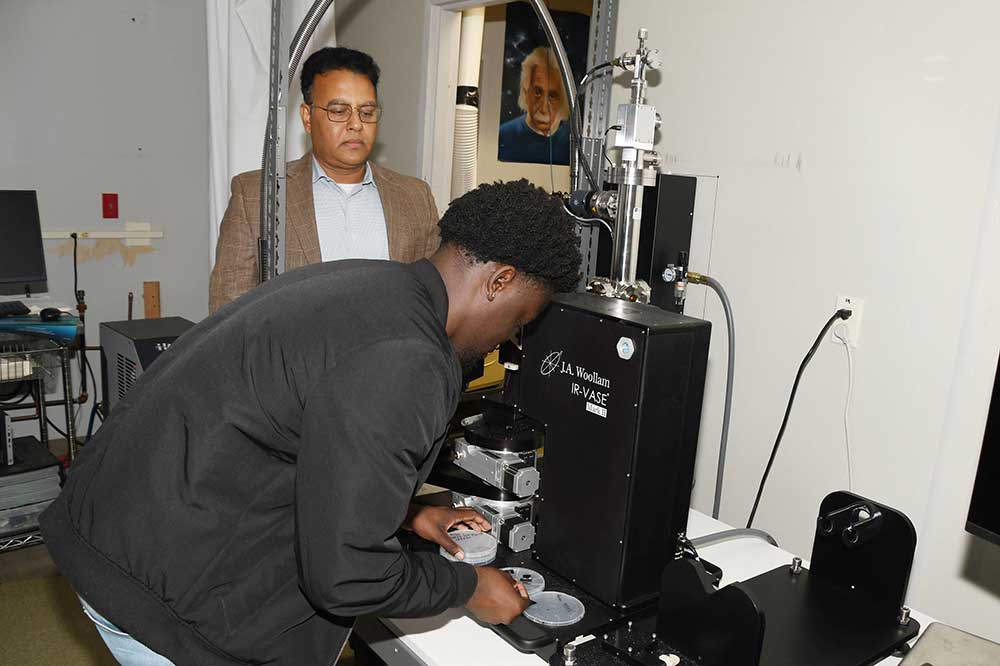 On Campus
University awarded $1M grant for ultra-thin material research
Thursday, October 13, 2022
Delaware State University has been awarded a $1 million grant to develop and investigate ultra-thin materials for use in various electronic, optical and magnetic devices.
Dr. Mukti Rana, Professor of Physics & Engineering, serves as the principal investigator of this five-year grant funded by the Air Force Office of Scientific Research (AFOSR).  
Most of current electronic or optical devices are made of silicon-based materials. While silicon is cheap and easily available, devices made of this material suffer from slow speed and relatively bigger size.
This intrigues the scientists to search for new materials which are faster and extremely thin. Some of these materials from transition metal dichalcogenides (TMDs) group such as tungsten disulphide, molybdenum disulphide, etc. can enable new technologies for the department of defense. Their thicknesses range from one to a few atoms.
In addition to developing the material, Dr. Rana and his collaborators from Pennsylvania State University will investigate how to eliminate defects in the ultra-thin layers.
"Unfortunately, like other materials, these ultra-thin materials contain defects," said Dr. Rana. "These defects include missing atoms while they are in the process of forming a bond or the presence of contaminates."
These unwanted defects can change the optical, electronic, magnetic, and chemical properties of the materials. As part of the proposal entitled "Defect Engineering in 2D Systems for Photonic and Nano-Devices (2D-SPAND)" Dr. Rana will work to investigate the defects of a single layer of material. The research team will first develop the materials and then investigate the defects at the atomic level.