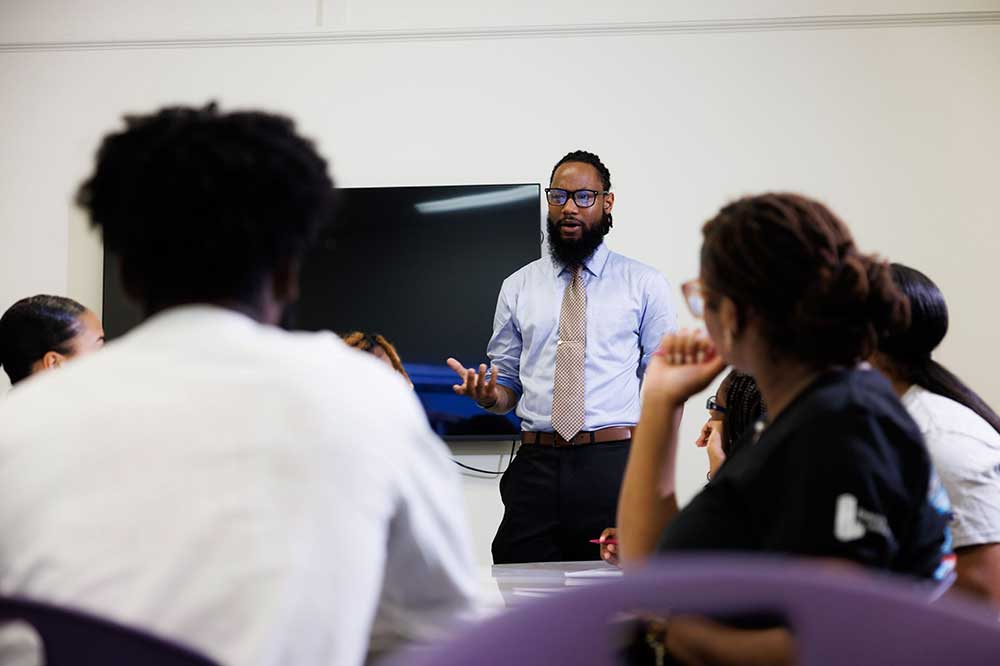 On Campus
Teacher Ed Program seeks to increase minority educators
Tuesday, October 11, 2022
For most of her schooling, Makaiya Atley did not have any teachers that looked like she did.
A member of the Class of 2022 at Freire Charter School, Atley said she felt misunderstood at some of the mostly white schools she attended in New Castle County, Delaware, and downright insulted at one. "My hair was considered a distraction," she said. "I felt like I was always being disciplined, I felt like I was getting picked on…Looking back, I was obviously being discriminated against."
When Emmanuel Akande emigrated to the United States from Nigeria, he was enrolled in fourth grade at a public elementary school. He was held back the first year, mostly because of his thick accent, he said. "Now that I think about it, it was kinda messed up," he said. "I was a straight A student in Nigeria and I knew the material. But I started getting C's and D's. It was very, very tough."
Trouble followed him to middle school, where he was bullied and blamed by teachers, he said. "Teachers made matters worse," he said. "They didn't understand me, or the culture that I was from."
Both young people said schooling turned around for them when in 8th grade they entered Freire, at which 60 percent of the teachers identify as people of color.
"I thought it was the promised land," said Akande. "I was welcomed, teachers smiled at me…They understood me."
The importance of educators being representative of the children they teach is not lost on the Education Department at Delaware State University. 
"The diversity of our state population must be reflected in our teacher workforce – it is imperative and impactful," said Dr. Shelley Rouser, Chair of the Education Department. "It is worthy to emphasize that this is important and changes the trajectory for children of color, but it is just as important for all children to learn from teachers of various backgrounds, and respect that knowledge and support can come from those who may not look like them."
The University recently brought on Darren Rainey, who has taught English and was an administrator at Freire Charter School, as Program Manager for Recruitment and Retention of Diverse Educators.
"Young black boys tend to mirror what Black Men model," said Rainey. "They can't be what they can't see. It's the 'I want to be like him!' mindset. We want to reframe who they see in the classroom so teaching is impactful, cool."
Rainey has his work cut out for him. Despite the fact that nearly half of American school children are Black or Latino, only 7 percent of American teachers are Black, and only 2 percent are males.
Since joining Del State full-time in June, Rainey has put together a plan to increase the number of highly skilled and well-prepared educators of color graduating from Delaware State University and to keep them in education.
The plan centers on forging new relationships with students, teachers, schools, and districts while strengthening those partnerships that already exist, such as with the Delaware Department of Education (DDOE).
At Del State Rainey will build supports for students who choose to pursue a career in teaching, including two Pre-Service Impact Communities, one for males of color going into teaching and one for females of color going into teaching.
The communities are affinity spaces, where learning will happen before students become teachers, a place where groups of people are drawn together because of a shared, strong interest and experiences.  
The goal of these affinity spaces, said Rainey, is to engage in conversations relevant to the shared experience of being an educator of color, mentorship, coaching, professional development, and building community.
One of Rainey's main priorities will be to change the narrative about the teaching profession and highlight history by educating community stakeholders on our legacy in education and the positive impact of educators of color and the benefits of teaching.
Rainey will also look to expand the "Grow Your Own" programs around the state, where districts identify students of color that want to teach and offer them classes and supports available in high school, then continue at Del State before returning to the district as a teacher.  
Rainey said a critical piece will be forming communities that support people of color after they become teachers, in particular males, who have unique experiences when they enter the profession, and therefore require unique support systems.
"Recruiting teachers is not the hardest part," he said. "It's hard to keep teachers of color from burning out."
Rainey said issues like lack of community support, micro aggressions, barriers to certification and relatively lower pay can lead to African American males leaving the field in an average of five years, he said.
"We have to prioritize how we support teachers," said Rainey. "We need to have serious conversations about changing the system."
Despite the challenges, Rainey remains optimistic.  "This generation is looking for a lever to push forward and I think that education is that lever," he said. "I think Delaware is small enough that we can really do something. We can have positive outcomes."
What it comes down to is the importance of education, said Rainey, called for many years "The Great Equalizer."
"Education is, and always has been, the way to freedom," he said, noting that freed slaves often sought education first and then became lifelong learners.  "A liberated mind is the first step toward a liberated body."