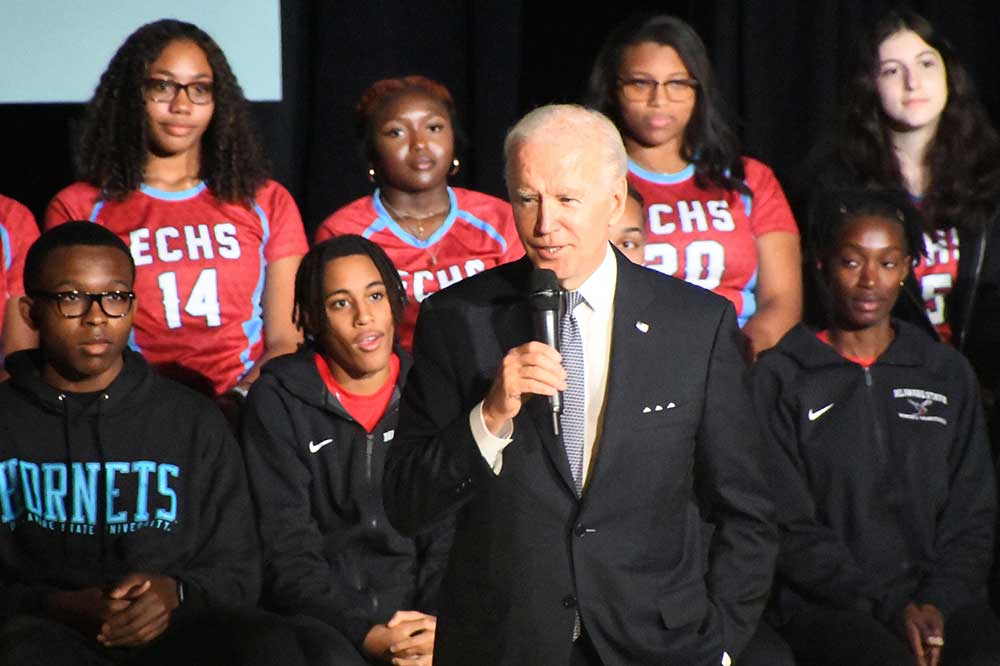 On Campus
President Biden speaks about student debt relief at University
Friday, October 21, 2022
History was made at Delaware State University on Friday when President Joe Biden visited campus to discuss his sweeping plan for student debt relief.
While no stranger to Delaware State – he began his political career here, visited as Vice President and again while campaigning for President – it was the first time a sitting U.S. President came to call.
For images of President Biden's visit, click on the below link:
https://www.flickr.com/photos/48216028@N03/albums/72177720303072046/show
"It's a beautiful thing, the President of the United States coming to Delaware State University," said senior Jordan Spencer. "I'm speechless, honestly."
An enthusiastic crowd of dignitaries, University leaders, faculty, staff and students filled the Education & Humanities Theater to welcome the Commander in Chief with a standing ovation.   "It's good to be home," the President said as he began his remarks.
President Biden's message centered on encouraging students to apply for the historic debt relief plan he announced last month, where people making less than $125,000 annually will be forgiven $10,000 in debt and those who qualified for a Pell Grant will receive $20,000.
The plan will affect 43 million Americans, 90% of whom make less than $75,000, and almost 1.5 million will be HBCU students.
"Not a dime, not a dime, will go to the top 5 percent of income earners," said President Biden. "This goes to people who really need it."
Biden said an application for the debt relief program was posted this week on  www.studentaid.gov and almost 22 million people have already applied. He also said the White House has received more than 10,000 letters in support of the debt relief. "This is a game changer," he said.
President Biden noted that political opponents attacked the plan as soon as it was announced. "Their outrage was wrong and it's hypocritical," he said, adding that many of the critics took advantage of federal debt relief during the pandemic.
Before the President took the stage, University President Tony Allen, who served as speechwriter for then-Senator Biden, said that this administration has supported HBCUs in a number of ways, from $5.8 billion in federal aid, hiring more HBCU graduates to work in his administration and increasing Pell Grant awards.
"Less than two years into his term, President Biden has done more for HBCUs than any other president in American History," said President Allen.  "The facts are unmistakable."
The President has been very supportive of Del State in particular, said President Allen. "Since the moment he announced his first Senatorial run in 1971, standing next to one of my most distinguished predecessors, Dr. Luna Mishoe, President Biden has never forgotten about Delaware State University," he said. "Perhaps even more importantly, he has never forgotten about the plight of people of color in this country."
President Allen was followed by remarks from the Delaware Congressional congregation, including Senator Tom Carper, Senator Chris Coons and Congresswoman Lisa Blunt Rochester. Zachary Bernard, a senior Biological Sciences major who said he will graduate debt free because of the Debt Relief Plan, introduced the President. On hand in the audience to capture the moment were several mass communications students, working for the University's television, radio, and student newspaper.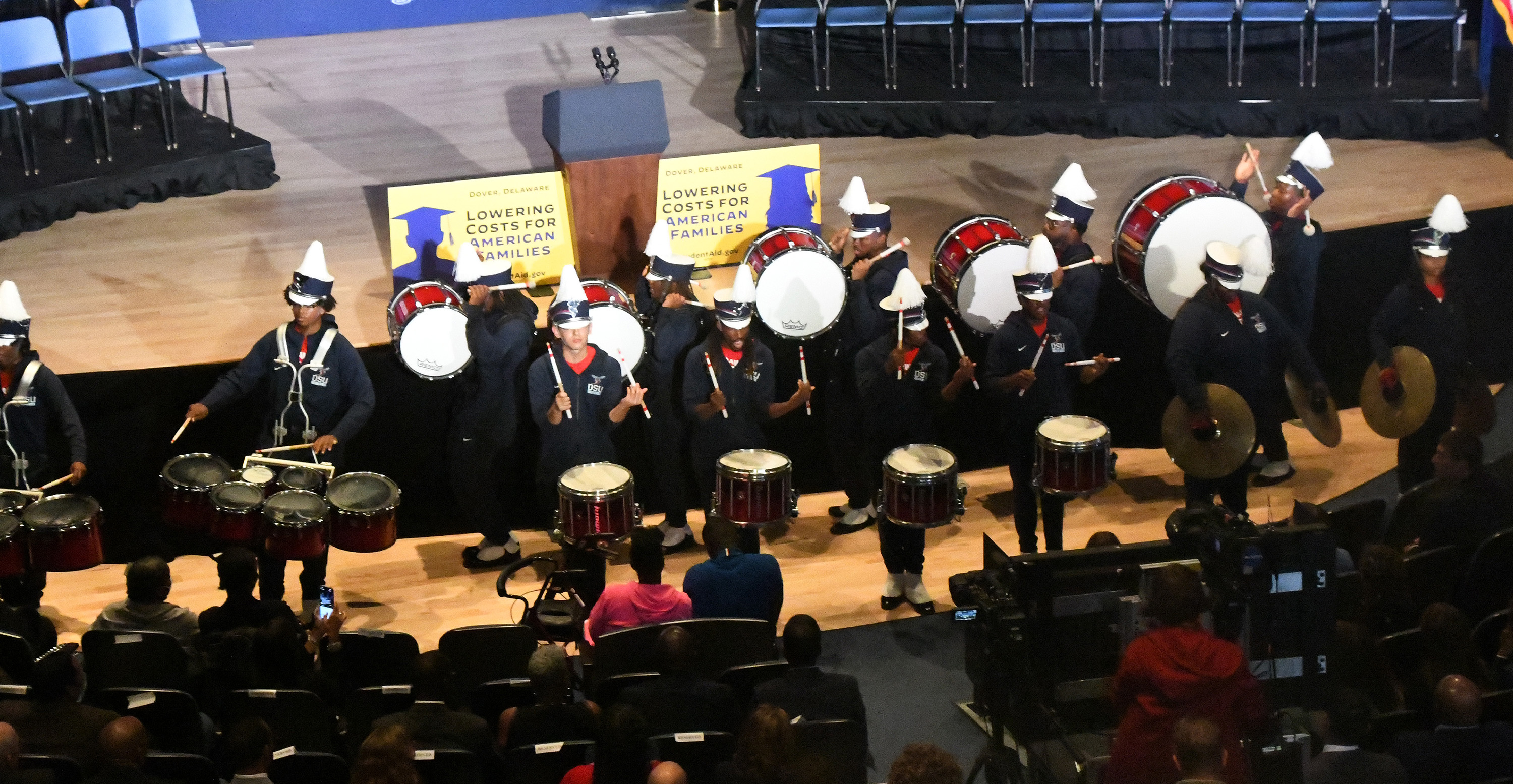 While a packed Education and Humanities Theater awaited the beginning of the proceedings, the University's 13-member Drum Line provided rhythmic entertainment, which garnered ample applauses and a standing ovation at the conclusion of their performance.
The country's Commander in Chief had previously last been at the University for a public event in 2016, when as Vice President he served as the keynote Commencement speaker. It was clear to all that the President was glad to return to the state's only HBCU.  
"We are here at Delaware State University because it holds such a special place in my heart," said the President. "There is no better example of a university that has changed so many lives."