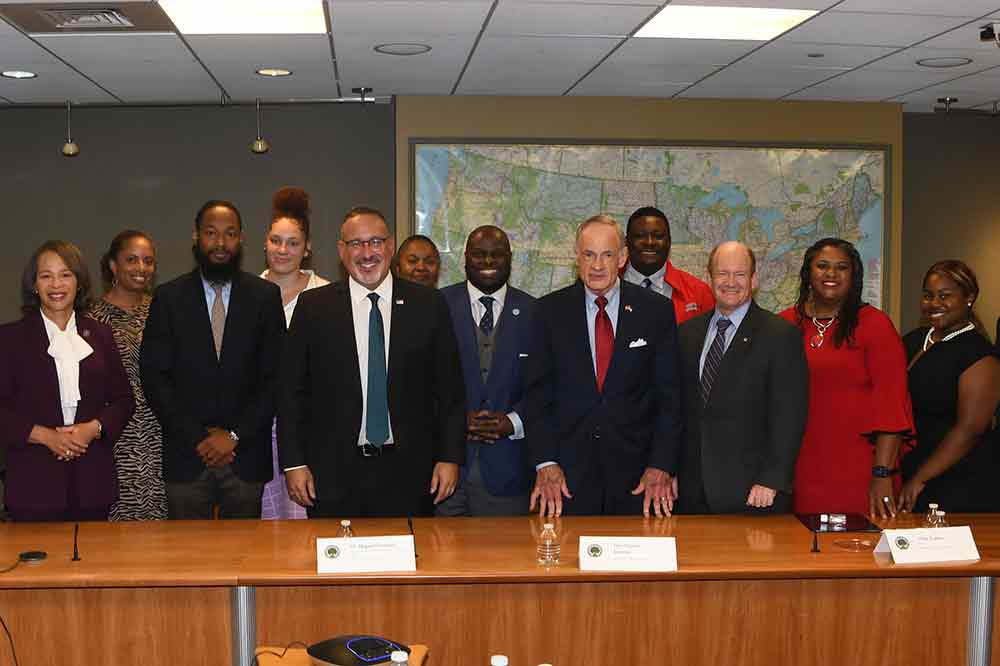 On Campus
U.S. Secretary of Ed Miguel Cardona visits DSU Riverfront
Monday, September 26, 2022
U.S. Secretary of Education Miguel Cardona believes that other colleges and universities ought to pay attention to what is happening at Delaware State University to get more black males in the teaching profession.
University President Tony Allen, Dr. Shelley Rouser, Early College School Director Dr. Evelyn Edney and other University officials met Jan. 26 with Secretary Cardona at DSU Riverfront in Wilmington to discuss that issue. Joining the group for the afternoon discussion was the entire Congressional Delegation – U.S. Senators Tom Carper and Chris Coons and Congresswoman Lisa Blunt Rochester – as well as Delaware Secretary of Education Mark Holodick and Dr. Dietra Trent, Executive Director of the White House Initiatives on HBCUs.
For images of the meeting, click on the below link:
https://www.flickr.com/photos/48216028@N03/albums/72177720302431619
In response to Secretary Cardona's desire to learn more about the strategies at Delaware State University, Dr. Allen turned it over to Dr. Rouser, who told Secretary Cardona that there is a great need to get youths – especially black and brown males – in middle and high schools excited about the possibilities of becoming teachers.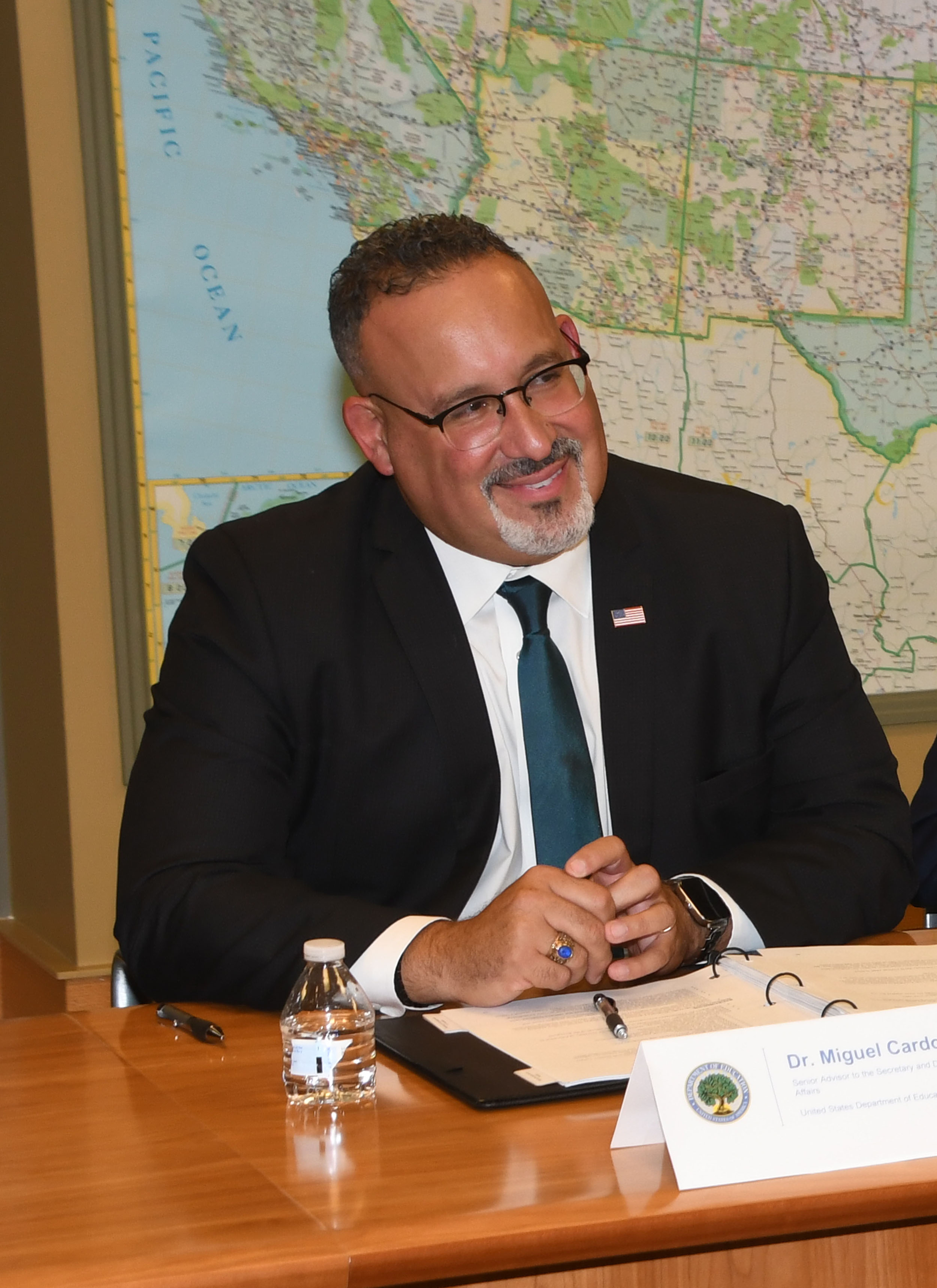 "We need a have multi-prong approach, (which is) what we are thinking about with our programs to inspire children at a young age," Dr. Rouser said. "There is a spiral of (male students) not seeing male educators of color, and therefore not seeing themselves (as educators). So if we are going to change to overall dynamic, let's make sure we are starting with the little people and having our DSU students in front of them so that that they get that inspiration while we are working on the workforce."
She noted that Delaware State University's strategy involves mentorship, the Early College Program, and a Teacher Academy. Dr. Rouser added that strategies across the country need to include keeping them in the profession once they get there. "The lack of diversity in the profession can lead to a very isolated experience once (teachers of color) gets there."  
Secretary Cardona also heard how that strategy is being implemented in concert with the Early College School at Delaware State University.
"We are working on some partnerships so that (Delaware State University) students can come in and work with our students at the 7th and 8th grade level and then they can move into the Teacher Academy in our Career Tech Ed," said Dr. Edney.
President Allen told Secretary Cardona that what has become a Center of Excellence at Delaware State University that begins preparing middle and high school students to be college ready should be done elsewhere. "If you had a real HBCU Center of Excellence (at other schools) then you would see a change in the faces of teachers in schools."
Secretary Cardona also heard from University teacher education graduates, a current education major, and a student from the Early College High School, all who amplified how that strategy is working in their experiences and how it is needed elsewhere at institutions across the country.
After hearing that Delaware State University is doing to address the shortage of male teachers of color, Secretary Cardona said he was left with the following take away: "If the model exists, why are we not replicating it."