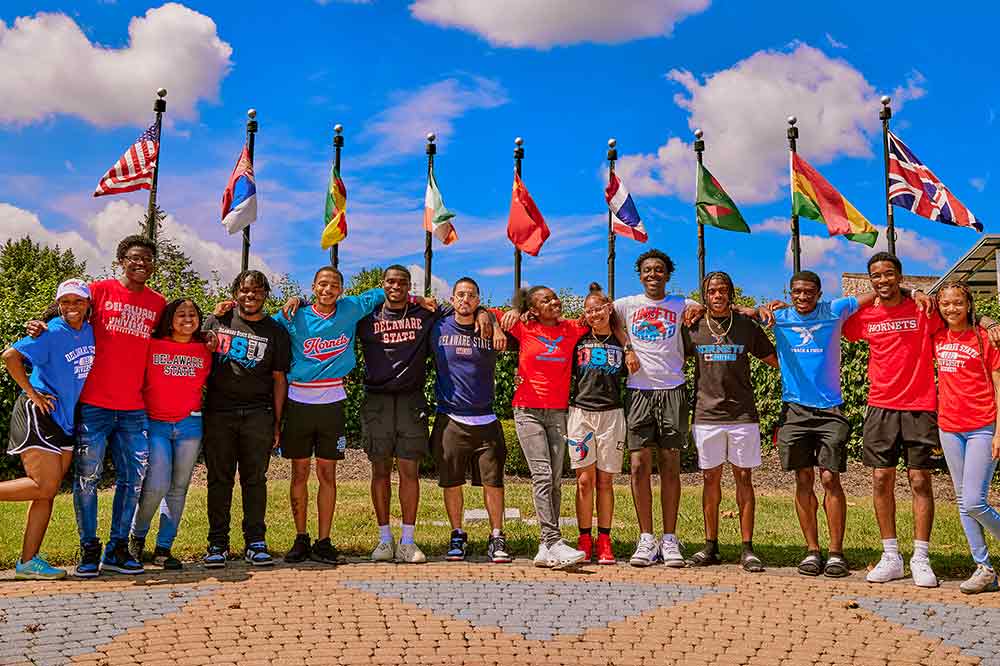 Student Success, DSU Impact
University Moves to No. 2 Public HBCU in Gold Standard College Ranking
Monday, September 12, 2022
"We recognize that getting to this place is no accident but built on the shoulders of those who've come before us in leadership. It is also a testament to the talented administrative team, President Allen, a singular focus on student success, and our shared vision."
– Dr. Devona Williams | Chairperson, Delaware State University Board of Trustees
————————————————————————————————————————————————————
Today, Delaware State University's rise among Historically Black Colleges and Universities (HBCUs) continued with the release of the annual U.S. News & World Report (USNWR) "Best Colleges" rankings, moving to the No. 2 Public HBCU in the United States and No. 8 overall among all HBCUs, both public and private.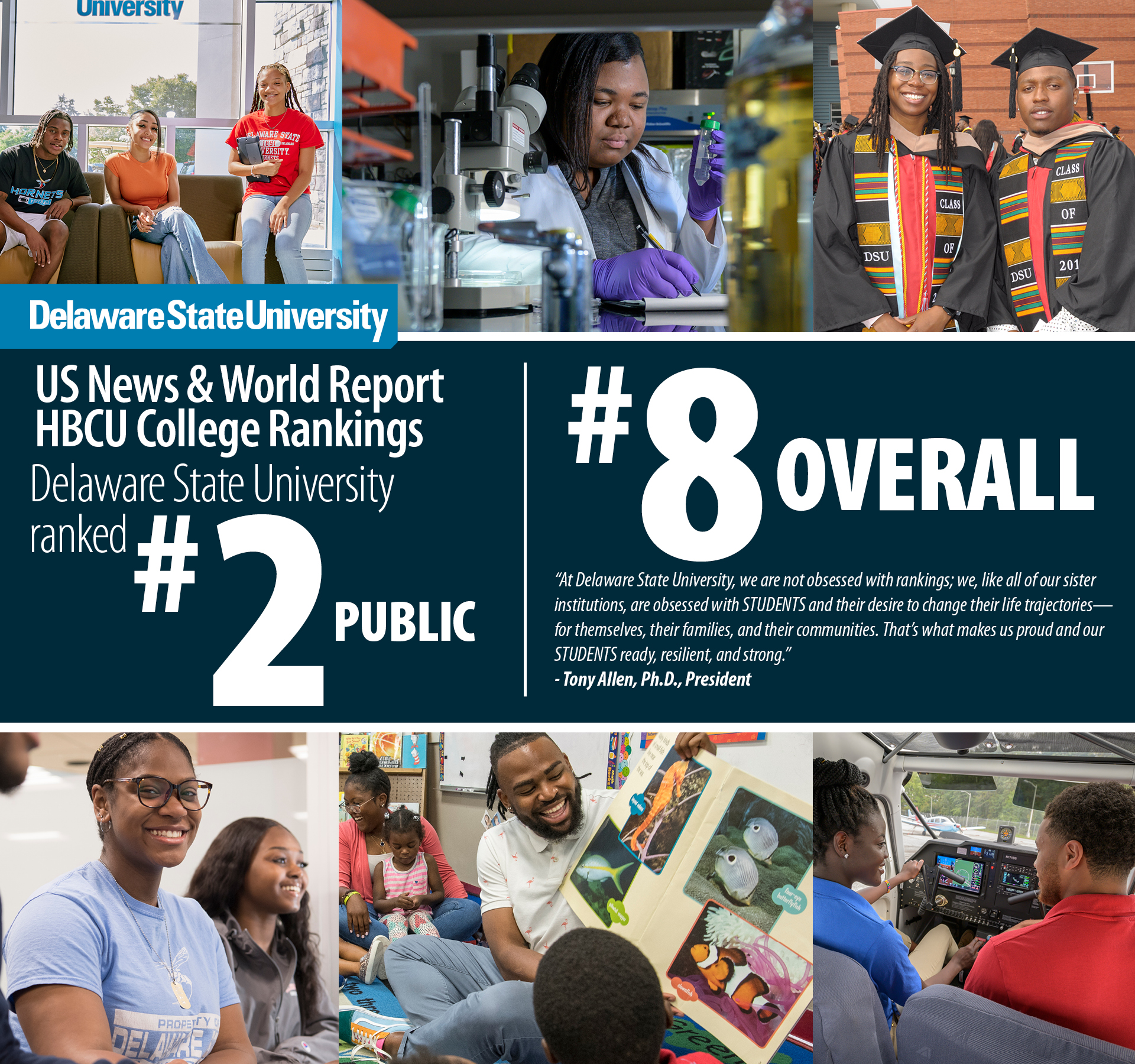 "At Delaware State University, we are not obsessed with rankings; we, like all of our sister institutions, are obsessed with STUDENTS and their desire to change their life trajectories—for themselves, their families, and their communities," said President Tony Allen, who was pleased with the elevation yet emphasized the University's focus on its mission, vision, and core objectives. "For us, that means making sure we understand our students' needs, regardless of what they look like or where they come from; creating an environment where our faculty and staff live our credo every day—'enter to learn, go forth to serve'; and keeping students connected to our grand institution and its history once they leave our care."
Allen added, "When we see increases in affordability, graduation, retention, economic mobility, and innovation, we know we are on the right path. That's what makes us proud and our STUDENTS ready, resilient, and strong."President Allen, who also serves as Chair of President Biden's Board of Advisors on HBCUs, has lately published remarks in the national press about the continued value of HBCUs and the HBCU-impact of President Biden's announcement about student debt relief.
Delaware State University's progress is reflected in a number of key success indicators. Most notable is a 40% expansion over the last decade, aided by the historic acquisition of Wesley College; the expansion of the Inspire Scholarship, in partnership with the Governor and the General Assembly; and significant increases in the University's online and graduate profiles. This fall, the University welcomed 1,700 incoming freshmen, the largest class ever, and is trending toward its largest enrollment in University history. Details will be available at the end of October.
Governor Carney commented, "These rankings confirm what Delawareans already know: Delaware State University is one of the best HBCUs in the country. DSU has long been one of Delaware's most important and historic institutions, and its contributions to our state, and our ability to attract young people to Delaware, have never been greater. We're proud of everyone at DSU for this deserved recognition."
USNWR's Best Colleges Ranking—the most influential of their kind—is an annual set of rankings of colleges and universities in the United States, first published in 1983. Separate from its ranking among HBCUs, the University also earned multiple spots in the USNWR rankings in the following areas:
Top Regional Universities - Institutions that offer the best value for students, accounting both for academic quality and cost after accounting for total expenses and financial aid.
Social Mobility - The extent to which schools enroll and graduate students who are from low-resource families.
Most Innovative - Institutions that make the most innovative improvements in terms of curriculum, faculty, students, campus life, technology, or facilities.
"That strong performance among our peer institutions in Regional Universities North is especially notable for us," said Antonio Boyle, Vice President for Strategic Enrollment Management. "That's our primary targeting area for undergraduate recruiting, which generally yields about 70 - 75% of our freshmen annually, so it is exciting to be validated when we tell prospective students and their families about our value proposition."
Sister institutions Florida Agricultural & Mechanical University (FAMU) and North Carolina Agricultural & Technical University (A&T) were rated the No. 1 and No. 3 public HBCUs in the USNWR rankings, respectively. There are 101 HBCUs in the country, 47 of which are considered public institutions. Last year, Delaware State University was ranked No. 10 and No. 3, respectively.