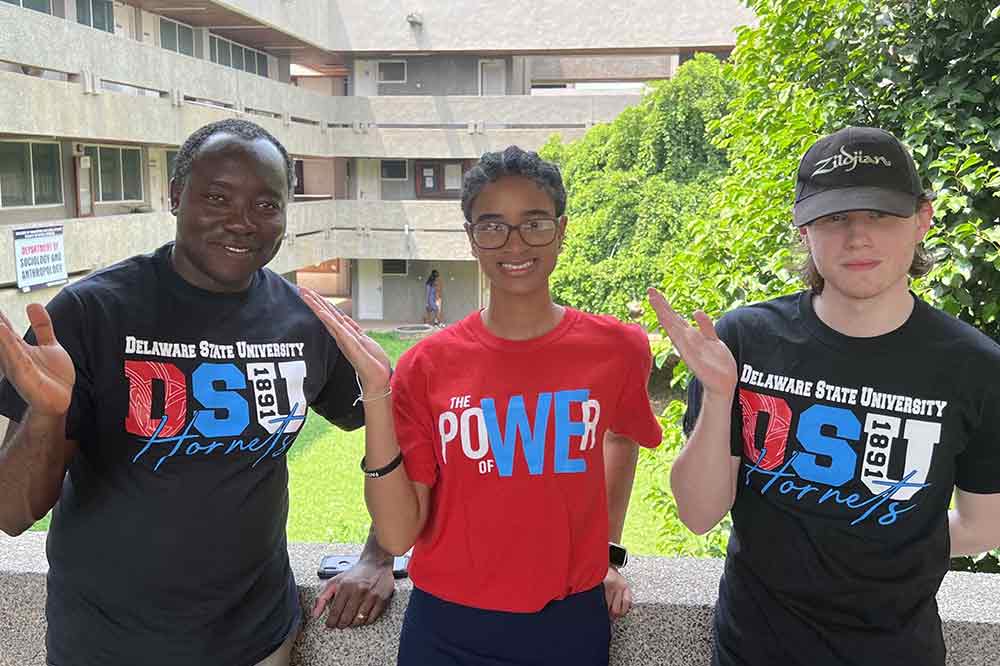 On Campus
Two University students do summer research in Ghana
Saturday, September 3, 2022
Two Delaware State University students have plenty of stories to share concerning their exciting summer experience abroad in the West African country of Ghana.
As part of a National Science Foundation grant titled "Excellence in Research: Scaling Social Capital and Health Across Space," Maya Bythwood, an International Studies major from Dover, and Donovan McNatt, a Criminal Justice major from Camden, Del., traveled to Ghana to conduct data collection fieldwork.
The students were under the tutelage of Dr. Raymond Tutu, the Chair of the University's Department of Sociology and Criminal Justice and the principal investigator of the grant. Also on the trip was Marquita Brown, Special Assistant to the Provost, who served as a voluntary chaperone to the students.
Ms. Bythwood and Mr. McNatt gained research experience in community entry strategies, research note taking, as well as organizing, facilitating, and conducting focus group discussions in an international setting.
"It was an opportunity to put in practice focus group discussion skills acquired during a research methods class in preparation for the trip," Dr. Tutu said. "The social and cultural experiences that are attendant with such trips tend to be life transforming for many students."
The Delaware State University entourage also visited the University of Cape Coast where they interacted with professors and students at the Department of Sociology and Anthropology as well as the University of Ghana and its Regional Institute for Population Studies to learn about Social Science research being undertaken there and the range of methodologies being employed.
Ms. Bythwood said that the Ghana people impressed her with their intelligence, resourcefulness and hospitality. "I admired the elementary school kids who washed all their clothes outside by hand, and the dedicated university students that attended their lectures even amid a severe storm and power outage," she said. "In America, there are little things that we don't think twice about utilizing like toilet paper and undergarments, items that happen to be luxuries for many people… and that was a reality check for me."
Mr. McNatt noted that the cultural exploration into the foods, places and people of Ghana gave him a new perspective. "The way people lived their lives, understanding the history, and seeing the constant development of Ghana shows how important it is to continue to progress in life," he said.
Dr. Tutu said that there have been a number of study abroad trips organized at DSU, but this summer's Ghana trip was the first time that an international social science research opportunity has been presented to Delaware State University students. "The Sociology and Criminal Justice department is happy to be at the forefront of this effort. This is experiential learning at its finest," he said.
Dr. Anwar Ouassini, associate professor of Sociology and Criminal Justice, is also a co-principal investigator for the NSF grant.