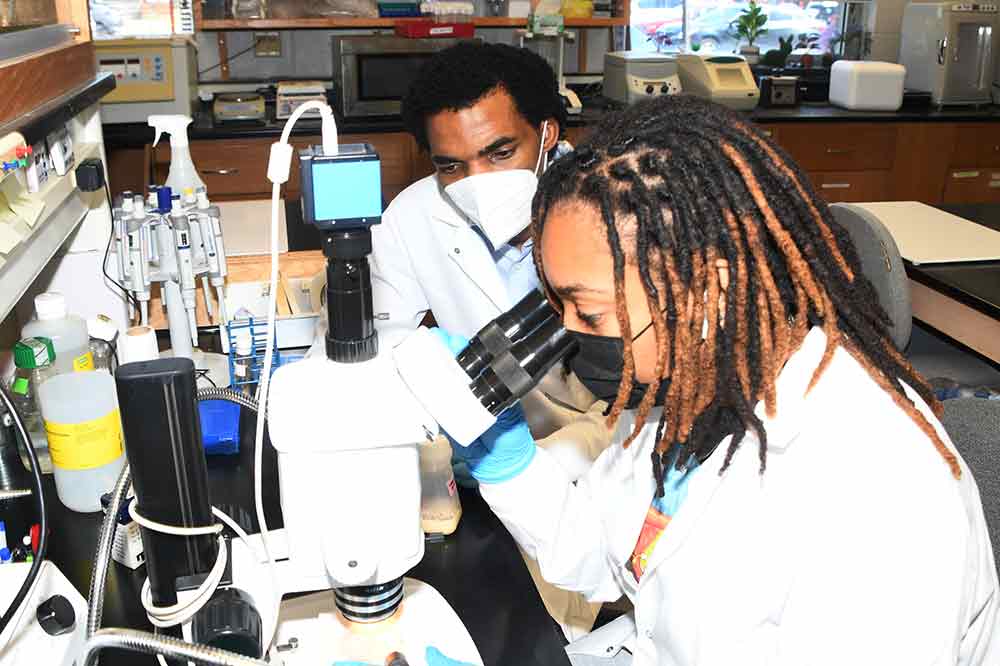 On Campus
NSF awards University $973,923 grant for brain chemical research
Friday, September 16, 2022
The National Science Foundation has awarded a three-year, $973,923 research grant to Delaware State University in support of a neuroscience research project.
The almost $1 million grant will support research project that focus on the brain chemical acetylcholine. Dr. Hakeem Lawal, Associate Professor and Vice Chair of the Department of Biological Science, is the Principal Investigator of the grant, Dr. Jianli Sun, Director of the Cell Electrophysiology Core in the University's Delaware Institute of Science and Technology, is the Co-PI.
The brain chemical acetylcholine plays a critical role in the control of how we learn and remember. Accordingly, a defect in its regulation has been associated with neurodegenerative diseases like Alzheimer's disease (AD). Yet much remains unknown about how acetylcholine is itself regulated in the brain.
This funded research is aimed at tackling that question by seeking to uncover the mechanism through which acetylcholine is released from brain cells using the fruit fly Drosophila melanogaster as a research model system.
"We expect that findings from this work will advance our understanding about how the brain controls how much acetylcholine is released and could eventually lead to strategies to treat neurological conditions like AD," Dr. Lawal said.
He added that the study would provide quality research opportunities for the University's undergraduate students as well as give them laboratory mentorship opportunities with high school students.