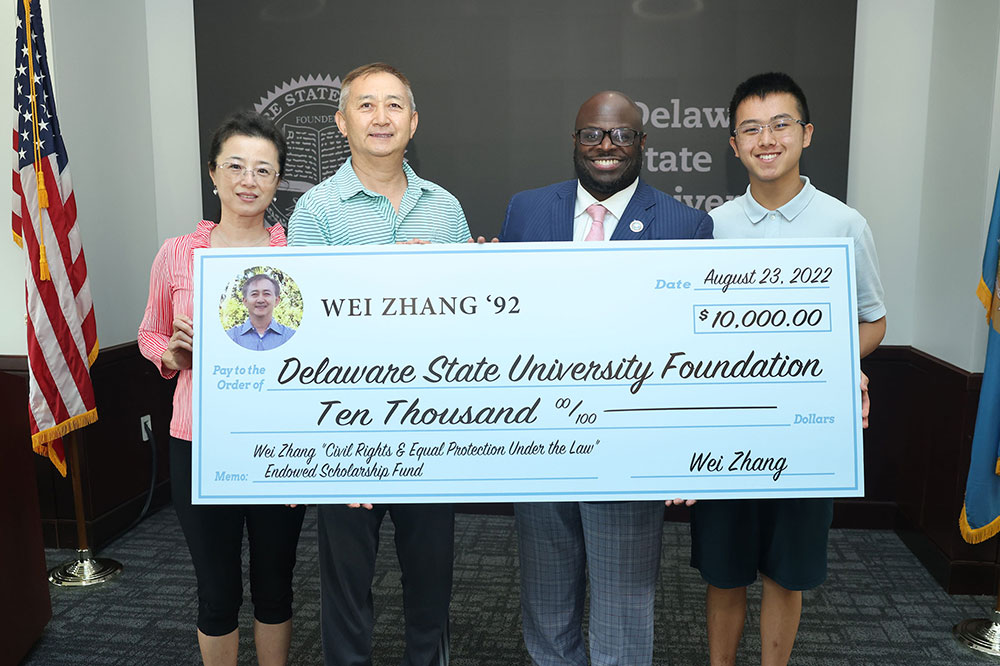 On Campus
Alumnus Zhang Wei establishes endowed scholarship for Pre-Law
Thursday, August 25, 2022
Zhang Wei, a prolific Chinese alumnus of Delaware State University, recently returned to his alma mater to establish a $10,000 endowed scholarship titled a Civil Rights & Equal Protection Under the Law Endowed Scholarship Fund.
Mr. Zhang, along with his wife Wenyi and his 17-year-old son Gerry, met with University President Tony Allen and members of the College of Education, Humanities and Social Sciences and the Division of Institutional Advancement on Aug. 23. The Zhang couple also has a 19-year-old son Michael, who attended the University of Pennsylvania.
The Zhang endowed scholarship reflects his love for education, his desire to provide financial support for University students, and the importance he places on civil rights and equality. The endowment will support University students in Pre-Law studies.
"I want to see more African Americans and Asian Americans represented among attorneys in the legal system," he said. Mr. Zhang added that his interest in the legal system has also been stimulated by his son Gerry, who leads a mock trial student group at his school and aspires to go to law school.
Mr. Zhang – who earned a 1992 Master of Science Degree in Economics – has become the University's most prominent Chinese graduate through his professional achievements as well as his legal victory in an American discrimination case affirmed by the U.S. Supreme Court.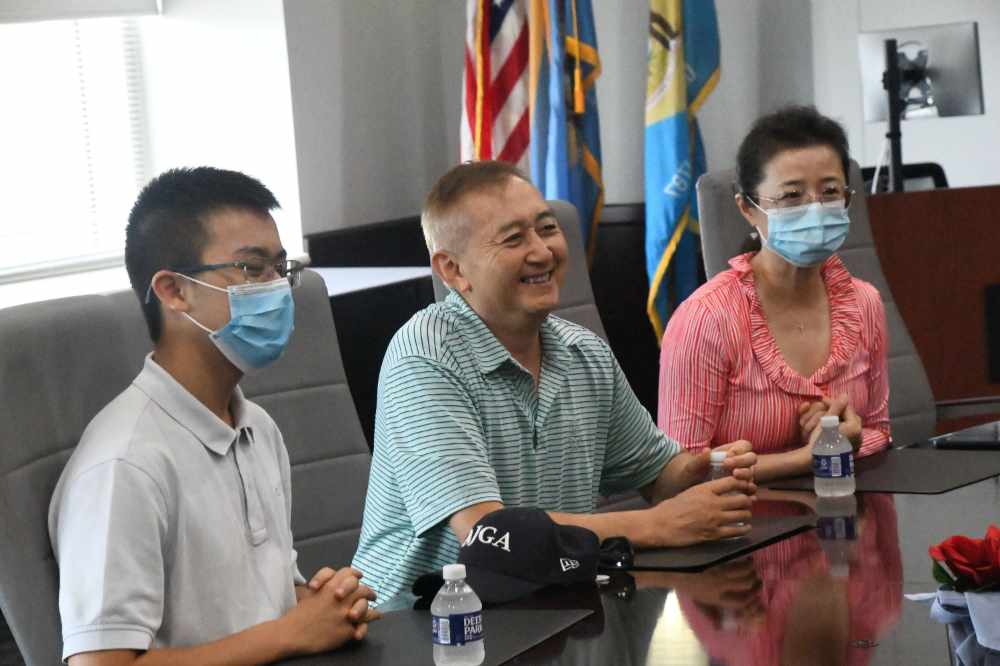 Mr. Zhang fled China in 1990 during the political crackdown that took place in response to the student-led Tiananmen Square protests. At the time of the demonstrations, he was a Business and Economics Associate Professor and Vice Dean at the Business School of North Eastern University, Dalian, China.
He came to the U.S. and applied to a number of schools. He was accepted at then-Delaware State College, which waived his tuition fees. In return, he served as a teaching assistant and taught comparative economics. "I am very grateful to this country and Delaware State University," Mr. Zhang said.
After his 1992 graduation from Delaware State College, Zhang began his career in the seafood industry by working for Tai Foong Inc. in Seattle, Wash.
In 1997, Mr. Zhang was hired as a vice president of American Gem Seafood, based in Seattle. His success in that leadership role resulted in his promotion one year later as president of the company's Pacific Gem division, in which he was responsible for all seafood procurements from China and other Asian countries.
However, during his first year of professional success, a discriminatory storm was developing. A new management team took over at American Gem, which included a company president who openly expressed his derogatory dislike for Chinese people and baseless suspicions about Mr. Zhang.
According to court documents, the Zhang-led Pacific Gem was the only profitable division in the company in 1998, which according to his employment contract qualified him to receive a $25,000 bonus. However, he never received it.
By the end of 1998, Zhang was demoted from his Pacific Gem leadership role without explanation. Replaced by someone else, American Gem stopped listing Zhang among its management leadership team.
In February 1999, Mr. Zhang used his vacation leave to go on a trip to Iceland with his father. Upon his return, executives of American Gem met him at the airport's customs area and terminated him publicly. The reasons given later were never substantiated, and he was never afforded an opportunity to respond any of the allegations of wrongdoing.
The company sent humiliating letters to his Asian business contacts, including some in his hometown of Delian, China, implying wrongdoing had resulted in his termination.  He received no severance pay, accrued vacation reimbursements or medical benefits – in contrast to others terminated by American Gem who continued to draw a salary, receive compensation for unused leave, and did not suffer the embarrassment of letters sent to former business contacts.
In September 1999, Mr. Zhang filed an employment discrimination lawsuit in federal district court against American Gem. Ultimately, the court found the corporate defendants liable for federal law discrimination violations and awarded the plaintiff almost $3 million in compensatory and punitive damages. The case on appeal went all the way to the U.S. Supreme Court, which in 2003 affirmed the verdict and award to Mr. Zhang.
"Without the legal system in this country, I could not have won this case," Mr. Zhang said.
While the case worked through the appeals process, Mr. Zhang founded his own company – Pacific Coast Fisheries. In 2008, Mr. Zhang sold his enterprise to Atlantic Cape Fisheries and then became a part of that company. He is currently the vice president in charge of overseas operations, largely focusing on the Asian countries.
Mr. Zhang's experience in fighting discrimination led him to establish an Asian American Affairs Association in the State of Washington. In 2005, the National Employment Lawyers Associate honored Mr. Zhang with its Workplace Warrior Award, in recognition of his success in business and in advocating for equal rights for himself and all other minorities.
He and his family now live in San Diego, Calif.
"I hope to retire in a few years and spend more time involved in community service and visiting Delaware State University," Mr. Zhang said.