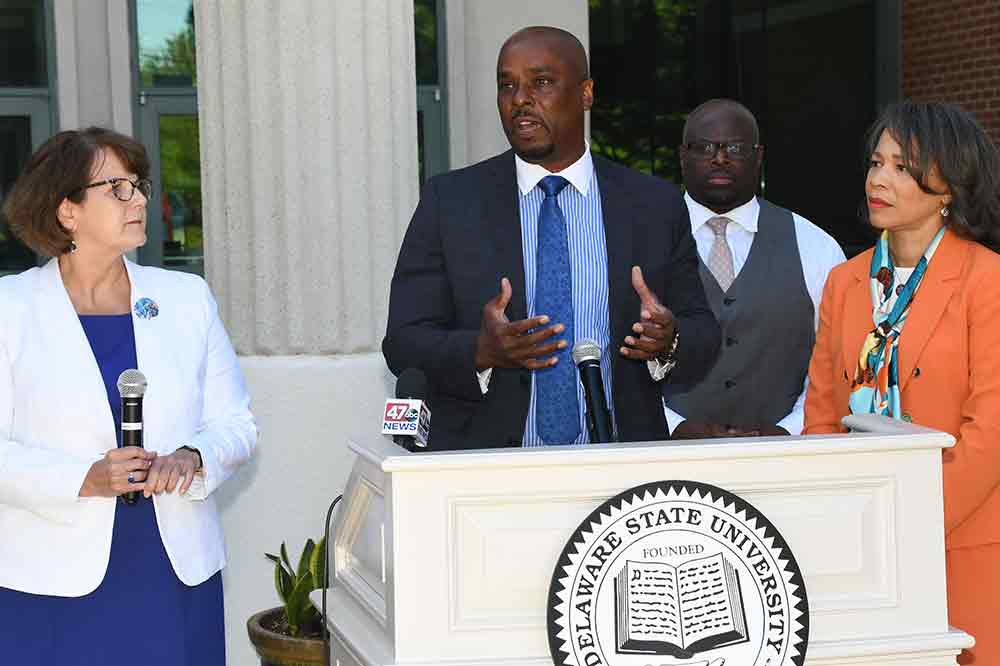 On Campus
University receives $1 million for CURE initiative
Tuesday, June 28, 2022
Delaware State University President Tony Allen was joined on campus today by Congresswoman Lisa Blunt Rochester (D-Del.) and other dignitaries to announce $1 million in Community Project Funding for a Center for Urban Revitalization and Entrepreneurship (CURE) in Central Dover.
The center, the first of its kind in Kent County, will promote entrepreneurship and community development in Central Dover, a designated opportunity zone within Dover's Downtown Development District, in partnership with NCALL, a nonprofit organization that promotes affordable housing.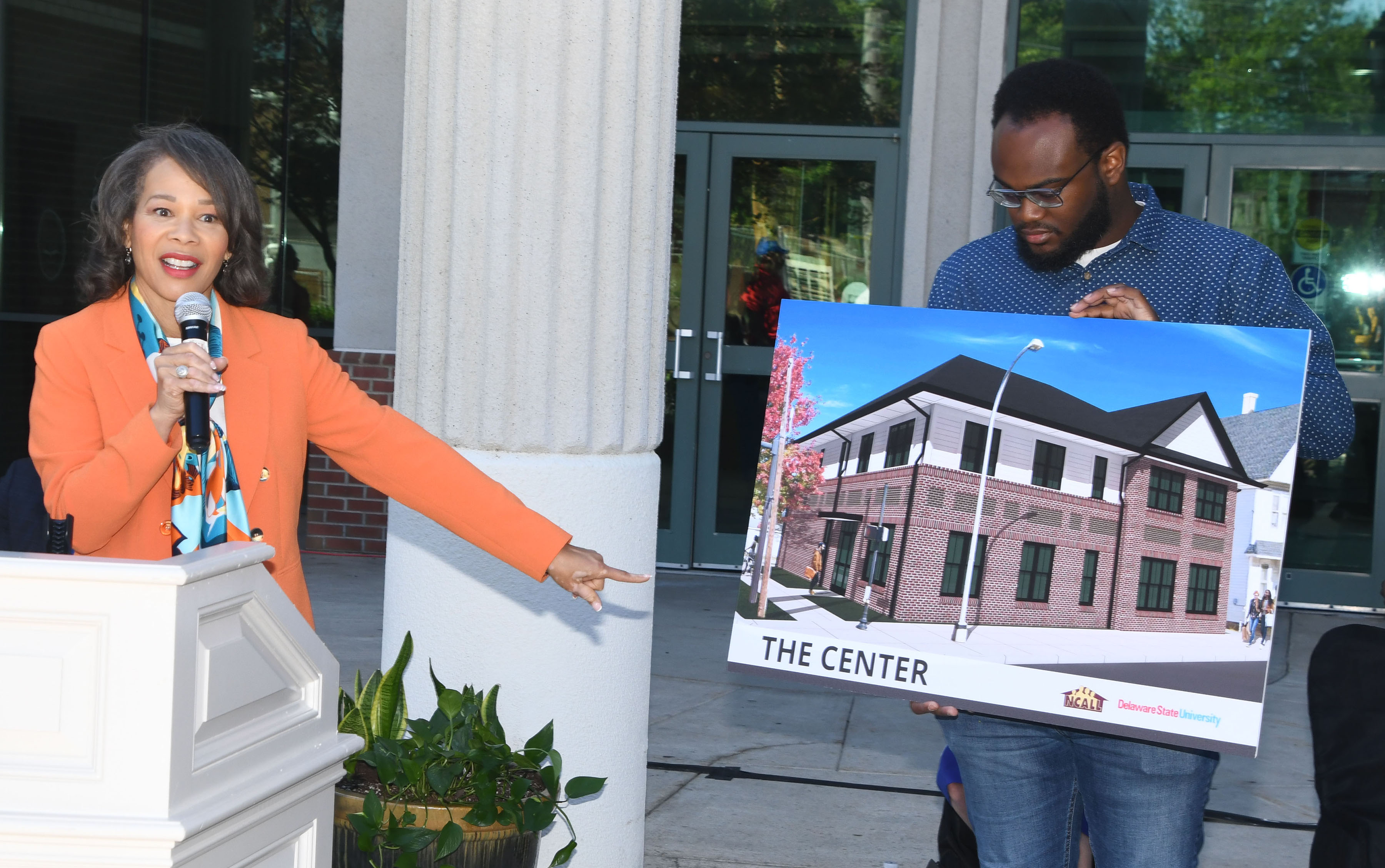 "Congresswoman Blunt Rochester's leadership has been critical in supporting our entrepreneurial and economic development efforts among women and people of color," said President Allen. "We know that small business is deep in the fabric of this country – it provides jobs, builds communities, and promotes the ingenuity inside of every American. Unlocking that talent is the key. Today's appropriation for the University's Center for Urban Revitalization and Entrepreneurship is a significant step toward that objective, particularly in and around the DSU Downtown Dover campus." 
The $1 million in Community Project Funding for CURE will address the lack of small business incubators in Kent County, specifically in Downtown Dover. CURE will be located at 225 W. Division Street in Dover in a building that will constructed over the next year, one block from Delaware State University's Dover Campus. That building will also house NCALL's Restoring Central Dover program, a resident-driven comprehensive community development effort on the first floor and a DSU-run shared business space on the second floor to promote community-based entrepreneurship in Downtown Dover.
While the Division Street building is under construction, the CURE initiative will be based in the University's Barros Building located on the corner of Loockerman  and S. State Streets.
The Community Project Funding was a part of a robust, bipartisan, year-long process in which Blunt Rochester's office received over 150 applications. Each House Member was permitted to submit only 10 applications to the House Committee on Appropriations for consideration. Blunt Rochester was able to ensure that 8 applications made it into the final appropriations package.
"I'm thrilled to announce $1 million in Community Project Funding for a Center for Urban Revitalization and Entrepreneurship, an exciting partnership between Delaware State University and NCALL," said Rep. Blunt Rochester. "For me, this project is all about three things: jobs, partnership, and innovation. CURE will help drive both our economic and community development in Kent County, strengthen partnerships between the federal government, higher education, and nonprofits, and encourage entrepreneurs to be innovative in ideas and practice. I look forward to seeing the positive impact this Center will undoubtedly have on our entire state."
In March, Blunt Rochester voted to fund nearly $100 million in Delaware projects, which included $23,662,500 of Community Project Funding. This funding, included in the appropriations government funding package and signed into law by President Biden, responds directly to some of the most pressing needs in New Castle, Kent, and Sussex Counties.
Karen Speakman, executive director of NCALL, said the funding comes at a critical time.  "We at NCALL are extremely honored and appreciative of this federal investment of $1 million dollars that Congresswoman Lisa Blunt Rochester has supported and secured for the Center for Urban Revitalization and Entrepreneurship," she said. "This funding comes at a crucial time and will supplement the $1.24 million that NCALL has raised from various sources such as the Delaware's Community Reinvestment Fund and the Longwood Foundation to make this building a reality. The Center is the result of many talks between NCALL and Delaware State University on how to we could both be more present in the community and provide a small business incubator for community-based entrepreneurship in downtown Dover."