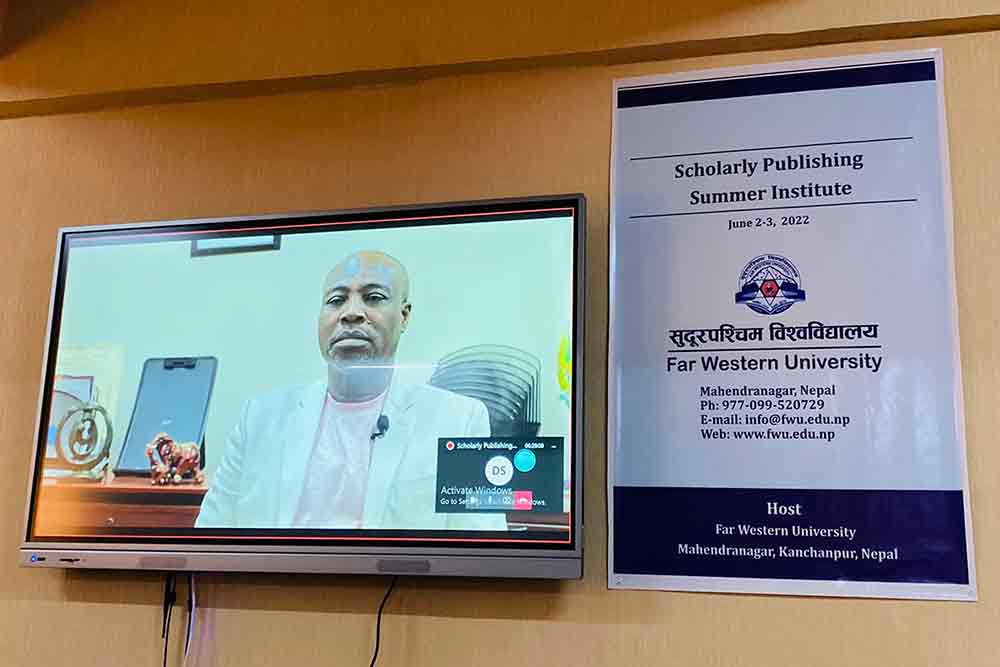 On Campus
University faculty contribute at a Nepal's conference
Wednesday, June 15, 2022
College of Humanities, Education and Social Sciences Interim Dean Akwasi Osei and other faculty members recently contributed to "Summer Institute on Scholarly Publishing" organized by Far Western University (FWU) in Mahendranagar, Nepal.
The College's Dr. Bhushan Aryal, Assistant Professor of English and Director of the Composition and Speech Program traveled to Nepal to attend the June 2-3 conference. Dr. Brody Bluemel, Chair of the Department of Language and Literature, Dr. Chetanath Gautam, Associate Professor in the Education Department, and Dean Osei contributed virtually.
Attended by 145 university faculty and academic administrators from various disciplines, the Institute was organized to bring research into the university's main conversation. The Delaware State University faculty partnered with Dr. Santosh Khadka, Dr. Iswari Pandey and Dr. Jennifer Lee of California State University, Northridge, Dr. Deb Jaisi of the University of Delaware, Dr. Shyam Pandey of Sam Houston State University, and Dr. Rajendra Pangeni of Nexus Institute of Research and Innovation to provide expert guidance to participants.
Dean Osei recorded an interview for the Institute that focused on the role of education and research from the perspective of the Global South. The interview was used as a conversation starter in Dr. Aryal's session on "Roles in Scholarly Publishing."
To see and hear Dr. Osei's video interview, click on the below link:
https://www.youtube.com/watch?v=0rK3BptJ7d0
Dr. Aryal also facilitated one more session on "Structure of a Research Article" and moderated a panel on "Research Traditions/ Practices in the Disciplines." Dr. Gautam spoke on "Research Expectations in Humanities and Social Sciences," and Dr. Bluemel delivered an hour-long talk on "Scholarly Publishing Process and Tiers of Publications."
Vice-Chancellor Amma Raj Joshi of the organizing university expressed gratitude to Delaware State University and its contributing faculty for their time and contribution. The Institute was one of the biggest academic events on the FWU's academic calendar and was widely publicized by local newspapers.