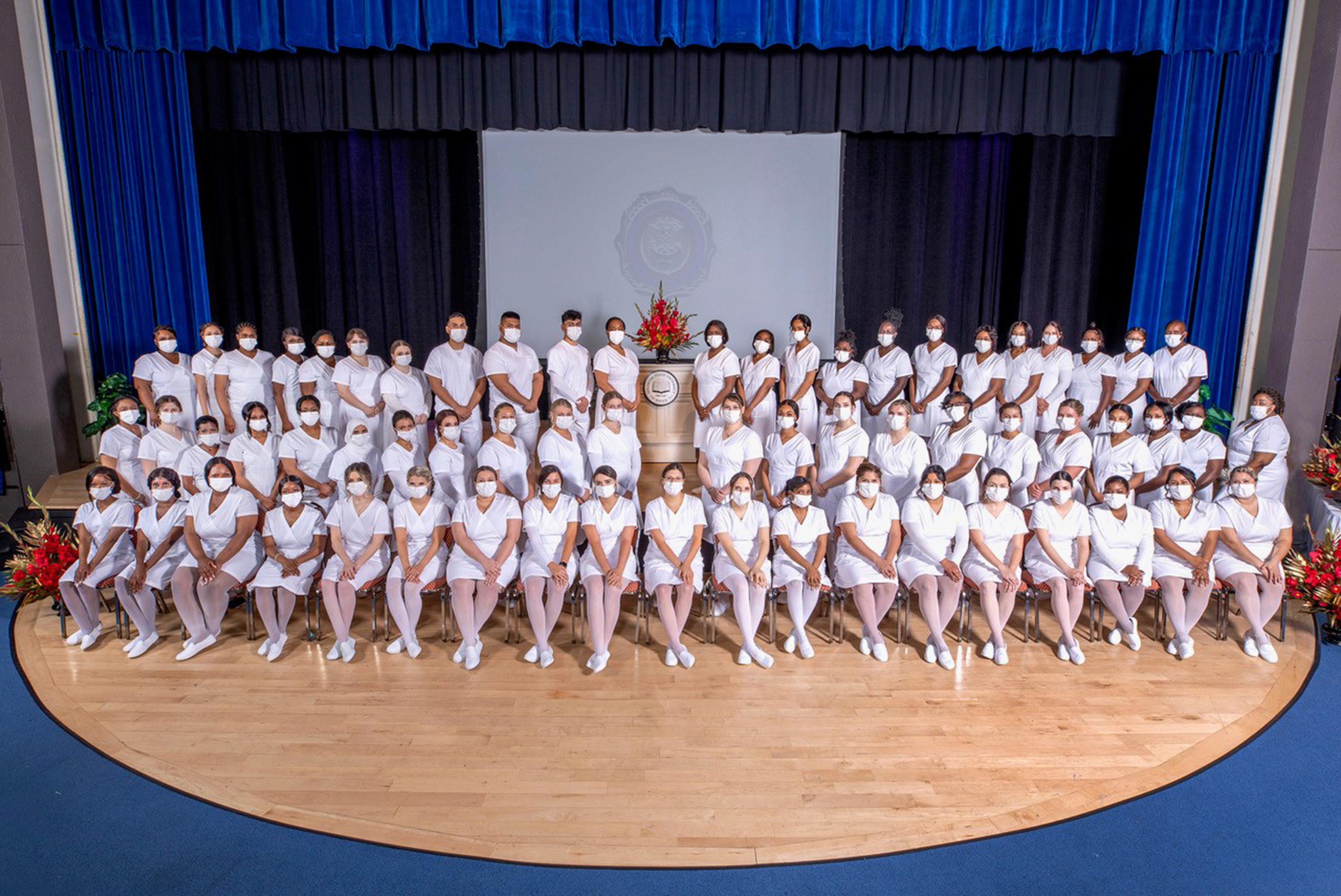 On Campus
Nursing Pinning Ceremony celebrates largest-ever graduating class
Saturday, May 14, 2022
The May 13 Nurse Pinning Ceremony featured the largest class of nursing graduates ever in the history of Delaware State University.
The graduate Class of 2022 celebrated 70 seniors who have completed the undergraduate Nursing Program. The record number was the result of the University's acquisition of Wesley College, through which all of the former college's nursing majors completed their Bachelor of Nursing Degrees as Delaware State University students.
For images of the Nurse Pinning Ceremony, click on the below link:
https://www.flickr.com/photos/48216028@N03/albums/72177720298946365/show
The Nursing Pinning Ceremony recognized the following top students:
The 2022 Academic Excellence Award recipients are Tionne Henson of the University, and Anilu Paneda, a Wesley Legacy graduate. The award is presented to the students with the highest cumulative GPA.
The 2022 Clinical Excellence Awards were presented to Tionne Henson of the University, and Sameera Thompson, a Wesley Legacy graduate. The award recognizes students who in the opinion of the nursing faculty have demonstrated the highest level of proficiency in clinical skills and excellence in providing nursing care.
The 2022 Professional Growth Award recipients were Patricia Anderson-Henry of the University, and Lillian Ruth, a Wesley Legacy graduate. The award honors members of the graduating nursing class who have demonstrated professionalism and growth while enrolled in the Nursing Program.
The keynote speaker was Dr. Robert Cortino, a Visiting Associate Professor who came to Delaware State University from Wesley College. Dr. Cortino is retiring at the end of this academic year after 45 years as a nursing professional and professor.
In leaving some wisdom with the Nursing Class of 2022, he noted that according to the Gallup Poll, the American public has rated nursing as the most trusted profession for the last 20 consecutive years – above physicians, teachers, clergy, military officers and all other noble professions.
"Always remember every day whether you are at work, in the community, or at a picnic, you need to earn that trust with every patient, family, and community contact," he said. "Always remember, once you violate someone's trust in you, it is difficult to earn it back."
Dr. Cortino's nursing career included the last 36 years as a full-time faculty member. At Wesley College, he rose to the rank of Professor of Nursing, and during his tenure there he served seven academic years as the Nursing Chairperson. In addition to his service on multiple faculty committees at Wesley, he served more than six years on the Delaware Board of Nursing, including four years as the Board President.