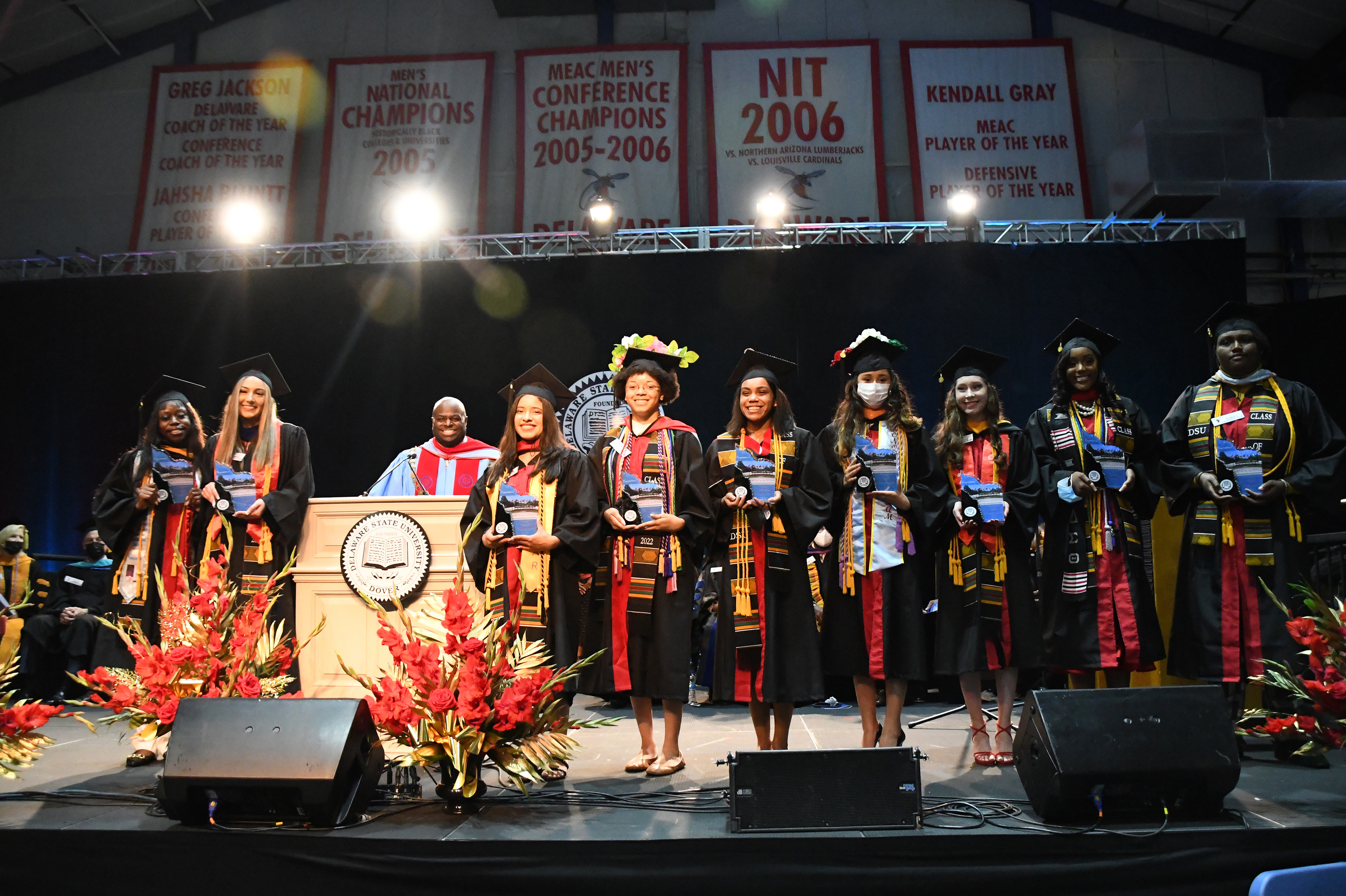 On Campus
Graduate and Undergraduate Commencements – Article & Pics
Sunday, May 15, 2022
Delaware State University celebrated the latest class of graduates with two Commencement Ceremonies on May 12 and May 14, both held in the Memorial Hall Gymnasium.
To see images from the Graduate and Undergraduate Commencement Ceremonies, click on the below links.
https://www.flickr.com/photos/48216028@N03/albums/72177720298968455
https://www.flickr.com/photos/48216028@N03/albums/72177720298968620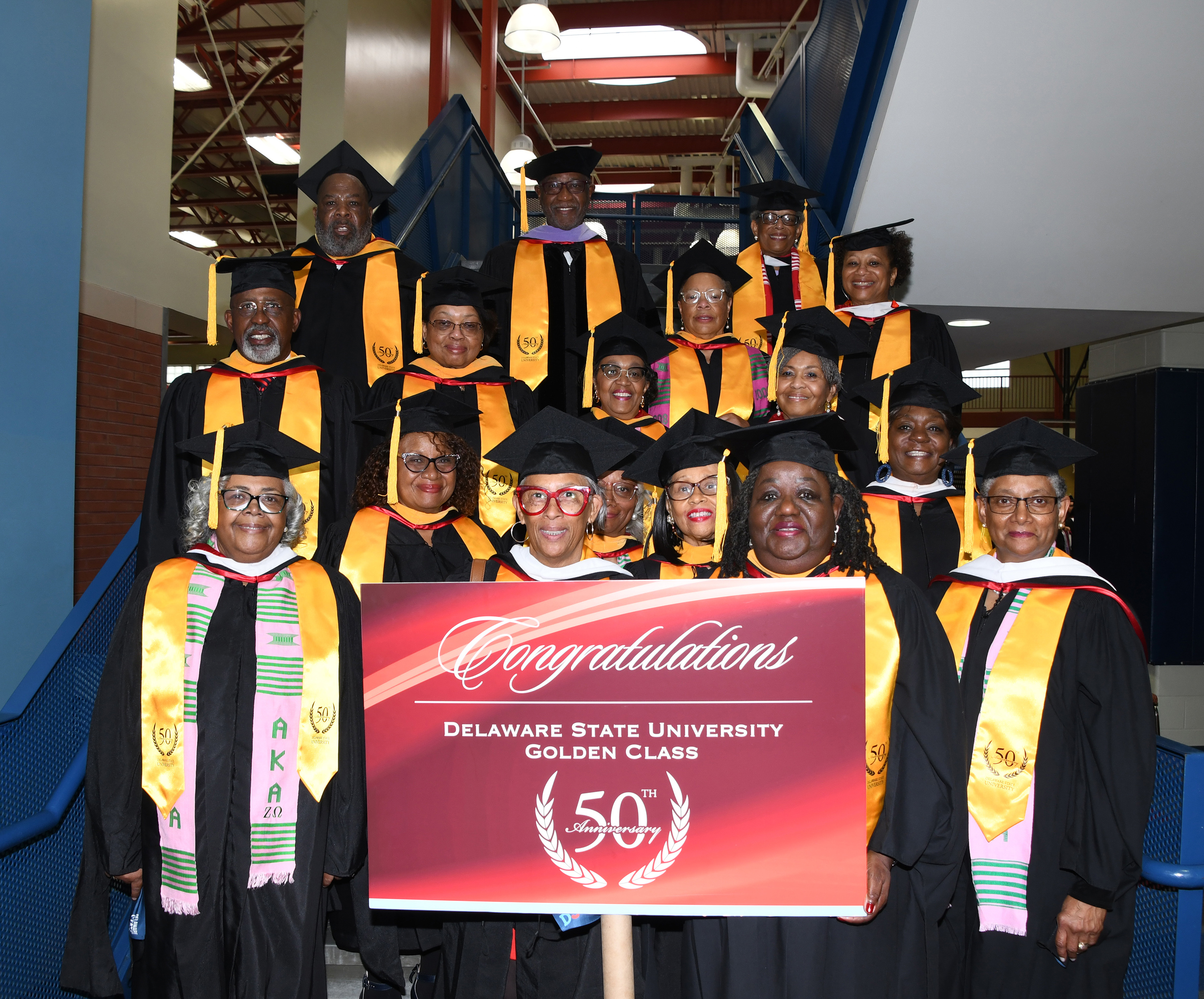 While the University's graduation totals were not finalized at the time of the Commencements due to the ceremonies' one-week proximity to the end of the spring semester, soon thereafter University officials learned that more than 1,000 students graduated during 2021-2022 school year – surpassing the past record of 946 graduates set the preceding academic year. The new record includes 192 graduates that came to DSU as a result of the University's acquisition of Wesley College in 2021.
At both ceremonies, all of the speakers weighed in on the April 20 University Women's Lacrosse bus incident in Georgia, with each expressing their appallment over the police action and their support of the team.
University President Tony Allen told graduates at both Commencements that they have skill, craft and wherewithal, and in particular, he focused on the word "wherewithal" and broke down its individual syllables.
"Where – here, at your University, where you found yourself, and have shown your grit and determination in some the most challenging times in our country's history. With – describes your tribe, who you found here, your classmates, your professors, the staff, who wrapped their arms around you, who will forever be in your life. And all meaning you are ready for it all," Dr. Allen said. "And it all matters."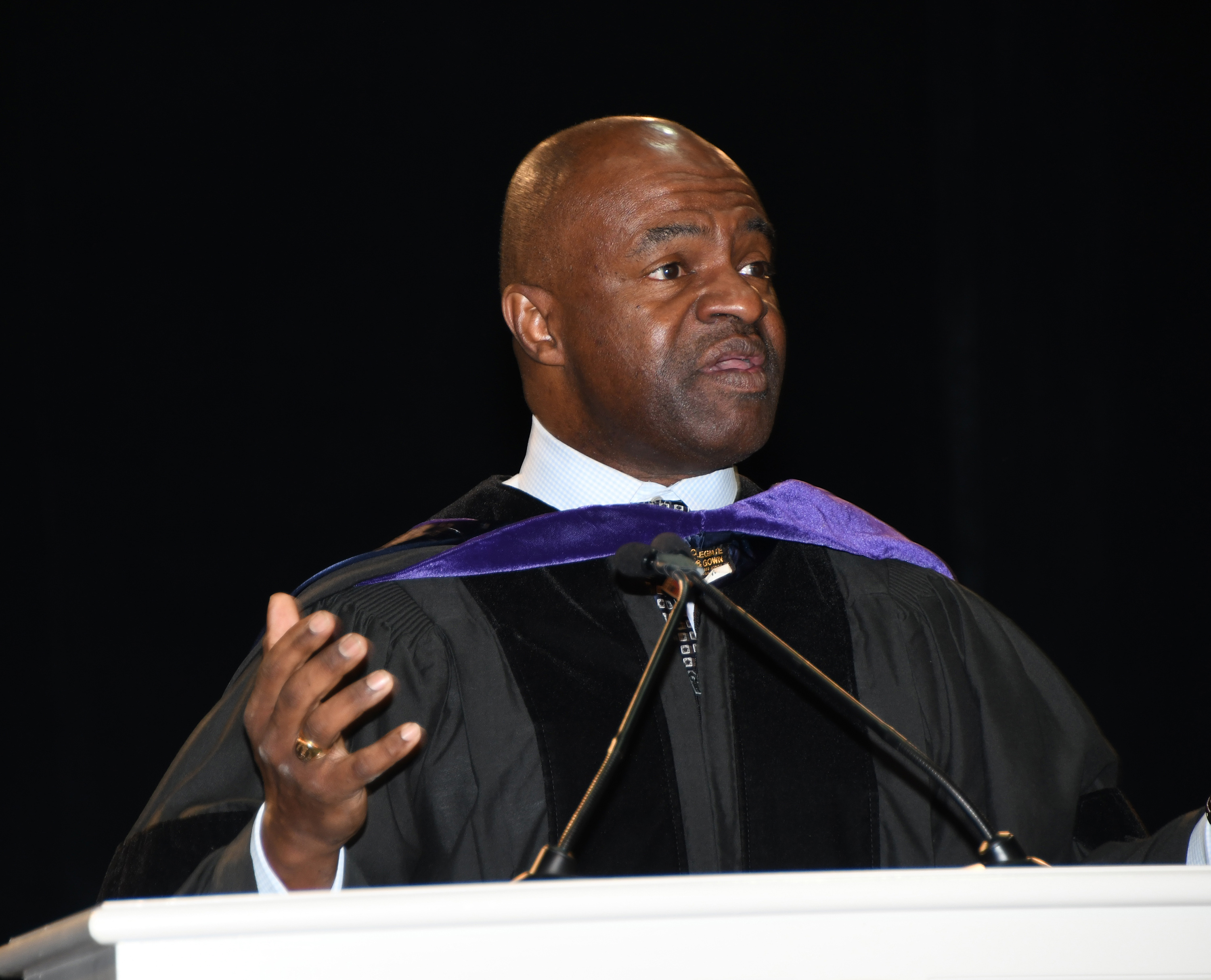 At the May 12 Graduate Commencement Ceremony, there were 17 doctoral graduates and more than 200 master's degree graduates.
Keynote speaker DeMaurice Fitzgerald Smith, Executive Director of the National Football Players Association, told the advanced degree graduates to let this Commencement stand for something bigger than just the achievements of their academic journey.
"Our birthright is our history. There are three things that you have learned on your journey here that will ensure the championing of our collective birthright," Mr. Smith said. "Keep our history, live our history and be our history."
He noted that keeping our history means we never have to apologize, that this country is more ours than almost anybody else's. "We must keep that history when we fight school boards that want to sanitize our school books of the very history and context that made us the country that we are," Mr. Smith said."What this diploma means, what your history means, it not only means that you have a key to the room, your birthright means that you own the room.
"With your degrees, you will be in the business of building, not begging: structuring, not asking; and demanding, not wishing," Mr. Smith told the master's and doctoral graduates.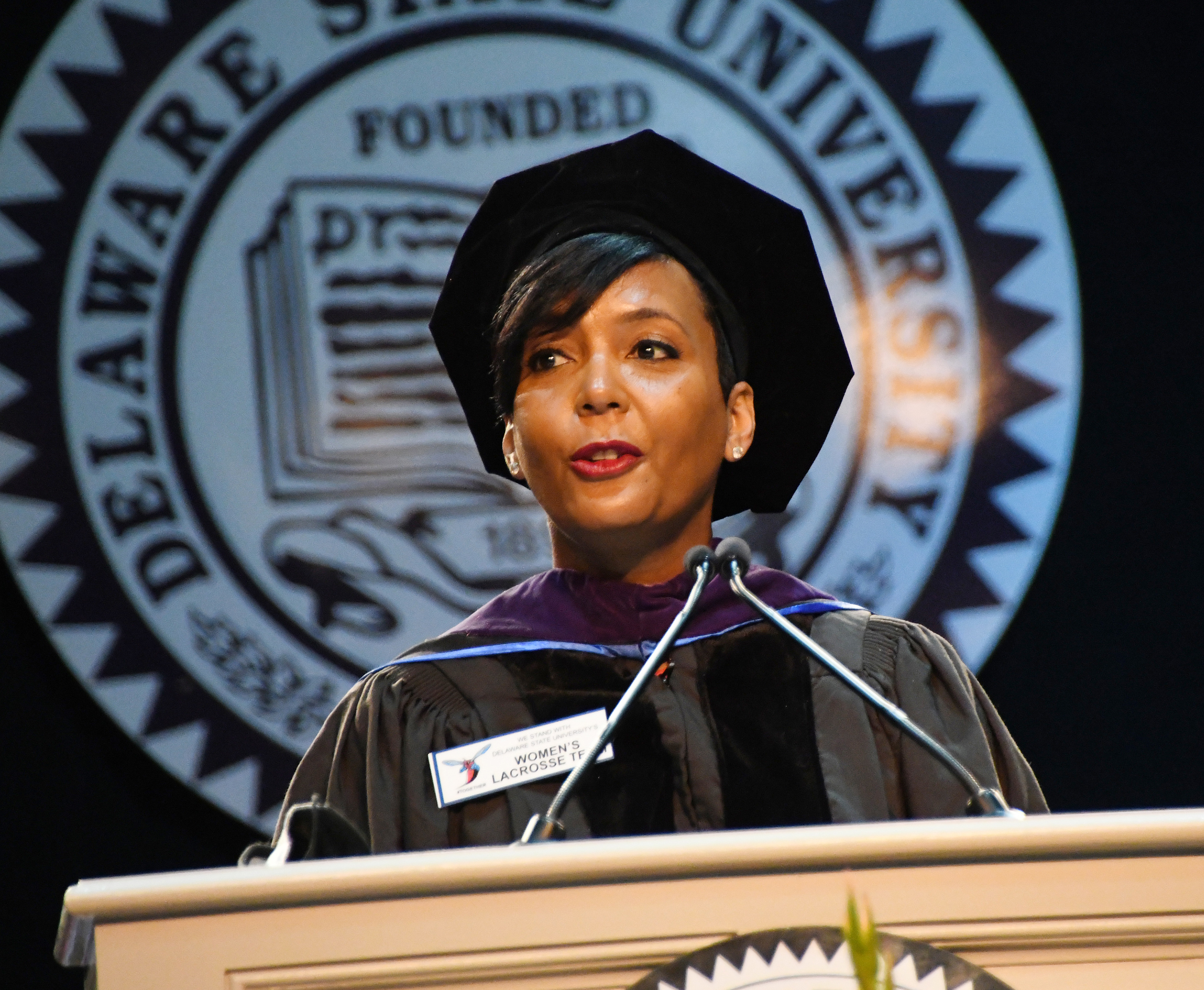 The May 14 Undergraduate Commencement Ceremony was held for a graduation class of about 800, which included 49 Summa Cum Laude, 90 Magna Cum Laude, 60 Cum Laude and 22 Honorable Mentions.
Dr. Devona Williams, Chairperson of the University's Board of Trustees, told the Class of 2022 that they had won the right to be called graduates. "You've earned the right to celebrate life, to celebrate success, to celebrate endurance, to celebrate your hard work and perseverance, despite the distractions," she said.
Delaware Gov. John Carney, who noted that Delaware State University is the "cream of the HBCU crop," commended the graduates for how they persisted in their studies amid the COVID pandemic.
"Just in the past two years, you weathered a global pandemic. You had to change your learning style, social life, your college traditions, to keep yourselves and your classmates safe," Gov. Carney said. "Thanks to Dr. Allen and his leadership team, you did it as safely as any other college or university in the United States of America."
The Undergraduate Commencement keynote speaker, Keisha Lance Bottoms, CNN correspondent and the former Mayor of Atlanta, Ga., crystallized what the graduates' University experience and diploma should mean to them.
"With the motto of the University etched into your DNA, "Enter to Learn, Go Forth to Serve," you can leave this University with your degree in hand and a solemn responsibility in your heart to live your life in a way that will make a difference in the lives of others," Ms. Bottoms said.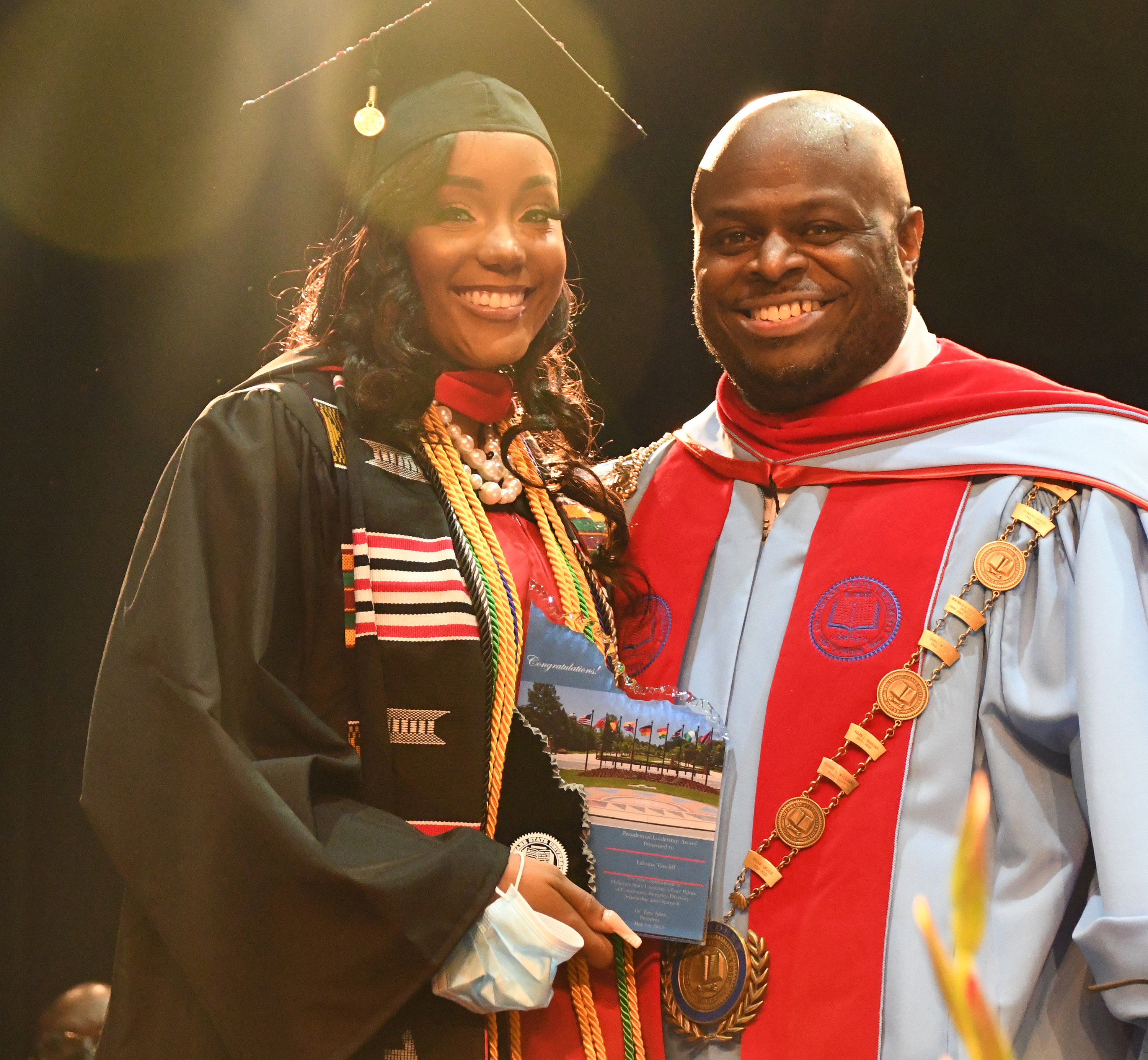 Dr. Allen presented nine Presidential Academic Awards to graduates who maintained a cumulative 4.0 GPA throughout their entire undergraduate years. The students, their major and hometown are:
Emily Campanelli, Political Science, La Grange, Ill.
Adiah Janvier, Forensic Biology, Jamaica, N.Y.
Amirah Johnson, Mass Communications, Jersey City, N.J.
Anny Martinez-Velasquez, Kinesiology, Douglasville, Ga.
Brandi Nichols, New Media in Arts, Magnolia, Del.
Anilu Paneda, Nursing, Dover, Del.
Stafanny Toala, Chemistry, Tucson, Ariz.
Labrina VanCliff, Mass Communications/PR & Advertising, New Castle, Del.
Kishaye Williams, Accounting, East Orange, N.J.
In addition to her Presidential Academic Award, Labrina VanCliff also won the Presidential Leadership Award. With that dual recognition, she became only the second graduate to win both awards in the University's history. In that distinction, she joins Leah Williams – the current president of the National Chapter of the Delaware State University Alumni Association – who won both awards in 2015.