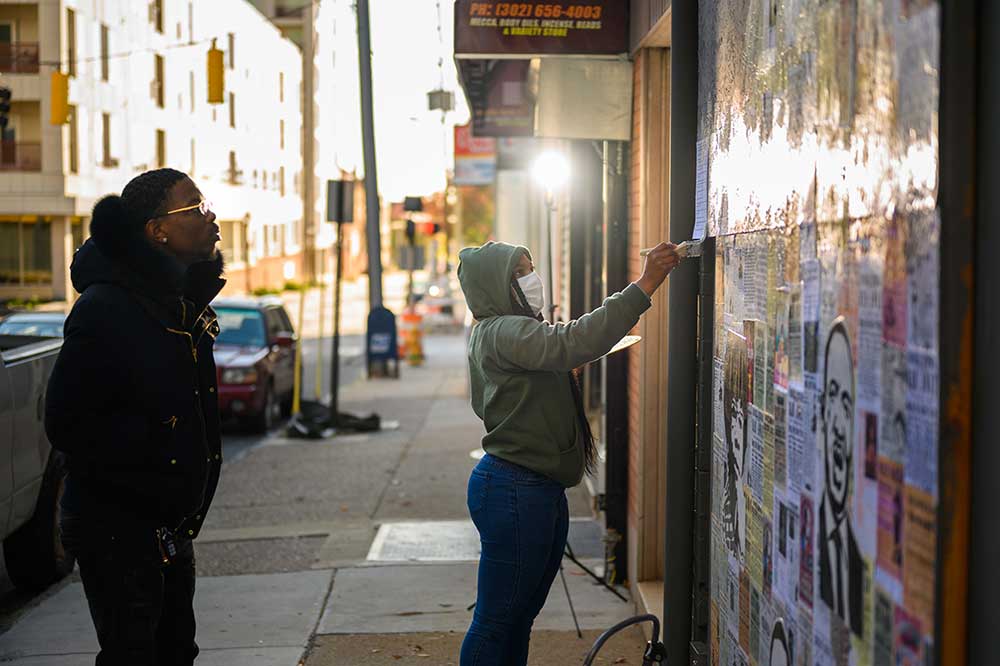 On Campus
Del State Art Alum's mural now part of a state cultural collection
Monday, February 14, 2022
A 2018 Delaware State University graduate captured a moment in time in a mural work that now on display in a Texas museum through March.
The moment was May 25, 2020, several days after the brutal death of George Floyd at the hands of a Minneapolis policeman. Along with massive protests, some cities erupted in violence and destruction, including Downtown Wilmington.   
In response, three Wilmington creatives connected four artists with business owners that had boarded up their storefronts.  It was an opportunity for young artists of color to focus their emotions and energy, said the organizers, Jonathan Whitney and Eliza Jarvis of Flux Creative Consulting and Joe Del Tufo of Moonloop Photography.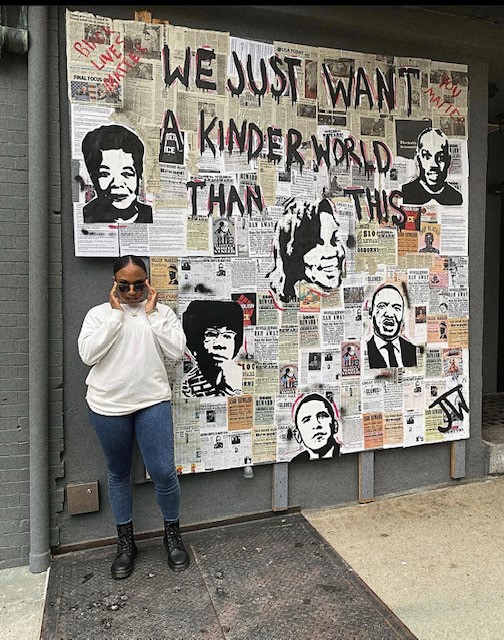 The shuttered windows at Nomad Bar on Orange Street became the canvas for Del State Studio Art student graduate Jannah Williams, aka J the Artist.
Williams, who also painted the mural of Dr. Martin Luther King at the Teen Warehouse in Wilmington, said she wanted to do something bold that got people talking.
She printed some of the worst from this country's racial history - ads telling of upcoming slave trades, fliers offering rewards for capturing runaway slaves - along with newspaper clippings about the recent deaths of Ahmaud Arbery and Breonna Taylor.
"I wanted to say that 'This is not a new thing,' and show the history of what's been going on," said Williams. "It's really the same thing, over and over again."
Standing on the sidewalk, plastering the racist materials to the boards, Williams said she and the owners of Nomad were a little nervous about displaying the incendiary materials at that moment. "I was really trying to finish it up as quickly as possible," she recalled. "And I thought, they really have to trust the process, but it's all going to come together."
Over top of the racist fliers, she lay original black and white portraits that honored leaders alongside Arbery and Taylor, including the Rev. Dr. Martin Luther King Jr., Maya Angelou, Shirley Chisholm, and President Barack Obama. For the top layer, she painted her own powerful sentiments:  "We just want a kinder world than this,' 'Black Lives Matter' and 'You Matter!'
Williams' mural became part of the "rapid response collection" gathered by the Delaware Division of Historical and Cultural Affairs (DEHCA) that seeks to preserve objects representing important moments in recent history.
In describing the mural, a DEHCA curator wrote that Williams had juxtaposed the powerful figures that worked to change the long-established racist systems in place with those whom the same systems failed. "It reflects on past and present inequities and trauma, while it simultaneously presses the need for action," wrote Elizabeth Coulter, saying the mural "directly connected the movement and the viewer."
The mural is currently on loan to the Longview Museum of Fine Arts in Longview, Texas, part of their exhibition:  "Addressing the Moment: The Artist's Voice" that runs through March 5.
"I was excited when I was creating it," said Williams. "But I didn't expect it to go this far."
Williams, who earned a degree in Studio Arts from the Mass Communication, Visual & Performing Arts Department, said she learned a multitude of techniques while at Del State. "Professors taught me to go outside the box, and not be afraid to do bigger things, take more risks," she said. "I had great professors."
The feeling is mutual. "I've been teaching here for over 25 years and there are certain students that just leave an impression," said Associate Professor Lori Crawford. "She blew me away, with the work she created."
Keeping track of works by outstanding graduates like Williams has been made easier in this age of Instagram, said Professor Roberta Tucci. "It's thrilling for a professor to be able to see what Jannah and other students are accomplishing,"  she said. "It used to be we kind of lost touch."
Williams will be the featured artist in the department's series of virtual conversations "Chat with an Artist," on Feb. 17 at 11 a.m. The Meeting ID is 829 8795 5982, with a Passcode of 042911.