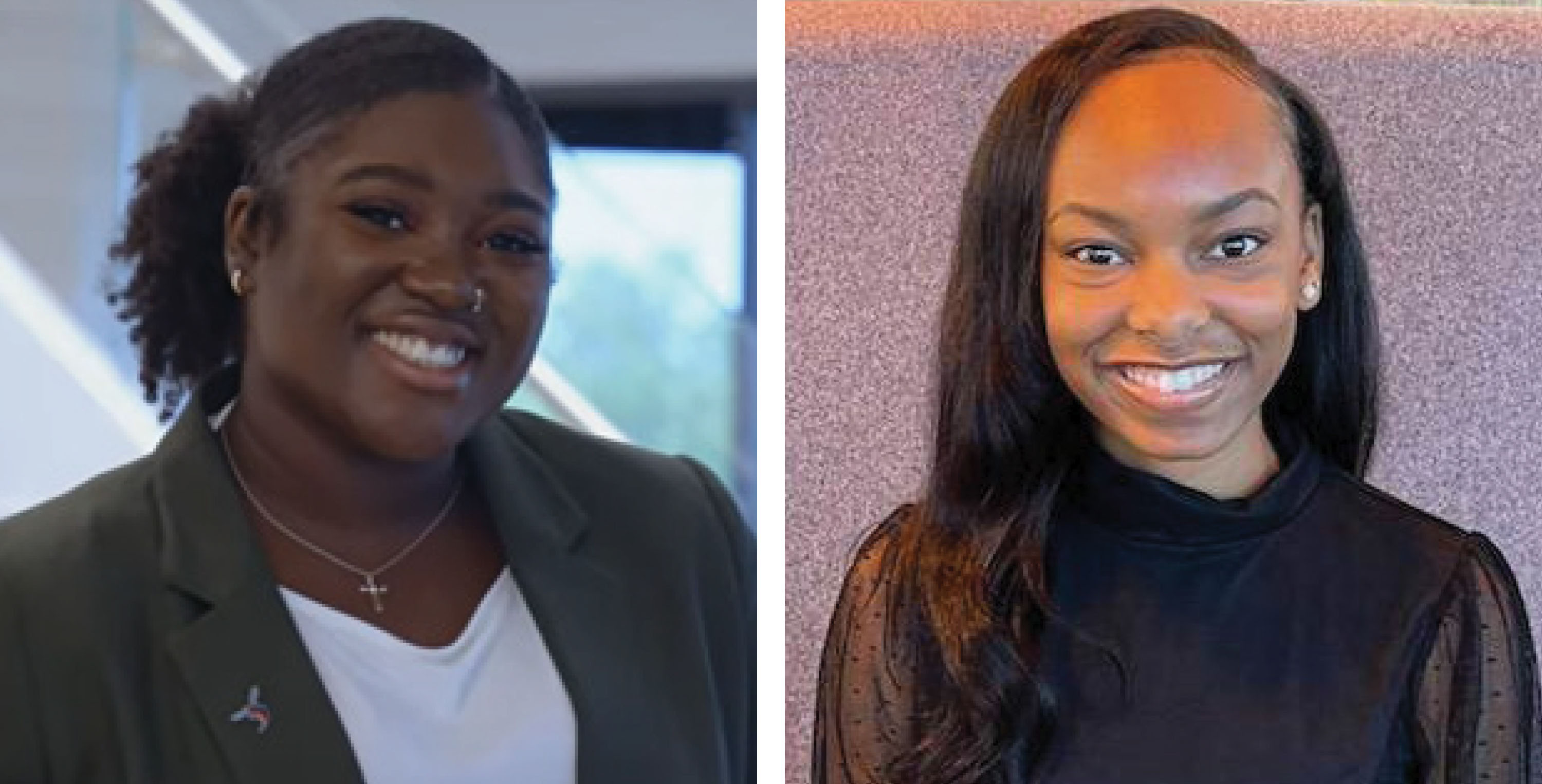 On Campus
DSU students benefit from HBCU Partners Alliance internships
Monday, November 22, 2021
A Delaware State University graduate and a current student have benefited from a new corporate partnership between the institution and Cognosante, a government contractor based in Falls Church, Va. that provides technology solutions to improve the health and safety of Americans.
Summer Glover, a Management major from Hartly, Del., who graduated in May 2021, moved immediately into a 10-week Summer College Analyst Program with Cognosante as an intern in its Marketing and Communications Department. She performed so well in her short time, the company hired her to fill a full-time position.
Nygia Williams, a senior Mass Communications major from Smyrna, Del., is currently working as an HBCU Scholar in Cognosante's semester-long B. Mark Walker Scholars Program also supporting the Marketing and Communications Department.
The paid-internship programs are a part of Cognosante's HBCU Partner Alliance, in which Del State is a founding institution along with North Carolina Central University and Elizabeth City State University. Expanding the company's diversity, equity, inclusion, and accessibility commitment, the program collaborates with the HBCUs to develop students' technology, workplace and career readiness skills, and thereby prepare them for the competitive workforce.
Both students give their experience high marks. Ms. Glover said that her "amazing" experience in the HBCU Partner Alliance as a Summer Analyst became a steppingstone into the launch of her career.
"I have gained real world knowledge and marketing experience that I am able to apply to any future job opportunities," Ms. Glover said. "It has been great working at a company that understands the need for creating diverse programs and opportunities for Black students, especially in an industry many of us are unfamiliar with."
Ms. Williams said the HBCU Scholars program has given her a competitive advantage in the work world.
"The internship has given me great insight into the functions of the corporate world and many experiences and certifications that will help me in my future career," Ms. Williams said. "I am extremely grateful I had the opportunity to acquire valuable knowledge and skills that will be beneficial to me as I prepare to join the workforce."
Cognosante Founder and CEO Michele Kang said that actively partnering with HBCUs is essential to enhancing diversity within the federal government contracting industry.
"I'm proud of how this program extends Cognosante's mission-oriented approach and dedication to benefitting the community," Ms. Kang said. "Working with the leaders and staff members from three great universities – North Carolina Central University, Elizabeth City State University, and Delaware State University – we were able to prepare curricula that readies students for the demands and opportunities of today's workforce."
"This program's three-pronged approach gives students exposure to the IT and government contracting world. The program offers a chance to apply learnings from their traditional studies as well as an opportunity to graduate with hands-on experience, needed power skills, and an expanded professional network," added Jennifer Bailey, Cognosante's Chief Administration Officer. "We are excited about the positive feedback we're receiving and look forward to expanding our program with additional HBCUs and new program offerings."
In addition to the internship programs, the HBCU Partner Alliance also features the Cognosante Campus Connection – a series of on-campus seminars, speaking engagements, and mentoring engagements set to launch in 2022.
About Cognosante:
Cognosante is a mission-driven technology company that delivers innovative and transformative solutions to federal, state, and local governments. We support the health, safety, and well-being of Americans who serve the nation and helps those who need it most. The company has more than a decade of experience working with States and the Federal government to improve access to care and address the social determinants of health by developing, managing, and executing large multi-faceted technology and BPO solutions. Its expertise includes Medicaid, Medicare, military and Veterans' health, the health insurance marketplace, data standards and analytics, cybersecurity, biometrics, and modular system development and integration.