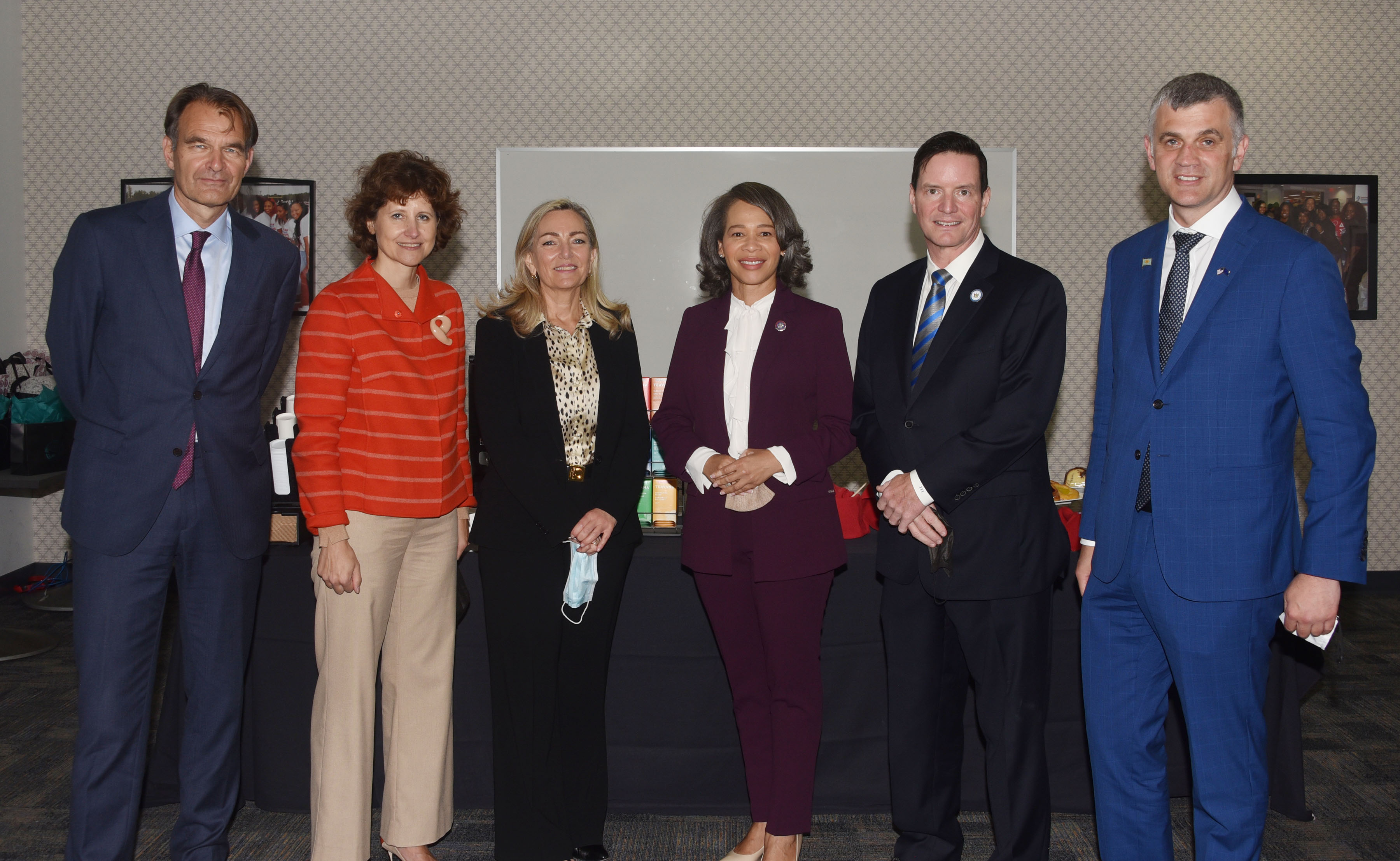 On Campus
European Union Ambassadors visit Del State for panel discussion
Tuesday, October 19, 2021
While a gathering of Del State students did not have to leave the campus Oct. 18, they nevertheless heard some international perspectives on the politics and challenges of the world through a visit to the University by four diplomats from four different European countries.
The four European Union ambassadors – Krisjan Prikk of Estonia, Mariangela Zappia of Italy, Audra Plepyte of Lithuania, and André Haspels of the Netherlands – participated in a panel discussion entitled "America, Europe and a Changing World."
Held in the parlors of the Martin Luther King Jr. Student Center, the panel discussion was moderated by Delaware U.S. Rep. Lisa Blunt Rochester.
In addition to talking about the priorities of their individual countries, each one of the ambassadors gave their perspectives on maintaining democratic governance.
Ambassador Plepyte said because there is an absence of mainstream news, democracies have to contend with the abundance of misinformation produced by biased news organizations.
"Governments, civil societies, students and academia have to unite to fight misinformation," she said. "That is why education, in that sense, is so important."
Ambassador Haspels said there are three keys to stopping the erosion of democracy.
"Education is key; we shouldn't take our liberties for granted. And participation is key," he said. "The quality of leadership (is key), leadership that plays by the rules and that knows that even the president is not superior to the interest of the country."
Ambassador Zappia noted that a world of strong democracies requires interconnectivity.
"I look back one year ago, and to have a good conversation between Europe and the U.S. was difficult. We lost a lot of time fighting each other and sanctioning each other," she said. "I believe there is a lot we need to do in our transatlantic relations to be stronger."
Ambassador Prikk said that while democracies should exhibit self-confidence, they ought to be willing to exercise self-criticism.
"In order to convince our people and people elsewhere that a democratic system actually can deliver the kind of governance and lifestyle they deserve, we need be vigilant," he said. "If there are problems with our democracies, if there are issues with our rule of law, if there is disrespect for human rights, we have to be candid about it and deal with it."