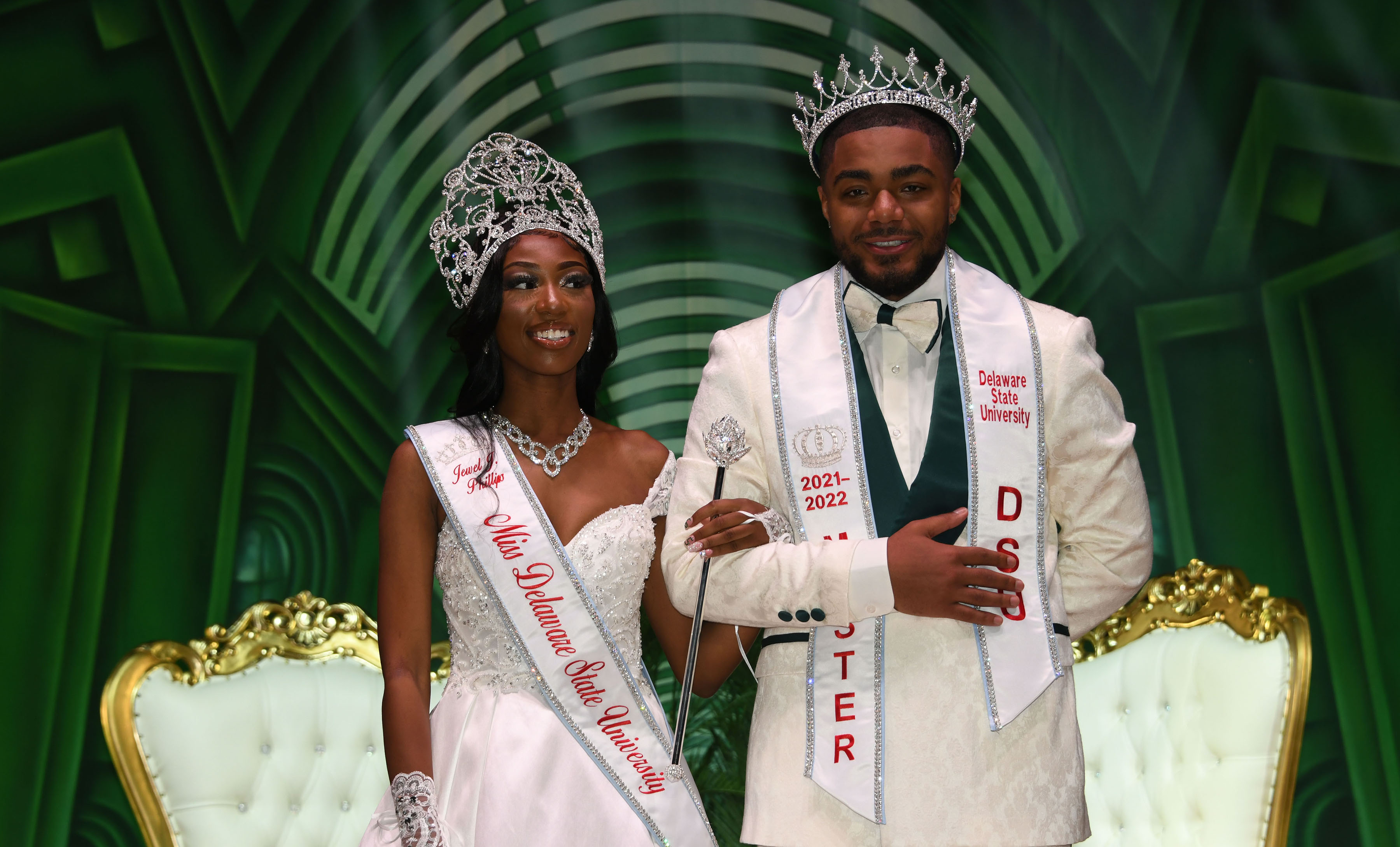 On Campus
The 2021 Mr. & Miss DSU Coronations – Photos
Sunday, October 17, 2021
In a historic Coronation Ceremony, Delaware State University crowned Jason Smith and Jewel Phillips as its 2021-2022 Mr. and Miss DSU.
The Oct 16 ceremony was a historic Del State Coronation as Ms. Phillips became the first-ever Campus Queen to be the daughter of a former Miss DSU. Her mother Kimberly D. Deal, Esq., was the 1986-1987 Miss Delaware State College – a distinction that also made the 2021 Coronation the first time a mother placed the Del State queen's crown on her daughter's head.
To see images from the 2021 Coronation, click on the below link:
https://www.flickr.com/photos/48216028@N03/albums/72157720031259044/show
The 2021 Coronation was entitled "Oz – The Golden Legacy," which opened with an onstage conversation between Ms. Phillips and her mother Ms. Deal, followed by dance segments featuring Del State's I-Step dancers, and the male and female Royal Court members – including Mr. Smith and Ms. Phillips.
Mr. DSU Jason Smith, a senior Criminal Justice major from Harlem, New York, is a four-time Dean's List scholar who has been a part of the Del Council Men's Council, Faithful Black Men Association, and the God Brothers. He campaigned for the Mr. DSU title on the platform "The Voice of DSU" as a commitment to advocate on behalf for the student on campus.
Mr. Smith plans to attend graduate school and pursue a Master's Degree in Criminal Justice.
Miss DSU Jewell Phillips is a senior Mass Communication major who is pursuing a concentration in Public Relations and Advertising. Hailing from Mount Laurel, N.J., Ms. Phillips has maintained a 3.8 GPA throughout her academic journey while serving as the Freshman Class President, Miss Sophomore, Force Minister Recording Secretary, a member of the Campus Activities Board and a number of other organizations.
Upon graduation, Miss Phillips will work full-time at a Fortune 500 company, and has future plans to author a children's book that targets African American girls.
The other 2021-2022 Royal Court Kings and Queens include:
Mr. and Miss Senior
Terrell S. Cook, a Management Information Systems ERP major from Washington, D.C.       
Lavonne B. Boyd-James, an Elementary Education major from Willingboro, N.J.
Mr. and Miss Junior
Tamon K. Frisby, a Mass Communication major in Digital Media Production, from Seaford, Del.
Candice M. Powell, a Mass Communication major in Public Relations and Advertising, from Baltimore, Md.
Mr. and Miss Sophomore
Nasai Enriq Oliver, an Accounting major, from Wilmington, Del.
Timia A. Blango, a Criminal Justice major with a minor in Law Studies, from New Castle, Del.
Mr. and Miss Freshman
D'Vontae T. Scott, an Accounting major, from Detroit, Mich.
Aaliyah M. Robinson, a Biological Sciences major, from Woodbury, N.J.